Want to send birthday greetings, or anniversary wishes to relatives around the world? -Or maybe you want to send your other half a very special greeting card for your anniversary along with your romantic valentines photos together. Every occasion is always made special with a greeting card. Whatever the occasion, giving a custom greeting card will never be out of fashion and is more meaningful to the recipient and just as attractive as any store-bought card gift!
If you are brand new at card making, you'll probably find it daunting to start making your own cards at home. But how about an easy and quick greeting card maker is available? Picture Collage Maker is such an program you can't afford to miss, with which, you can just put your worries aside and start making your own good looking greeting cards quickly which will amaze your friends and family a lot.
It doesn't matter if the occasion is a birthday, anniversary, Christmas, Valentine's Day, or other special event. Picture Collage Maker for Mac will deliver everything you need. It comes with various templates. These templates are all customizable for any event. You can choose any one that fit your need best.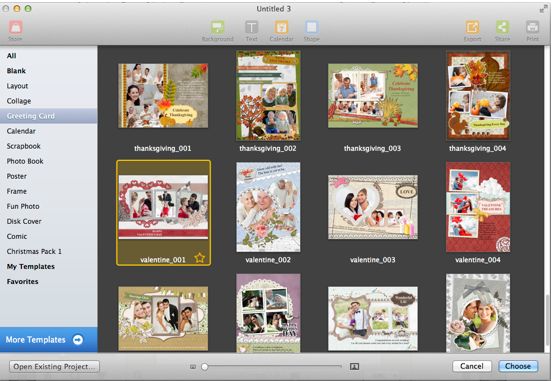 Once you've chose the greeting card template you need, start to add your own photos to fill all the frames on the template. You are given easy access to iPhoto, Aperture and local folders on your Mac. In order to perfectly show photos on the card, you can crop, rotate, and resize photos for best look.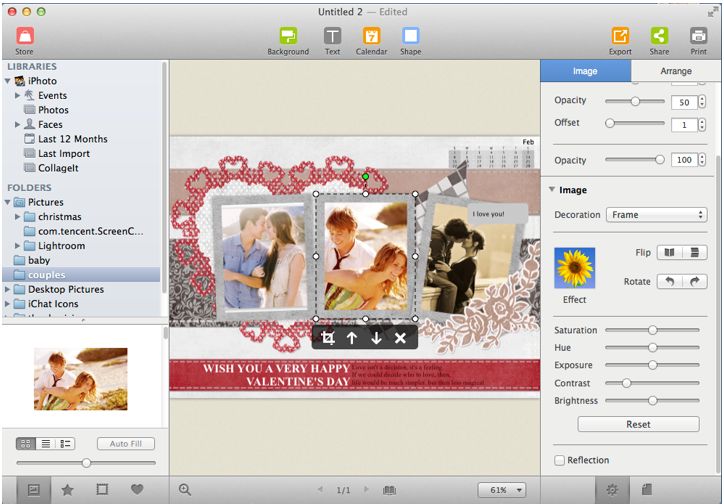 When you make greeting cards, you should always add some personal messages. Text may come up with the template, but you can change it to say anything that you like. Simply click on the template's text, and start typing your own personalized message in text box on the right Text panel, where you can also change the text formatting. Options include font size, style, color, fill, outline, glow, etc.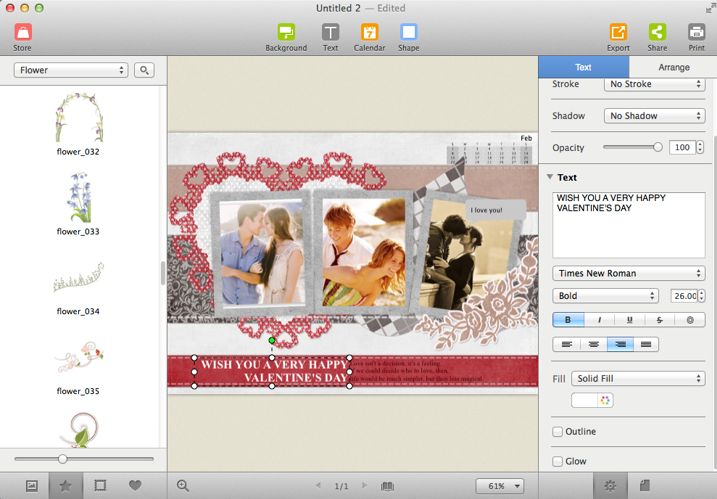 To make a more unique and stylish greeting card, you can add delicate clipart, calendars and shapes within this card maker to your liking.
Besides, you can add a frame, apply mask effects, customize border, and more to beautify photos on the right Image panel. There is no limitation for making a custom greeting card in your way.
When you are satisfied with your greeting card you can choose to Print or Share it. If you choose Share, you have wide choices to share via popular social networks like Facebook, Twitter, AirDrop, etc.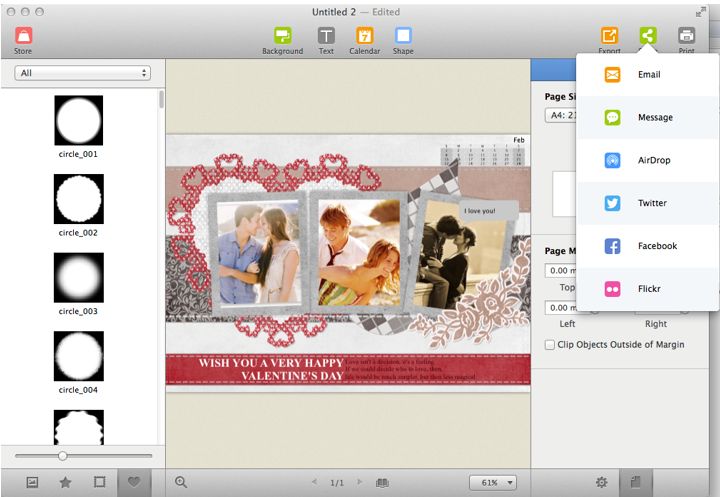 So, with such an easy yet powerful greeting card maker, why go out to the store and pay dollars for a card that won't make the person receiving it as happy as they would be if the card was homemade? Try out this simple card maker today!