When Apple launched Siri, a voice assistant service, Google soon after followed the same path with a different approach. They introduced Google Now with a limited number of cards but their initial response said it all. Well, it will take time to support all of the things with the deep level of integration as Siri but in the meantime I would recommend you try your hands (or in-fact your voice) with Maluuba. Maluuba is a Siri alternative for Android that lets you find everything right from a few predefined sets of information, such as President of the USA or any country just by asking, to adding an event into Google calendar. It also helps you find restaurants, weather, movies, knowledge or wiki information, music and events so easily that you wouldn't literally need to type anything at all anymore on your Android smartphone.
Download Maluuba for free from Google Play Store and give it a whirl.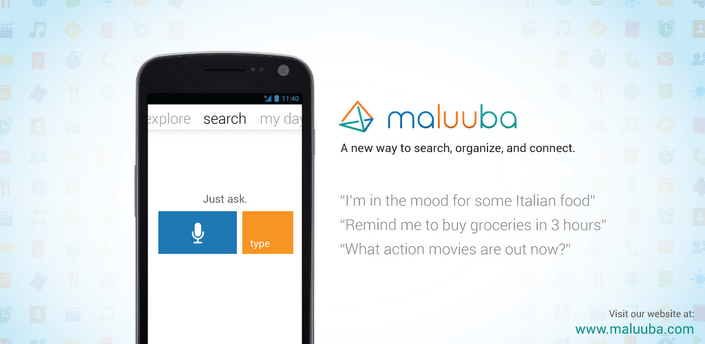 User Interface
I really loved the clean user interface of Maluuba. The user interface is similar to the interface formerly known as metro UI which is found on Windows 8 and Windows Phone 7. After all, the smooth and simple eye catchy interface is what matters the most. When you fire up an app, you'll be asked to either use your voice or type using your keyboard to enter your query. Maluuba is so intelligent that it catches the query in no time without making any mistake.
Swiping your finders horizontally will reveal more options. These options include restaurants, weather, movies and other stuff. On the other side, you'll find a calendar which is synced with your Google calendar. Right at the bottom, you'll notice 3 buttons that lets you add a reminder, calendar event and note.
Features of Maluuba
I earlier mentioned some of the stuff that you find when you swipe your screen. Well, this section is dubbed as explore and this is place where you can discover restaurants near you, today's weather or movies that are running near you. The knowledge tile lets you ask any question and it answers your question in no time, it appears to answer much faster than Siri though this could be subject to the power of your smartphone. Inside navigation, you can enter your from and to destinations to get the directions to any location. The app makes use of Google Maps or an Internet browser to bring you the results. An event is the place where you can find upcoming events that have been marked by your friends and colleagues as well.
Maluuba lets you connect your Facebook, Twitter and Foursquare accounts. Connecting these accounts allows you to update your Facebook status, tweet or check in. Swipe across the connect tab and you've got four new set of commands to communicate with your contacts. Call is where you can command Maluuba to call someone from your contacts whereas contact is where you can ask Maluuba few questions like who is John, what's the address of John etc. Email will help you compose a new email or find out what's new in your mail box. Text will keep you in touch with the help of commands like Text John or Tell John I'm going for a movie via text. Oh and these are not the commands that are pre-loaded. You can use any commands to do your task. I just listed out few example commands that I tried and was astonished to see the quick response.
Compatibility
Maluuba requires you to have Android 2.3.3 and up which is completely understandable as older versions of Android lack the few libraries that are required to run Maluuba. So, any Android smartphone running Android 2.3.3 and up versions won't have any glitches or compatibility issues.
Screenshots Gallery
A young and passionate blogger who loves writing about Android and Geeky Stuff.