We all now depend on our home computer for things from online shopping and booking tickets for events, shows and holidays to getting directions from Google maps, keeping in touch with friends via social media like Facebook and Twitter and catching-up with TV programs. That's why it's so frustrating when your internet connection speed drops to a crawl.
A simple test you can do is to open a browser window and type either speedtest.net or speakeasy.net into the address bar. At either website, clicking "Begin Test" will let you see both your upload and download speed. You can then compare these with the standard speeds that your Internet service provider is advertising. If it is significantly below what you are paying for, phone them up and check why the speed of your internet connection is slower than it should be.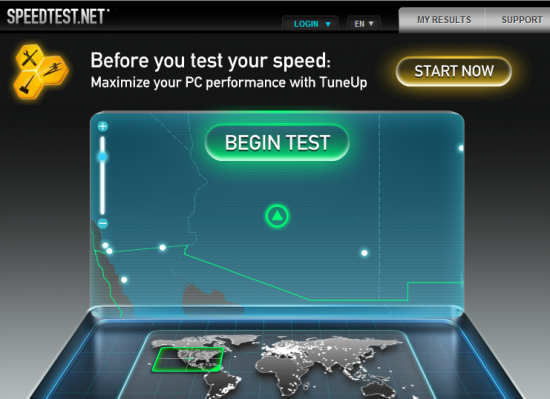 It is also a good idea to repeat these tests several times a day for a period of several days so that you can get an idea of the average speed of your internet connection. Many people find it useful to keep a record of these results in a Microsoft Excel or text document.
You can buy and download an internet connection speed monitor – there are even some free ones available online. Read the installation information carefully before saving and running the program on your computer. If you leave an internet speed connection monitor running while you are browsing the internet and make a note of the time and speeds, it will help you to see when your computer slows down and why – it may be at a certain time of day or when you go to a certain website that requires a lot of bandwidth. You can increase your connection speed by regularly running anti-virus, defragging and keeping up-to-date with the latest fixes and service packs.
Windows 7 Taskbar already has a total connection speed and network usage monitor (just go to the Networking Tab). Apparently Microsoft Windows 8 Taskbar comes with individual program-wise network usage monitor, but if you plan on sticking with Windows 7, Vista or XP you could use a third party software for monitoring network usage and connection speed.
I'm a Generalist Researcher working on a Theory of Reality, Horticulturist, Blogger, Natural Systems Analyst and Amateur Architect