Mozilla has just unveiled new screen shots for the new FireFox 5–while Mozilla is still working out the bugs for Firefox 4, which currently is still in beta. According to Mozilla's January newsletter, it would seem that regardless of the minor fixes to the Firefox 4 browser, the version is still scheduled for release soon, so that it can make way for the new Firefox 5 browser, and the future browsers will be released on a more frequent release cycle. The excerpt below states:
"We are going to a fast release cycle. It serves our users better. To do that we have to get this touch and go done with Firefox 4."  Weekly Engineering Newsletter, 2011 Jan 19.
Chrome is rolling out newer and stabler versions of its browser approximately every six-weeks. Google's obsession with speed and browser stability has deemed it necessary for the popular Firefox browser to play "catch up."  Chrome is set to increase its update frequency, with a stable version of its browser available every six-weeks. Why? Due to frequent development of enhance features and browser applications, Google wants to ensure Chrome users will have immediate access to these new features. So, if there are applications ready to go at the end of the six-week cycle, then those applications are included in the release. Those that are not will be made available at a future release date. Prior to this, Google released newer versions of its browser approximately every 13-weeks.  Frequent releases help to curb the stability issues in Chrome, thereby facilitating a new standard for faster and efficient web browsing. We can see why Mozilla is starting to pick up the pace.
Check out the images for the possible new features for Firefox 5 below: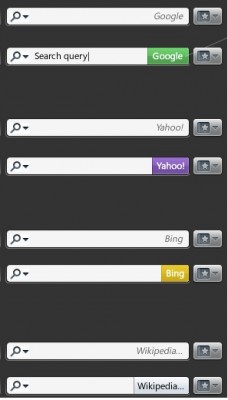 FireFox 5 will have a more 'stream-lined search field' and will be color coded so that the user would know which search engine in use. For example, when the user enters the search query in the field, or selecting the engine activates the button or switch.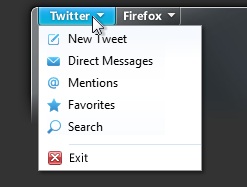 New 'Site-Specific' browsers that would allow users to create their own menus and have options that would be 'specific' for that website. The 'locations' will appear on the bottom. History and bookmarks will be removed and sites that are off the main domain would conveniently open as a "new tab" in the main window.
The new user 'add-on' selection screen will allow the user to now have the option to choose a particular add-on and be able to enable/disable auto-updates.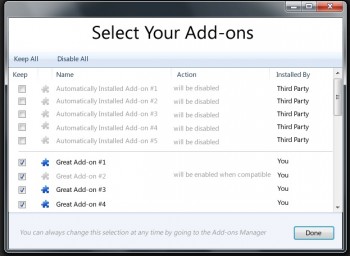 'Firefox Sync' will allow its users to be able to 'sync' passwords, bookmarks, web history and preferences on both the desktop and mobile phone applications.
A host of potential new features with no finite information regarding an expected release date for Firefox 5. However, Mozilla Firefox 4 Beta is available for download and testing as of  February 8, 2011 and will include a "Do Not Track" feature so that users can have more control over online behavioral tracking. This way, FireFox users would have more control over how their personal information is collected online. Firefox has a proposed "road-map" that details their intent to roll out Firefox 4, 5, 6 and 7–in the upcoming 2011 year.
Let's hope Mozilla get's everything worked out in time.
All Image credit: Mock-up by Alex Faaborg on behalf of the Mozilla FireFox user experience team.
When AIDY isn't writing poetry, she likes to write film reviews. If she is curious about something she seen or heard, she'd maybe write about that, too.