I was contacted and asked to review BridgeURL which is a service that allows you to share multiple links on Twitter via a single link.  It was an interesting concept and worth looking at, so I decided to visit the site and create a few custom URL's and take it for a spin.  BridgeUrl works by allowing you to set a title for your collective URL's it will then use this title as part of the slug for the URL you will share to readers.  You then cut/paste each URL that you want to include in your link roundup, the service will then create you a custom bridgeurl.com/<link> which will display an iframed list of all your web URL's that a user can easily go to the next page or previous page from the main site.
It is quite simple and easy to build a custom URL which just has several other URL's connected, just go to BridgeURL.com and enter your title and URL's to share: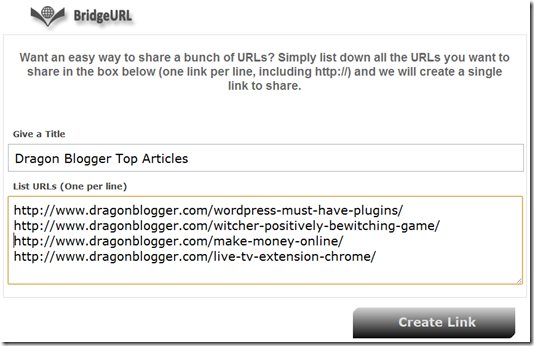 The next think you do is share your URL that you are provided on your Social Media networks or website.
When somebody clicks on the URL it will load the first page in the URL list and then have a Previous and Next Page buttons on the left and right side of the screen respectively.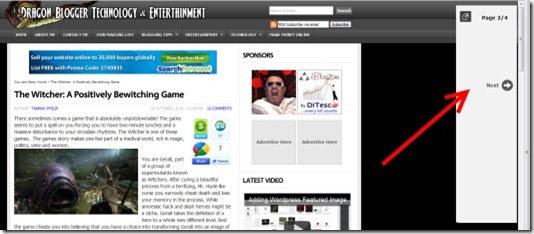 In my own testing the pageload time was a little slow when loading my custom URL of http://bridgeurl.com/Dragon-Blogger-Top-Articles but I wasn't sure if it was a glitch in my own page load time or how the BridgeURL application builds the links.  One other thing to note is that BridgeURL requires that the site support iFraming which rules out any site with https:// or some application sites that don't support framing.  Still for the majority of the blogs this is a unique way to showcase your top articles on your site by sending out one link on Twitter or your social networks and the reader can page through your broadcast link.
I think the BridgeUrl service is a good idea and has some merit provided it can handle the load of increased traffic and improve initial pageload times, it is a decent way to potentially share some of your favorite article round ups with your social media networks.
-Dragon Blogger