One of my favorite things to do is post about my trials and errors here as a blogger and affiliate marketer.  So I have no shame in telling my fellow bloggers what I try and utterly fail at because it serves two purposes.  The first is that it lets others know all the programs and experiments I try in order to make money online and share that information to educate others who try or are interested in the same things.  The second is that other bloggers or online entrepreneurs who try the same thing can see that they are doing either better or are in good company with the same mistakes or lack of results when they compare their results against mine.

So I recently decided I would try another MyLikes advertising campaign which involves putting some money in the system, setting up a creative, a few options for promotion and setting the CPC rate.  I decided to affiliate sell a specific iBuyPower cheap Gaming Desktop which is a really good deal for those needing a new cheap computer for back to school that also can serve as a decent gaming machine.  I also figured that if they landed on Amazon page even if they didn't buy the PC on this page the cookie would be set and they may buy something else and I would catch commission from any random purchasing done after the click.
For this campaign I set up a separate tracking ID in Amazon Affiliates so I knew all clicks would be only for this MyLikes campaign and it wouldn't be from anywhere else.
This was the total summary for the campaign:

You can see from the above image there were 35 posts that reached over 530k potential people who could have seen that message.  The average CPC was .19 cents which isn't that bad.  I spent a total of $19.30 for the campaign.
Here are more details: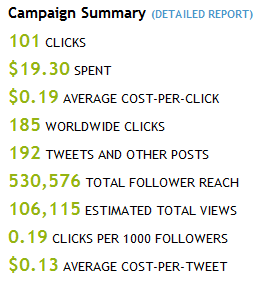 Now, I compared these results to the Amazon Affiliate tracking statistics to see how my performance for this campaign really went.  Here is my Amazon Affiliate tracking report for July 20th to August 4th.

You can see the MyLikes campaign in just 4 days recorded 1953 clicks (which exceeded more clicks than any of my 3 blogs which run their own tracking ID's).  However, it yielded 0 orders and 0 revenue.  Ironically my personal blog with 434 clicks had the most sales revenue.
So I paid nearly $20 and virtually got nothing in return except some experience and this is the lesson I have learned.
Never directly link to an item on an affiliate sales page.  If I would have brought those clicks to my own blog instead (even a sales page for an item on my own blog) there would have been a much higher chance a visitor could have become interested in another article, one of my sidebar items…etc and at least my own site would have recorded the traffic.  Amazon pages are not great "selling" pages and you should only send a reader to that page after they are ready to 'purchase' but not as a way to "sell the item".
In my next MyLikes campaign I will specifically link it to a page on my blog that will perhaps detail out an affiliate product.  I am considering Formidable Pro or WPTouch Pro but will see if I can turn a MyLikes campaign into a profitable way to market an affiliate product from my own site.
Who has already tried MyLikes advertising campaigns?  How many of you have earned more than you spent?  I am curious about return on investments for others.
Note, I will be trying a SponsoredTweets campaign as well in the future at some point.  This is my preferred program to earn on Twitter and will compare how the ROI is with this service compared to MyLikes from an advertiser perspective.
-Dragon Blogger
I have been obsessed with computers, tech, gadgets and games since the early 1980's having grown up on the Commodore 64 and Amiga computers.
By day I work in the IT Security Industry and have been in IT for over 20 years. On my spare time I am a Vlogger, Blogger, Streamer, Gadget Reviewer, affiliate marketer, influencer and entertainer. I am also an avid movie fan, TV Show fan, Anime fan, video game fan and fan of trying anything and everything new.