I have really enjoyed using the MyLikes service to earn a little extra money from my Twitter and Facebook accounts. MyLikes alone earns me only about $12 dollars per month or so but considering how little effort and time it takes to create a sponsored like, this is a high Return on Investment (ROI). MyLikes is just one of the many programs that I have tried throughout the years to make money online and it is one of the best for earning on Social Media sites in my opinion.
I finally for the first time broke 1,000 points on MyLikes and have been a Black Ninja for quite a bit. The one thing that baffles me is that I have had 50 people referred to MyLikes from my own account, yet I only earned 1 $4 referral earning and it should have been about $200 total so far. In reading MyLikes referral earnings: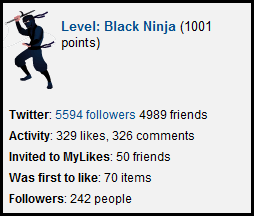 Referral payouts will be credited as soon as your qualified referral connects their Twitter account to MyLikes, completes the Influencer signup, and creates a Sponsored Like.
So the people who are joining MyLikes under my links must be signing up and not even taking one of the SponsoredLikes for a spin. If you have a prolific Twitter account, take MyLikes for a spin and see how much spare change you can pick up from it. You just may earn enough to pay your monthly web hosting fee's or buy yourself a few fast food meals a month. Of course, if you have a very active and wide reaching Twitter and Facebook accounts you can likely find yourself earning more than a $100 per month pretty easily.
On Average I see sponsored likes paying about 14 CPC, which is higher than most of the sponsored CPC opps on SponsoredTweets. But you can find some as high as .41 CPC and even a few on occasion for more than 60 CPC which can earn you some pretty good change pretty quick. 100 clicks at .60 CPC = $60.00 not bad from one tweet.
The cool thing about MyLikes is that you can set a sponsored liked to repeatedly tweet for up to 4 days in a row (set it and forget it). The bad news is that the advertiser can pull the like or adjust the CPC on you before your campaign ends and you can get stiffed, so I recommend only sending 1 sponsored like at a time and not using the "auto send for next X days" feature. (Just a personal preference, because the opp can be cancelled and you won't notice).
I have seen MyLikes also experiment with PayPerAction likes where you get a set dollar amount per sign up, I have only seen one so far and not sure how it works as I didn't sign up for it. Because they require a sign up (conversion) they pay a bit higher but probably have a lower conversion rate. It will be interesting to see how prominent and prolific the PayPerAction likes become. Also, I have set my Video Cost but have yet to see or hear about anybody hired to do a YouTube Video promotion for a product on MyLikes yet, if you know someone who has let me know how it worked out.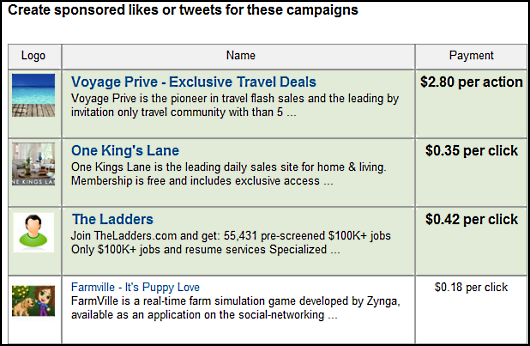 One of the benefits touted for Black Ninja status was supposed to be preference in contests as well as featured likes (which I do see) but I haven't seen any contests since June and think that the contest portion of MyLikes may have been temporarily put on hold. I emailed the MyLikes team about the contests but never heard back from them yet.
I recommend MyLikes and combined with SponsoredTweets I generally make about $25 just from my Twitter account of about 5500 followers, if I had 10x this many followers I probably could make over $200 per month with my Twitter account.
Sign up for MyLikes under me and remember to link your Twitter account and test a Sponsored Like if you would.

-Dragon Blogger
I have been obsessed with computers, tech, gadgets and games since the early 1980's having grown up on the Commodore 64 and Amiga computers.
By day I work in the IT Security Industry and have been in IT for over 20 years. On my spare time I am a Vlogger, Blogger, Streamer, Gadget Reviewer, affiliate marketer, influencer and entertainer. I am also an avid movie fan, TV Show fan, Anime fan, video game fan and fan of trying anything and everything new.