I wrote about my initial experience with signing up and using MyLikes to Earn Money from Twitter by recommending products and services.  Now I want to share with my readers what 3 weeks into the MyLikes program has yielded me.
I joined MyLikes back in late March and did about twenty minutes on the site every day to build up a large list of free likes, I also took some sponsored likes here and there and promoted the service with my affiliate link.  (They are running a contest that people who sign up under you and take at least 1 sponsored like will earn you $4.00).
In the first 3 weeks of using MyLikes, I was able to earn $10.77 cents and $4.00 of it was from signing up someone under me, the rest was earned by sponsoring a few liked items on Twitter.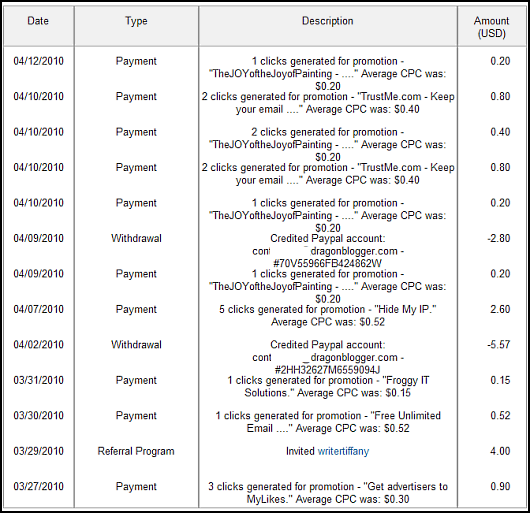 Because MyLikes pays you in a CPC fashion, you have the potential to earn pretty well if you have a Twitter account with a large following. They have new products/services to promote every day or two, and you can take the same like multiple times until the advertiser ends the campaign.
A pro and a con about the service is that it prohibits you from sending more than 1 sponsored like in a 24 hour period, so you can't over spam your audience with sponsored likes. This is good but an active twitter person who sends out hundreds of tweets per day probably could get away with doing two or three sponsored ones in a day, so it limits your earning potential a bit.
As I mentioned in my original article, you shouldn't just use MyLikes to promote sponsored items only, take the time to build out your profile and share some free likes. You can watch my video demonstration on MyLikes to see how it all works:

If you haven't tried using MyLikes yet and aren't signed up, sign up and take a sponsored like for a test drive:
-Dragon Blogger