My flagship blog DragonBlogger.com is a major victim of the new Google Instant Search which rolled out in very early September.  My blog suffered about a 60% traffic drop since Google Instant search was implemented and most of this came from my loss from Organic search results.

The month prior to Google Instant search my site brought in 14k visitors from searches and averaged about 12-16k visits from Google searches.  The month that includes 2 weeks of Google Instant search my search traffic drops to just 4.2k.  Both of these stats show 30 days of traffic, and though I did lose some direct and referring traffic the majority of the percentage comes from Google search.
In doing closer examination, I looked at my top keywords ranked in Google: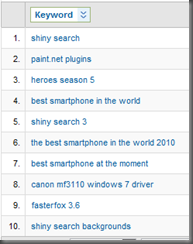 Prior to the Google Instant Search implementation my top 10 keywords listed below for the thirty days from July 12th to August 11th 2010.  You can see that 7 of my keywords included 3 or more words.
This is where most of my problem lies, as you may know Google Instant search start showing SERP after the first word is typed and will update results in real time as it predicts your next word and you complete your next word.
This means anything with 3 or more keywords is likely to be hit heavily as a user either finds what they were looking for with fewer keywords or is distracted and clicks on a link from the search results page before they finish typing the entire string they were intending to type.
I also suffered some large traffic drops as some of my highest ranking keywords were pushed off of the front page like Shiny Search and Paint.net plugins which had accounted for a fair amount of searches. 
I had many visits (over 3000 to my Canon MF3111 posts about how to find Windows 64 bit drivers) many of the keywords were 4 or 5 characters long and this one page showed a huge drop in traffic as most people aren't typing in so many keywords any longer.
No doubt about it, I had invested 2 years of carefully sculpting keywords and SEO optimizing my blog to point where I didn't heavily do as much referral link building and traffic.  I had 70% of my traffic coming from search engines and I learned the hard way that you cannot rely on one type of traffic too heavily or else it could go away in a flash.
-Dragon Blogger
Are you worried about microsoft certification dumps exam prep and Pass4sure 300-115 certification practice test? Check out our latest resources for Testking dumps and Actualtests CISSP questions for practice with definite guarantee of CITRIX training.