Twitter is performing a major overhaul coming soon which will feature a two panel website which shows your "tweets" on the left and when you click on them entire content, details, photo's and images will instantly open and display on the right.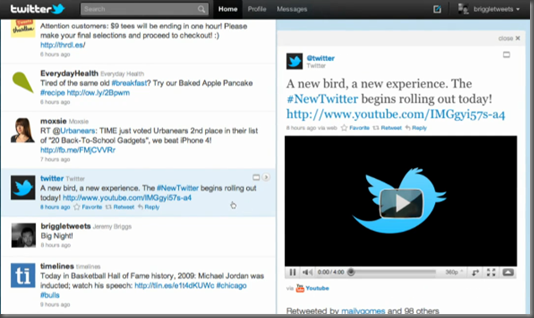 This feature will mean you won't have to click on links to see pictures anymore or go watch video's, and you can do all of this right from the Twitter website itself.  Many are saying this will give Twitter applications a run for their money, but I still think that having multiple columns with replies, DM's and lists available for view at the same time will still be an advantage of the updates on Twitter.com.
Twitter released an interesting commercial on their website showcasing the new Twitter.com coming soon and how it will work.  It is kind of an artsy commercial and I thought it was well done.  (Did remind me of Apple commercials a bit).
What do you think of the new Twitter.com, will it reduce peoples need for Tweetdeck, Hootsuite and other Twitter apps, or do you think it is more for the casual twitter user whereas the apps will be for the power user?
-Dragon Blogger