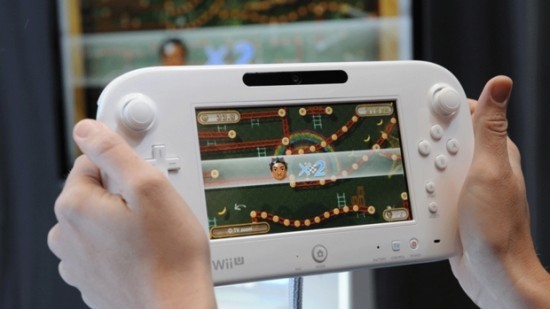 Hey  there.  Nintendo has put all the speculation to rest.  The Wii-U finally has a price, we finally have details of the available features, and we have a confirmed list of titles readily available at launch!  Now that the cat is out of the bag and we have had a chance to digest what the Wii-U has to offer, let's take a look at some of the details.
First off, we can expect the Wii-U to hit retails stores in the US and Canada on Sunday, November 18th.  This is not much of a surprise since Nintendo has a history of launching consoles in mid November.  The retail price for a "basic" model will be $299 USD and the "deluxe" model will run at $349 USD.  The basic package will include the Wii-U console (in white) with an 8 GB internal SSD drive, the gamepad controller, HDMI cable, and AC adapters for both the gamepad and the console.  The deluxe package will include the Wii-U console (in black) with a 32 GB internal SSD drive, everything included in the basic package (in black) , a gamepad charge station, a Wii-U console stand, and the NintendoLand game.  Considering that the basic package WILL NOT INCLUDE A GAME, the deluxe package makes more sense to purchase.  On top of receiving a game with your console, you are getting 4 times the internal memory than the basic package by picking up the deluxe package and… YOU'RE GETTING A GAME.  Why would you want to buy a console without a game?  The fact that the basic package does not come with a game is a little baffling to me, but then again, this may be a thinly veiled strategy by Nintendo to get consumers to purchase the deluxe package.
Also announced today was a listing 50 game titles that will available during the Wii-U "launch window."  This launch window is from the date of the Wii-U launch til the end of March, 2013.  That's a pretty big window, if you ask me.  Games available in November will include the much anticipated Black Ops 2 and Wii-U originals such as Zombi-U.  50 launch titles sounds impressive at first until you heard that the launch window ends March 31st.  Also, many of the games that will be released during this launch window will be games that are already available, or will be available, on other gaming consoles.  Nevertheless, it may be worth picking up the Wii-U version of the game, especially since many of those titles will have added bonuses that will be exclusive to Wii-U owners.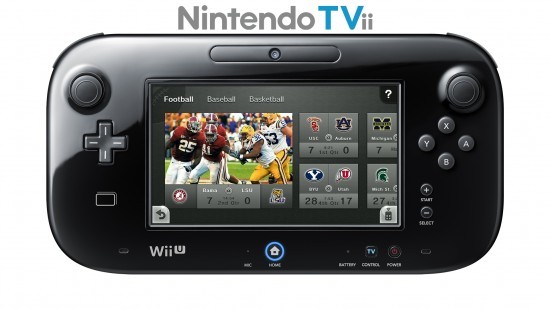 Today's announcement also unveiled a feature that we did not see coming.  Nintendo TVii is a new feature that came out of left field.  You will be able to search for video content, connect to your DVR, or view live TV straight from the Wii-U gamepad.  The Nintendo TVii feature is set to work with ALL cable providers so no Nintendo Wii-U owner will be left behind.  This is an interesting announcement and I can see this being a hit.  A single TV in the living being divided among family members can turn a peaceful afternoon into a quest for the all mighty powerful remote.  By allowing the Wii-U gamepad to stream shows recorded on your own DVR will allow more family members to watch what they want.  Being a dad of 4, the announcement of Nintendo TVii definitely has my interest and curiousity.  If you have the TV all to yourself, the Wii-U gamepad can also act as a controller so you will be able to change channels using the Wii-U gamepad and flip through content while watching on your big screen TV.  And if you are a sports enthusiast such as myself, watching sporting events on your Wii-U and Wii-U gamepad comes with the added bonus of keeping track of player stats, games scores, and more!  How great is that?!  Oh yeah… and did I mention that this service is free?  You do not have to pay for Nintendo TVii but you will have to pay a Netflix or Amazon Prime subscription if you don't already have one.
Another aspect of Nintendo TVii that is of interest is the social media integration.  While watching a movie or show, Nintendo TVii will allow you to "timestamp" sections of your show and allow you to share that content to social media sites such as Twitter and Facebook. Other than that, there really isn't any more details on the social media integration using the Wii-U.  It's something that we will keep an eye on and update you guys on.
So what do you guys think?  Is the $300-$350 price tag too steep or just right?  What do you think of the Nintendo TVii feature?  Do you think it's an added bonus to justify the price?  And more importantly… will you picking one up for this holiday season?  I was against it at first, but now… after hearing what the Wii-U has to offer… I am leaning towards getting one this holiday season.  Later!