CALABASAS, Calif. – Friday, May 18 – Hello Games, an indie team based in the United Kingdom announced live to fans via Inside Xbox that No Man's Sky will launch on Xbox One on Tuesday, July 24 in North America, and Friday, July 27 in Europe. This launch will bring a full multiplayer experience for the first time to a limitless procedural universe. As part of No Man's Sky NEXT this will be a free update launching simultaneously for existing players on PC and PS4.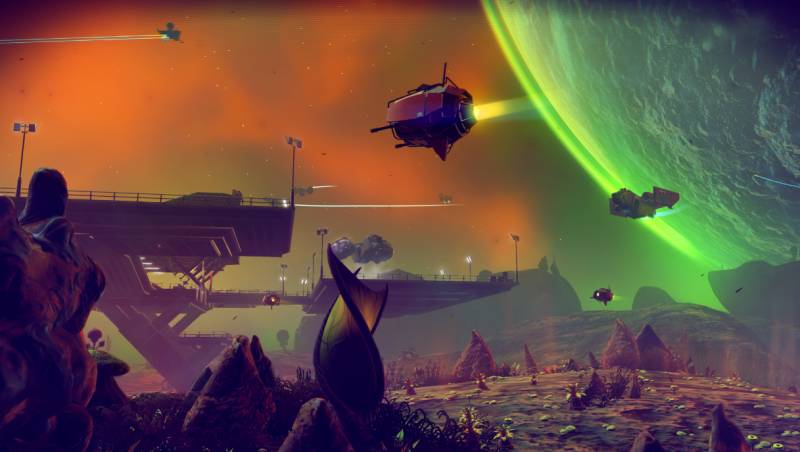 "Multiplayer completely changes the No Man's Sky experience, it's emergent, fun and intense in ways we always wanted it to be. I'm so happy this is finally happening" said Sean Murray, founder, Hello Games. "It is genuinely exciting to be able to fully realise the potential so many people could see in No Man's Sky. This will be our biggest update yet and we're pumped to be bringing Xbox players along on the journey with us now too."
With this launch, players across Xbox One, PlayStation 4 and Steam on PC will be able to explore, fight and survive with friends as they voyage across the vast, procedurally-generated sandbox universe in multiplayer.
Explore the infinite universe with your friends, or bump into random travellers.
As you voyage together, friends will help you stay alive, or prey on others to survive.
Build bases from tiny shelters to complex colonies that you create as a team and can be seen by the community.
Be a pirate or a wingman in epic space battles with friends and foes
Race exocraft across weird alien terrains, create tracks to share online
The Xbox One launch of NMS will include Next and 3 other major updates (Foundation, Pathfinder, Atlas Rises) and dozens of smaller patches.
505 Games will distribute the physical Xbox One version worldwide. For more information about No Man's Sky and the upcoming Next update, please visit: https://www.nomanssky.com/
ABOUT THIS GAME
Inspired by the adventure and imagination that we love from classic science-fiction, No Man's Sky presents you with a galaxy to explore, filled with unique planets and lifeforms, constant danger and action.
In No Man's Sky, every star is the light of a distant sun, each orbited by planets filled with life, and you can go to any of them you choose. Fly smoothly from deep space to planetary surfaces, with no loading screens, and no limits. In this infinite procedurally generated universe, you'll discover places and creatures that no other players have seen before – and perhaps never will again.
If you want to find out more you can follow on Twitter, subscribe to YouTube, like on Facebook, or visit no-mans-sky.com to find out more.
About 505 Games
505 Games is a global video game publisher focused on offering a broad selection of titles for players of all ages and levels. The company publishes and distributes premium and free-to-play games on leading console, PC and handheld platforms as well as for mobile devices and social networks.
Publishing highlights in premium games include Last Day of June, PAYDAY 2, Terraria, Portal Knights, Assetto Corsa, ABZÛ, Virginia, Brothers – A Tale of Two Sons, Laser League and How to Survive. Free-to-play publishing highlights include Battle Islands, Gems of War and Hawken. Distribution highlights include Stardew Valley, Dead by Daylight and Inside/Limbo. Upcoming titles include Indivisible (from the development team behind Skullgirls), Underworld Ascendant and Koji Igarashi's next project, Bloodstained: Ritual of the Night.
505 Games has offices in California, United Kingdom, France, Germany, Italy, Spain and China. It works with a network of distribution and sub-licensing partners in all other markets.  For more information on 505 Games and its products please visit www.505games.com.
About Hello Games
Hello Games was founded in 2009 by a band of four friends who had climbed their way to the top of the pile at great developers like Criterion, Sumo, Kuju, EA and Climax. They decided to set forth on a brave journey of discovery and adventure to bring some new, funky, colourful pixels to the world.
Since then they have been joined by some more talented people from around the globe, mostly based in Guildford, United Kingdom. Together they are just trying to unleash the charm and creativity that has been stopping them from sleeping at night. Learn more about Hello Games at www.hellogames.org