So I had the opportunity to check out the NoScope Demon Series computer/gaming glasses from NoScope which are used to reduce the eye-strain and fatigue while you're looking at your computer, TV or mobile screen. I've tested it for about almost a month, and no doubt I can say it's just unbeatable at the price point without even starting the review. I've gone through long gaming sessions of about 10 hours wearing these glasses for days, and after I was done, my body was almost numb and asking for rest, but my eyes were as fresh as ever and asking for more.
But let's stick to the pattern and start with the unboxing.
Unboxing:
As far as the packaging goes, they ship it within a plastic zipline bag, well in my case I got it in a plastic zipline bag. There are just four items within the bag including a slightly transparent NoScope business card, a micro fiber cleaning cloth, a black colored carrying pouch and the NoScope glasses.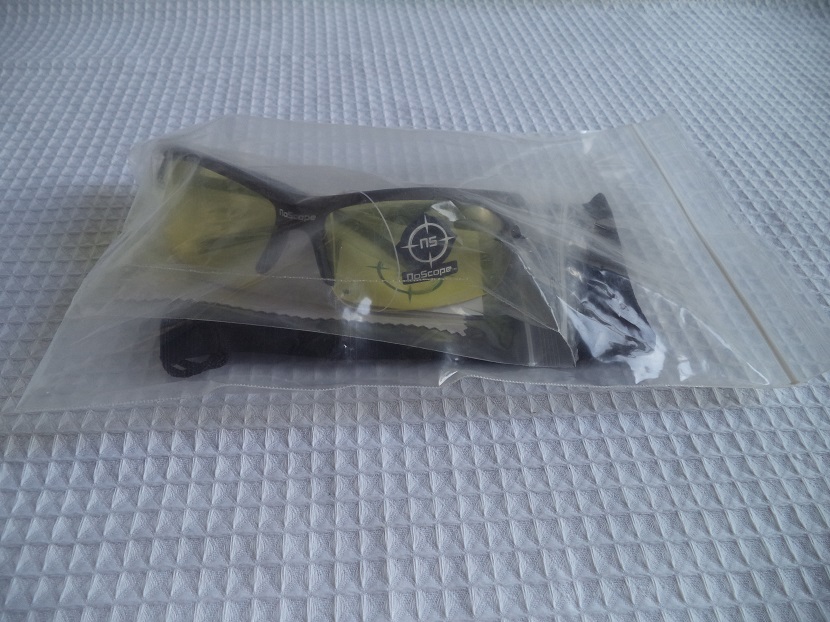 A Closer Look At The Accessories:
Starting from the accessories, the business card has their logo, Website URL, Facebook page link and Twitter handle on it. The cleaning cloth also has the NoScope logo on the front with their website URL, but is blank from behind. The cloth seems really smooth and slightly slippery as well which helps in cleaning the finger prints from the optics without damaging it (Ohh the optics sure are a finger-print magnet!). And finally the carrying pouch, there is nothing much to speak about it as it's blank from both sides, and has enough space for carrying the glasses. In some cases, I've also seen people getting the carrying pouch with the NoScope logo on the front as well (seems like I wasn't that lucky).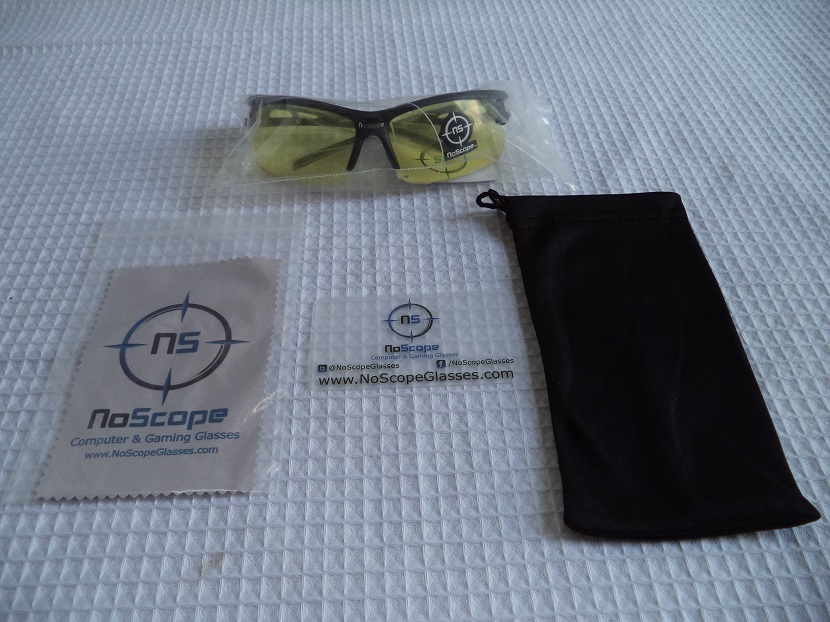 The NoScope Glasses:
When you take out the Glasses from the zipline bag, the handles of the glasses are covered with plastic, and there is a tag placed on it and a sticker on the optic.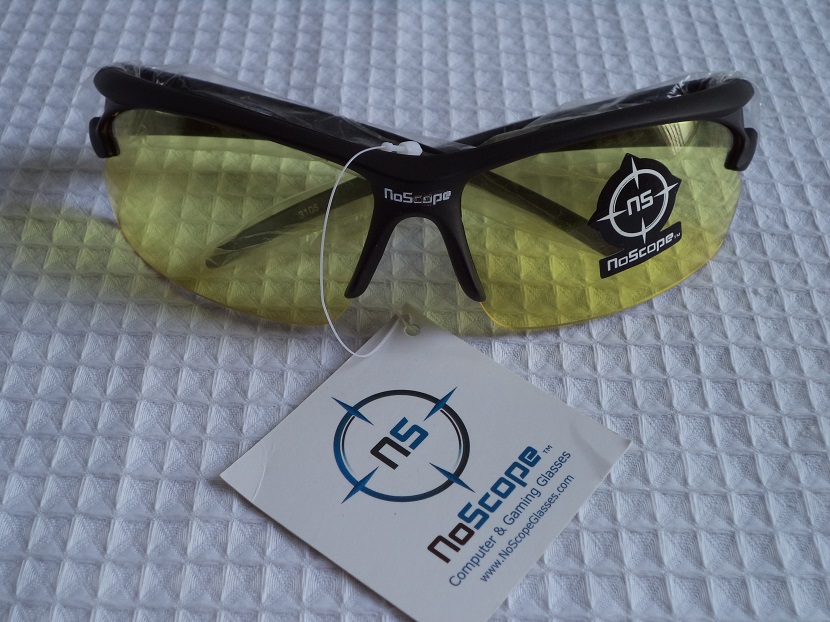 Color:
After removing the tag, sticker and the plastic from handles, we have the clear view of the glasses. It is completely black (that's the only color available right now), except for the plastic optics that are colored yellow, which of course is used for reducing the eye-strain and fatigue by filtering harsh blue rays. This reminds me of shooting range glasses.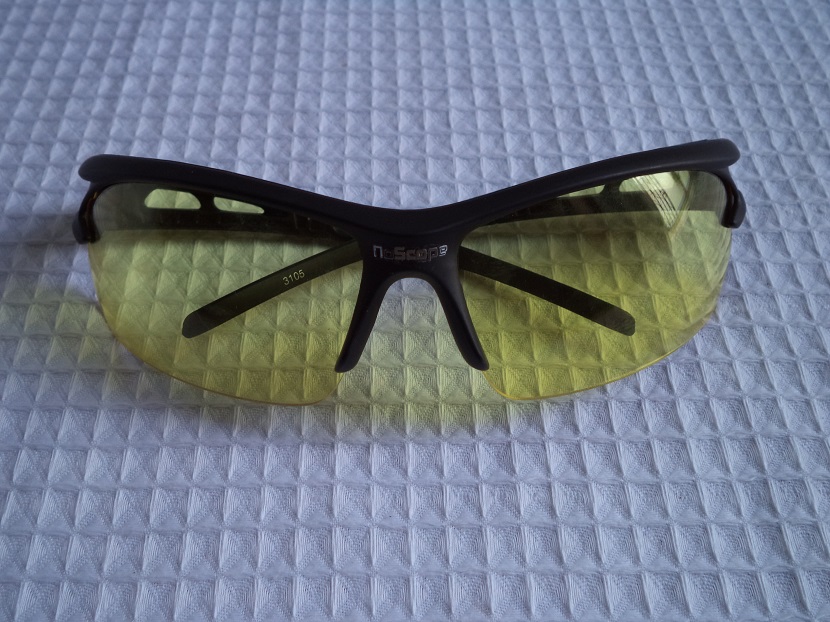 Design:
The handle has strange designing/carving on it making it look good, and are connected with a little screw on either sides. The nose bridge seems a little bit bigger than one you usually would see, and there's also NoScope written right above the nose bridge. Overall the glasses have a curved shape for better gripping.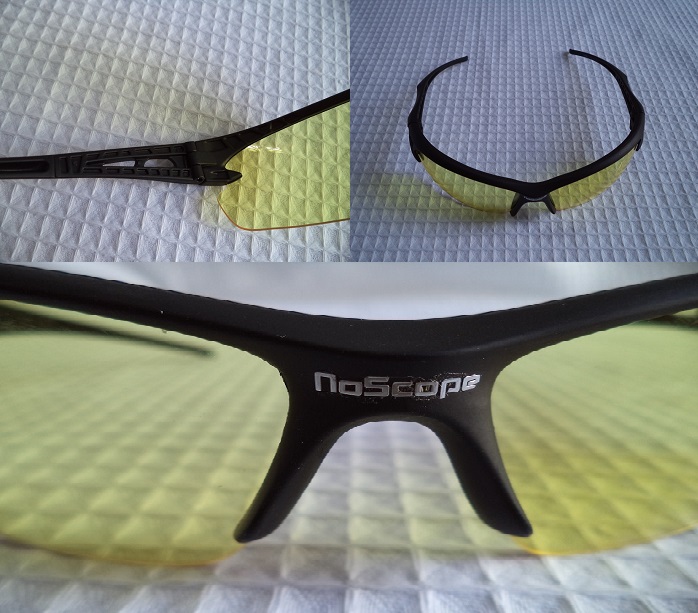 How perfectly they fit?
When it comes to gripping, these glasses have a rather solid grip over the head, that it starts to cause a little bit of pain after a few hours. Secondly the nose bridge as mentioned above is quite awkward. even though it looks huge, when it's stuck on your nose for a while, you'll have to re-adjust it after every few 20-30 minutes intervals or they are sure to leave a mark on your nose. And thirdly, when I wear the headphones over these glasses, the handles of the glasses came in the way (well that will happen with any of the normal glasses as well), so i have to adjust them a little bit over my headphone ear cups for a perfect fit.
As of now, NoScope is only following the "one fits all" motto, this might cause a problem with the gripping for most, but for those whom it fits perfectly, you are lucky!.
Working:
As any other computer glasses, these glasses filter harsh blue lights from the screen reducing eye-strain and fatigue allowing you to have longer and more relaxing computer/gaming sessions (at least for your eyes). As soon as you put on these glasses, everything you see from the optics becomes slightly yellow, taking the natural feel of colors away (for a while). But as soon as time passes, and you're lost in gaming or videos, the color feels natural. You won't even remember you are looking through a yellow optic until you remove the glasses next time.
As mentioned, these glasses are called Gaming glasses as well, but that doesn't mean it will increase your skills in gaming or make you a one man army. I've played Resident Evil 6, Counter Strike Global Offensive, Battlefield 3 and Portal 2 while testing these glasses for hours, though I didn't felt any superiority over not wearing these glasses in my gaming skills. But one thing they sure did was reduce the eye-strain, cause I have had almost straight 10 hour gaming sessions for days, and my eyes were still fresh but again my body was numb asking for some sleep.
I usually spend 10+ hours on my PC every day, but at the end this, a headache is sure to strike and my eyes are usually tired, but since wearing these glasses for almost 3 weeks, I've seen a decrease in the frequency of headaches and tiredness. And no my eyes are not poor! And no I don't wear regular glasses, but this one I think I'll be wearing quite regularly now.
Pros:
The Price point would be the greatest plus point of these glasses making it score 4.5, cause as compared to other regular computer glasses that cost around $50-$100+, these glasses only costs $19.99.
The way these glasses are designed, not only you can wear these glasses in front of your screen, but outside as well (but these

are not sun glasses

!)
Does what it is designed to do.
Cons:
Glasses are available only in one size, that of course doesn't fits everyone.
Nose bridge leaves a mark on nose if not re-adjusted after a while. A bit wider gap between would definitely fix the issue.
So there you have it, for $20 NoScope glasses sure does what it is made for. I only wish the glasses had different sizes, causes a little less pressure on the nose bridge and better packaging, then it sure would've scored a 5 star rating.
Hi, I'm Ahmed Kazim and I've been a gaming freak since like 7-8. I'm also a geek-o-nerd who keeps looking around for latest development in hardware/tech/gadget industries so expect some quick news from me. I'm also interested in anime (Japanese animation) and can't stand a day without music and gaming.