Most surge protectors have couple of simple and straightforward jobs: Protect your equipment from various power disruptions, and turn a single outlet into multiple outlets. The ORICO OSC-4A4U-UN-US-WH surge protector, however, fills a unique niche in this space.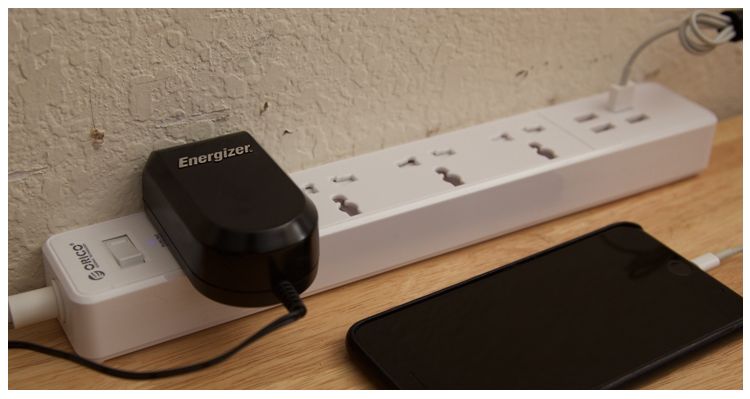 This surge protector gives you a total of 4 AC outlets, and 4 USB charging ports. While USB ports are becoming increasingly common on household surge protection devices, some skimp on the parts and end up providing you with low current – sufficient to charge a phone, but maybe not a tablet or larger device. This ORICO model provides a total of 4 amps across its 4 USB ports, meaning you'll have no trouble charging or powering multiple power-hungry devices simultaneously.
This is one of a small, but growing number of surge protectors to feature universal outlets. This is the most unique feature of this device, and what really makes it stand out. The plug for the wall is a standard US 110/120 volt plug that you're used to. The four outlets on the surge protector itself, however, are quite unusual. Instead of the standard Type-B socket we're accustomed to in the US, they feature a universal socket which will accommodate standard 2-prong plugs (Type-A), grounded 3-prong plugs (Type-B), and a variety of internationally used plugs as well, including the most common plugs used in the UK, Europe, China, and Australia. This means you can plug virtually any device, from any region, into this surge protector. Now, it's important to note that this surge protector does not perform voltage or frequency conversion, so if you plug it into your 110V, 60Hz outlet, and then plug in a device from the UK which expects 230V, 50Hz, you may run into some problems. If your device is compatible with US standards, however, you're in business!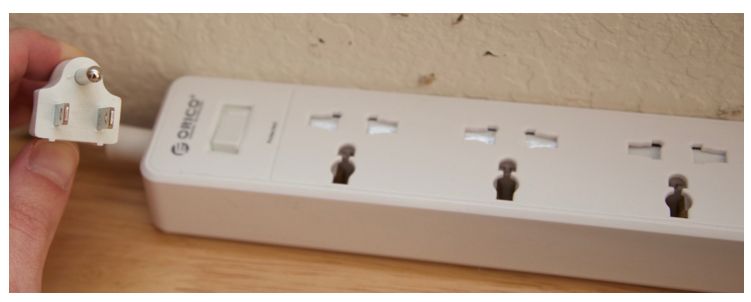 That's not all – this surge protector also features protective covers on both the neutral and hot receptacle aspects, protecting the device from dirt and dust, and giving you a small amount of additional safety when compared to a device with open terminals. As someone with a child, this is a feature I wish were present on every device, and I'm glad to see ORICO including it in their line.
Finally, no matter how well a device works, if it's going to be sitting out in the open, I'd like it to present itself well. The OSC-4A4U-UN-US-WH combines matte and glossy elements, as well as grey piping details, to give the device a professional, thought-out appearance. Add to that a conveniently located power switch on the top of the device, and a subtle blue LED that won't draw attention, but will give you an at-a-glance indication of the device's status, and you've got a great product.
The ORICO OSC-4A4U-UN-US-WH is currently available on Amazon.com.(10% off with promo code SUGZGXS9, valid till 05/04/2016)