More and more often these days, I find myself looking for USB ports to power devices, as opposed to traditional AC outlets. Don't get me wrong – AC outlets are still critical, but my phone, my wife's phone, our watches, my headphones, my portable Bluetooth speaker, the slowly growing stack of Raspberry Pi's on my desk – all these things use USB to charge and receive power.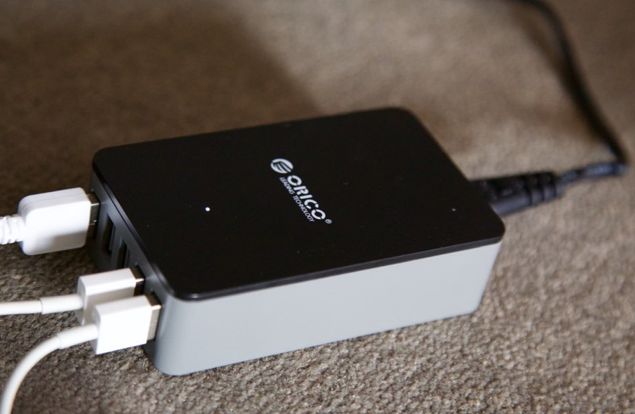 This change from AC to DC has been gradual, which means many of us have a growing collection of oddly shaped and mismatched adapters scattered around our homes and offices, of various colors, brands, and amperage rating. It's time for a better way.
Enter the ORICO CSE-5U Smart Desktop Charger. This is a compact little device that essentially turns a single AC outlet into 5 USB outlets, each rated at 2.4 amps. This means that your devices aren't just charging – they're charging fast. Many USB charging devices skimp on the amperage, leaving you with just a trickle of power, but ORICO pushes a total of 8 amps through this device, meaning you'll be hard-pressed to push it to the limit.
This smart charger has an attractive and minimalist black and grey enclosure with a single white LED to indicate when the device is plugged in and powered. This makes it an attractive piece of equipment to have on your desk, while not being obnoxious or drawing too much attention to itself. The light is subtle enough that you could keep it on your nightstand without disturbing your sleep, and the simple design adds functionality while removing clutter.
Finally, for hobbyists like myself, who love to tinker and experiment, this device is the perfect size to accompany one or more Raspberry Pi's, making for a convenient, portable, and powerful setup.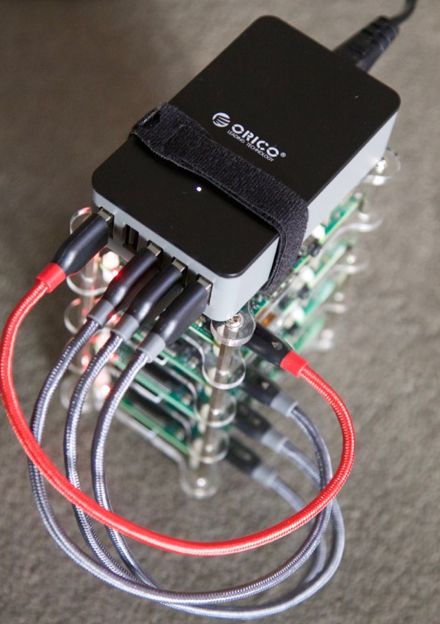 If you're like me and have been acquiring a menagerie of adapters, or simply want to unclutter your life, I highly recommend the ORICO CSE-5U Smart Desktop Charger. It's an inexpensive and sleek way to organize your charging station, and a great addition to your hobby bench.