Final Thoughts and Conclusion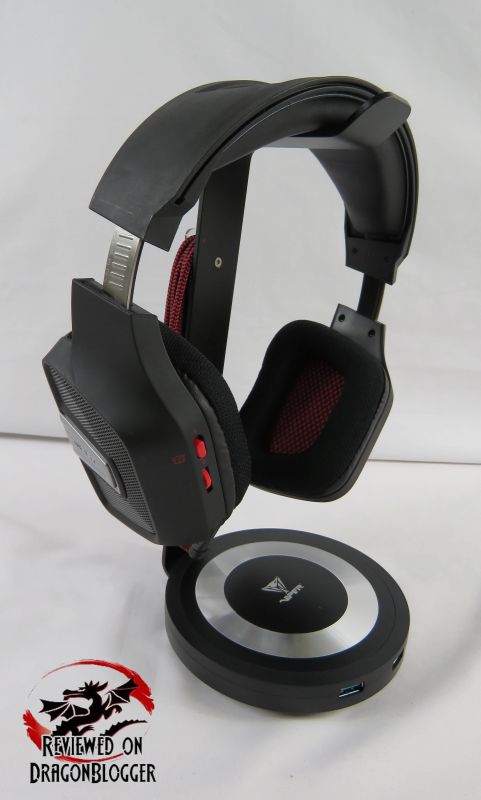 A very well put together pair of headphones for a great price with some amazing features usually not found in a set so affordable.  The headphone stand, the Patriot Viper Gaming Headset Stand/USB 3.0 Hub PVUSB33HSS does not come included, but I will be reviewing them separately and are pretty nice so far.  You can click here to find out more about them CLICK HERE.  Might be a nice bundle for them to offer.
Pros
Very long cable
Braided USB cable
Rubberized Anti-Slip Coating
Soft cushy headphone band
Configurable LED-Lighted ear cups
Very Comfortable feel
Very customizable and functional software
UBR Can be a nice touch
Volume wheel on earcup makes it easy to find
When the microphone is up, it is off, when it is down it is on
VERY Affordable
Included tool to change earcups
Cons
No Apple Support
Documentation could use some work
During my testing of these headphones, I have been listening to Alice In Chains, Metallica, A Tribe Called Quest, Best of Techno Bass, Black Eyed Peas, Beethoven and then watching Captain America Civil War, Ex Machina, Inception, Ant Man and then playing Battlefield 4, Battlefield 1 and Grand Theft Auto V.  At times, since there are soooo many audio options, things may sound a little odd but a few clicks later everything just sounds amazing.  It would be awesome if there was one setting that just sounded good, but if you think about it, that is kind of difficult.
There are many features the Viper V370 RGB 7.1 Virtual Surround Gaming Headset has, many of them really nice, some just OK, but they are there.  The problem is there are too many features that are undocumented and with that, someone looking for a decent set of headphones could easily pass these by, because it doesn't say some things.
All in all, I found these headphones to be amazing, especially because of the price and feature set.  I hope this review sheds some light on some of the features they have forgotten.  I give these headphones the Dragonbloggers Editors Choice Award.  Let me know what you think.