Disclaimer: This was a sponsored post . I was provided a copy of the eBOOK Pro SEO Blueprint for free, and compensated to write my opinions of the product. The words and opinions are mine and mine alone.
---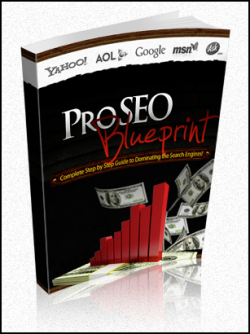 So about a week ago Kevin Chong from Pro SEO Blueprint sent me a copy of his eBOOK that helps web site owners understand and leverage SEO to help better promote and gain traffic to their website. He wanted my honest feedback and for me to review the 42 page eBook and let him know if it would be something I would consider endorsing and promoting on my blog. I admit that I was skeptical at first because I have done tremendous amounts of research in the world of blogging, SEO and social media but I read the book in one evening and found the information to be very good and definitely helpful.
The book covers many topics including Search Engines, Keywords and SEO to Optimizing your site and link building. The book is very easy to read and has excellent information that anyone who is starting a website, blog or any other online business can benefit from. Though you could find and discover all of the SEO tips, tricks and methods outlined in the book, by purchasing the book you are probably saving about a weeks worth of research and reading of the dozen or so other blog sites and posts you would have to find and collect. Depending on how much free time you have, it might be much better to invest in an eBook rather than spend that much time doing the research and finding the information on your own, or worse discovering through trial and error overall several months of blogging.
For $27 dollars you are getting a 42 page eBOOK, you are not getting a 10 page pamphlet, so there is good material in there that makes it worth it if you want to save time. In addition, you could earn money by affiliate promoting the Pro SEO Blueprint and in just getting a few sales it pays for itself. You can affiliate sell the Pro SEO Blueprint through Clickbank or sell the Pro SEO Blueprint eBOOK directly from the site's own affiliate page.
I think the eBook is beneficial for new site owners and bloggers, especially those who are not yet familiar with SEO tactics, how to properly leverage keywords or create linkbacks to their blog.
-Dragon Blogger