I did an extensive review of Popup Domination and it was one of the only three plugins for WordPress I considered valuable enough to actually purchase myself at this time.  This follow up review will focus on the additional features/enhancements found in Popup Domination 2.0 which include 2 new template styles, the ability to add your own custom image to the lightbox and some more choices on when the popup can display.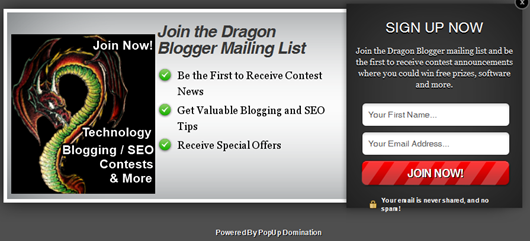 First and foremost, Popup Domination now lets you upload an image to further brand and customize your lightbox with your logo.  They also have templates which allow you to put more text/bullets and further help your lightbox stand out and "pitch" to your readers why they should sign up.
The biggest and best change however comes in the fact that you can now trigger Popup Domination to only display a popup when a user tries to either leave the site (by clicking off of your site) or by moving the mouse away from your site (like by moving mouse outside of the browser focus area).

This means you don't have to have the popup happen and interrupt the reader while they are reading your article and you can have it popup only when they were about to leave your site or look at something else.  This is less intrusive and would be my preferred option.  In my testing the popup triggers on Chrome, Firefox and IE only when the user moves the mouse outside of the website (such as when they move it to their URL bar, or outside the browser altogether).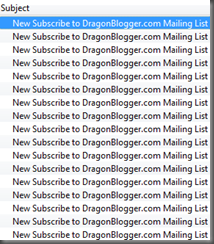 Popup Domination really does work and you will find most people who talk about making money online will tell you that your mailing list is one of your most important assets to bringing in income.
Most importantly, I have found the developers to provide excellent support and were responsive and prompt on every email for support I have sent to the group.
If you are a blogger you should have a mailing list even if you aren't selling products your mailing list is ideal for showcasing articles or sending original content to your loyal subscribers.  Popup Domination does a great job of making it easy for a reader to notice and entice them to subscribe to your mailing list.  It simply works and has increased my mailing opt-in rates by over 300% in the past two months.
-Dragon Blogger
I encourage you to try Popup Domination for yourself, they have a great money back guarantee if you are not happy!  Now that you can set the Popup to happen when a user leaves your site you don't have to worry about interrupting a user while they were trying to read an article.