With the instability issues with Ping.FM when using the API key most WordPress plugins that used Ping.FM are not working or haven't been updated in hundreds of days.  Even the CR Post to Ping.FM plugin says to switch to using Hellotxt instead of Ping.FM for updating all of your social networks with your latest blog post.  I used to use Hello.txt previously but didn't like their URL shortener, however if they switched to using Bit.ly or let you choose a separate URL shrink it would be a good option to try again.
In the meantime I saw that BlazingMinds was using Dlvr.it and I decided to check out the service for myself.
Dlvr.it is similar to TwitterFeed except that you can post RSS feeds to many social media accounts instead of just Twitter.  Dlvr.it allows you to post to Twitter, Facebook, LinkedIn, MySpace and Google Buzz but also claims to integrate with Ping.FM (also states it may be spotty) so I haven't tried it.  Dlvr.it uses its own URL Shrinking service and offers click tracking and analytics for the links that are broadcast, but you can configure Dlvr.it to use a URL Shrinking service of your choosing like Bit.ly or Goo.gl or other 3rd party URL shrinking.
Configure Dlvr.it Source
To get started you just sign up for Dlvr.it and then add a new feed:
At this point you could save and start selecting which Social Media sources, but you can also set more detailed options as you can see below if you click on the Feed Update tab.
Nothing bothers me more than when I see a Twitter account spew out 5-10 updates at the same time for the same post, so you if you post frequently or several times a day you may want to limit to no more than 1 update and reduce schedule to every hour.  This is especially true if you are building an update stream from popular news or media sites which do post often.
A really neat feature is the ability to not only put a custom start or end text, but you can actually set auto find/replace words in case you want to create automatic hashtags.  (Though remember hashtags are typically only useful for Twitter and you can set this up in the Twitter feed instead of the SOURCE setup section as well).
You can also create some pretty elaborate filters, such as selecting "author" and only posting when a specific author is the publisher on that feed.  This is great for multi-author blogs where you may only want to post "your posts" to your personal accounts instead of guest authors.
One of the best options is also "scheduling" so you can set that your feed will always go out the same times each day instead of randomly.  This is ideal if you have posts trolling in randomly, or you want to have a set social media publishing schedule but is not overly necessary in most cases.  If you stick to specific posting schedules this option may not be needed but is good if you want to promote others content at set times each day.
Once you are done configuring your SOURCE then just click save source and then you can start configuring which social media accounts to publish to.
Configure Dlvr.it Destination
Now it is time to configure Destinations and after clicking on "add" in the Destination section you will be presented with a list of destinations you can configure for your Source.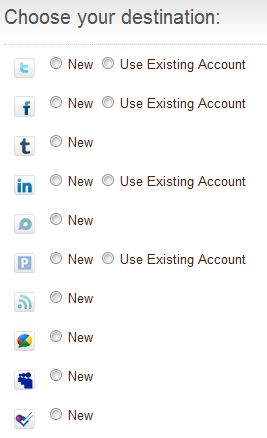 Once you have actually created connections between Dlvr.it and your social media accounts, it becomes easier to add them in the future as you don't have to re-authenticate and can just select an existing account.  The good news is that you can authenticate any number of Twitter accounts and multiple Facebook fanpages so you can broadcast the same feed across many accounts in the same social media application if you want.  For this demonstration I chose Twitter since only Twitter and Google Buzz allow for hashtags and I wanted to showcase that extra step.
When selecting Twitter you have to authenticate with OATH and establish a Dlvr.it and Twitter API connection.  Once established you can just select your Twitter account and configure if you want any "pre" or "post" tweet verbiage (remember that this is in addition to any you may have already set in the source.  So if you set text in the source don't repeat or add additional text in the Destination or you may have too much text crushed into your message.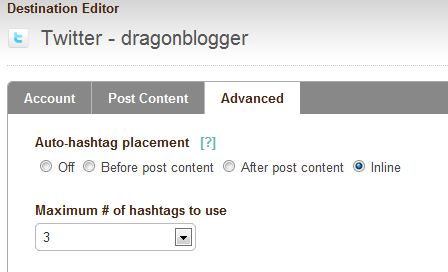 In the Advanced tab you can select how to use Hashtags, Hashtags are useful to get your content featured in trending topics and can bring more notice to your messages when using them.  I wouldn't recommend using more than 3 for a single Tweet, so I set to 3 and I like my Hashtags to be in-line so you don't have to expand the length of your Tweet by appending Hashtags at the beginning or end.  If the # inside the Title annoys you however, you can choose to put your Hashtags at the end of the tweet or beginning of the tweet.  (Remember though, if you put hashtags in-line you leave more room for people to retweet without having to truncate your tweet)
Once you configure your Destinations and save them, you now have an active Route with a source and destination.  This will send out messages from your RSS Feed source to all Social Media accounts that you have configured.
Configure Dlvr.it to use Bit.ly
One thing I did in addition to configuring my route with a SOURCE and DESTINATION is to configure Dlvr.it to use Bit.ly as the default URL Shrinking service, this is because RT buttons like Tweetmeme or Twitter's own official retweet button cannot include dlvr.it URL's as "Retweets" and can lose track of RT's when using dlvr.it's own URL shrinking.  To do this you would click on the Settings tab at the top and then click on the "Short Links" sub menu.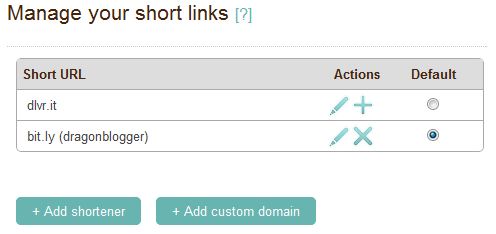 Just click on Add Shortener and select your service of either Bit.ly, Goo.gl or a 3rd party shortener.  Add your login and API Key and voila, now all of your URL's will be shrunk with the preferred shrinking service.  I do wish it allowed for T.co which is the official Twitter URL shrink service, but I haven't figured out how to configure this one yet.
All in all Dlvr.it has many more features than Twitterfeed and is recommended for anyone looking to build automatic feed promotion into their social media accounts.  This is a good option instead of adding weighty PHP plugins to your WordPress blogs and you can setup routes for many sites all from the same panel.  Thanks to @BlazingMinds for pointing me in the direction of Dlvr.it.
-Dragon Blogger
I have been obsessed with computers, tech, gadgets and games since the early 1980's having grown up on the Commodore 64 and Amiga computers.
By day I work in the IT Security Industry and have been in IT for over 20 years. On my spare time I am a Vlogger, Blogger, Streamer, Gadget Reviewer, affiliate marketer, influencer and entertainer. I am also an avid movie fan, TV Show fan, Anime fan, video game fan and fan of trying anything and everything new.