Follow @dragonbloggers for live tweets about Pottermore…
NOTE: This article contains important information on what exactly can be revealed once entering the Pottermore Beta – read it carefully before you consider sharing anything.
Audio Narration of Pottermore Experience:
(Check the Twitter account listed above for dates of future ones)
August 19, 2011, 1:15 PM PST

: Discussion about the Sony E-reader bundling all 7 books, welcome email updates, coverage of what we missed, more of a look at wand wood types, and a taste of what potion brewing is like.
August 17, 2011, 10:00 AM PST and 12:09 PM PST: A little bit of statistical updates on house standings, welcome email statuses, and our adventure from Nicolas Flamel to The Man With Two Face.  A closer look at the Hufflepuff common room can be heard toward the end of the second broadcast.

August 16, 2011, 12:57 PM PST

: Pottermore narration covering a journey that spans the Great Hall and ends with Harry's first encounter with the Mirror of Erised.
August 15, 2011, 10:44 AM PST and 1:22 PM PST: Narration starts at 02:48, we had to wait for more viewers to enter.  Covered in these segments is everything from Privet Drive to the Sorting Hat.  Listen carefully for details about the wand selection process.
Its OFFICIAL everyone – several reports are indicating that the long wait for individuals who got into the Pottermore Beta on Day 1 of the magical quill clues challenge is finally over and accounts are getting activated. Tweets are flooding timelines, owls are being released, and email inboxes are filling up with Pottermore welcome emails. This is joyous news after what seems like centuries of attempting to pinpoint dates on which they will arrive. The wait was not an easy one especially when on Wednesday August 10 a pre-welcome email was sent with the tantalizing subject of "Congratulations" revealing that activation emails will be sent within the middle of August.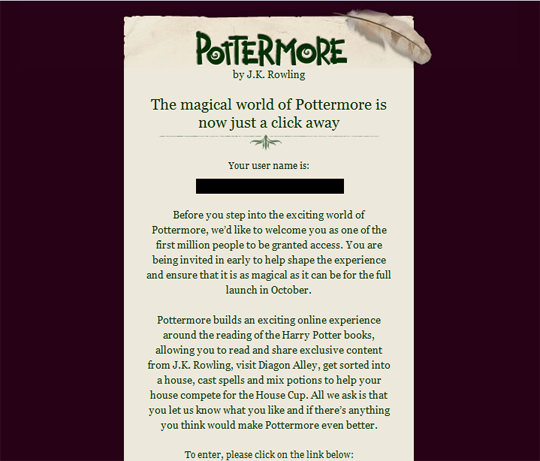 Will the servers of J.K. Rowling's beloved Pottermore be able to hold up as the first rush of beta accounts log in? I don't mean to jinx it but you have to admit – this would be a rotten time to see the sinister "overwhelming demand" message. The silver lining regarding this is that it will be a good field test for the Pottermore team to work out the kinks and make sure no one's virtual experience with the Harry Potter books gets painfully interrupted. Even the Pottermore Insider itself points out a Beta feedback button we can use to share our thoughts. Now I bet you're saying: "Stop beating around the bush and tell us about the inner workings of Pottermore already!"
Allow me to caution fellow beta testers about what exactly they share regarding Pottermore. We at Dragonblogger.com will be sure to fill you in on any of the experience we can along the lines of the website's Terms and Conditions. A bullet point use to be found in the T&C that stated:
You may not make, use or distribute screenshots of any Game without our express permission to do so.
This sentence has since been removed but of course Pottermore's copyrights remain intact so tread carefully.  For fellow bloggers, you can refer to the Pottermore Press Room to access pictures that are considered acceptable to share.  If things play out for the better – then you will definitely see as many screenshots as we can muster.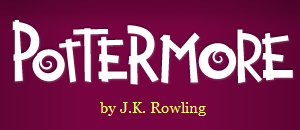 Pictures or video aside, there is no indication that talking about Pottermore and exploring its features is forbidden :). We will surely be thorough and describe the 18,000 word (and growing) experience in detail. If we can gain a good round of sorting hat questions – there is no doubt that we will be sure to share them.  We already have a scoop on what the wand selection may be like as well as other features of the site: Pottermore Sorting Hat and Wand Selection Details and Pottermore: Harry Potter Lives On.
Bear in mind that while some of the online features of Pottermore are open – the shop in fact has not. The Pottermore team has shared that when the shop opens in October:
…readers can exclusively purchase and download the digital audio books and, for the first time, the eBooks, with the complete series available in a range of popular language editions – and more languages to be added later.
The shop is not the only thing that will be postponed.  According to those who attended the LeakyCon2011 convention, Pottermore will contain content largely from The Sorcerer's Stone – and will not release anything from The Chamber of Secrets until eary 2012.
If you have questions about the experience we are glad to answer them whether it is in the comments, on Twitter, or our Facebook Fan Page. You can also subscribe to our Pottermore RSS Feed to be notified of the latest breaking news.
For now, take a moment to sit back and see the journey we have taken thusfar…
[youtube width="550″ height="343″]http://www.youtube.com/watch?v=jYXZXNkM9bI[/youtube]
Share your Pottermore usernames in the comments to connect with other Dragonblogger fans!
[easyazon_block asin="0545162076″]