Follow @dragonbloggers for live tweets about Pottermore and live audio narration of it…
UPDATE: As of August 22, 2011, 8:00 PM PST writer Persian Poetess has provided an extensive review of the Pottermore beta. Click the appropriate timestamp below for more details.  To be notified of whenever there is breaking news – subscribe to our Pottermore RSS feed.
Click a timestamp to jump to an update:
Attention Harry Potter fandom and J.K. Rowling followers – Pottermore will now be opening its gates to you magical individuals out there that were clever enough to solve the 7 quill clues. As one of those individuals who managed to do so herself, I am beyond pleased to have this opportunity and share it with those who still wait patiently at the gates. We cannot all storm the virtual grounds of Pottermore all at once and it will take time for each of us to receive our acceptance letters for the beta. I have managed to discover some interesting details that may shed light on when that may be and will share them in just a moment.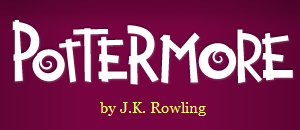 During the 7 day marathon of clue solving, page flipping, and pulling all nighters with fellow Potter fans – I noticed some very intriguing patterns. From Day 1-7 of the challenge, I set my money on a great group of folks known as Team Portkey. This team is made up of the clever witches and wizards known as Becca, Deyvn, Shrima, Quin, and several other honorable fandom members. Yours truly hung around in their livestream and shared the revelations that their hosts as well as the 100+ other chatters discovered day after day.
Each time consistently I noticed that those who followed Dragonbloggers or attended the Team Portkey livestreams were most likely the first group of the day. The second closest group would probably be those who relied on Pottermore notifier pages or Twitter accounts that deployed info via texts and tweets. The fansites and Potter forums experienced a much more noticeable delay in sharing clues.  According to the update times on our Pottermore: The Magical Quill Clues Await You post – Dragonblogger was often 5-20 minutes earlier than the prior sources I just mentioned.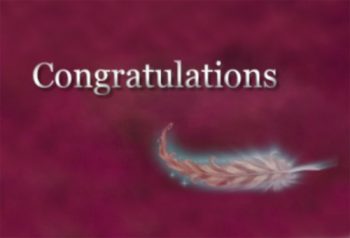 Regardless of how soon one discovered the quill it really boils down to what day you scored a spot. Much speculation has been surrounding when certain days will be permitted into Pottermore. By chance I did manage to stumble across a solid formula that was shared thanks to PottermoreBetas* (see calculations at end of article) on Twitter about possible entrance dates. Here are the potential early access dates, remember these are educated guesses:
—
August 15, 2011, 7:55 AM PST
Reports coming in at a rapid pace that Pottermore welcome emails are being delivered at this very second. Update: View our NEW article for the full scoop, audio narration of the insider experience, and screenshot of email here.
—
August 13, 2011, 10:14 PM PST Update
Popular Pottermore Tumblr blogger earthtopotter – the admin behind the Pottermore Watch blog – posts details of an early invitation they supposedly received from Pottermore itself. Earthtopotter notes that it was sent from a pottermore.com domain but is still unsure of its legitimacy.  Earthtopotter is also concerned if this is an email spoofing attempt that is trying to gain access to their account through this common scam technique.  More details can be found here.
—
August 12, 2011, 4:07 PM PST Update
Reports have come in that French Pottermore users have supposedly received an email like the one pictured below – indicating that early access to Pottermore may open up on August 15.  This coincides with the English language email which stated mid-August.  Could this mean come Monday, Day 1 quill finders may get their email?!
Further Evidence
Google the phrase: Pottermore "15 août"… countless French forums pop up that discuss Pottermore in relation to this date.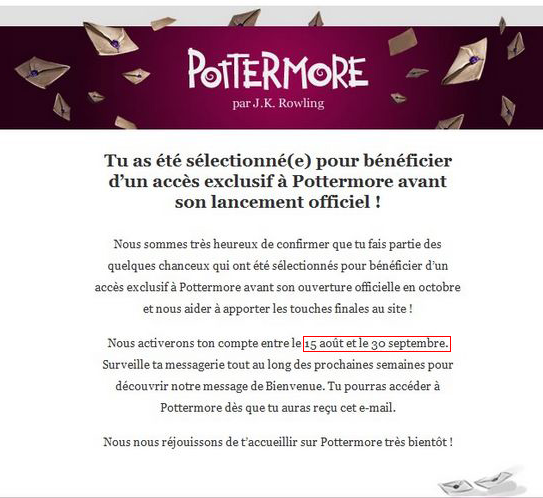 —
August 12, 2011, 11:27 AM PST Update…
We have put together a vlog overviewing everything we know about Pottermore thus far and the journey we took to get there.
► Click Here to Watch
—
August 10, 2011, 10:24 AM PST Update…
Dragonblogger.com staffer Persian Poetess has received a new email from Pottermore!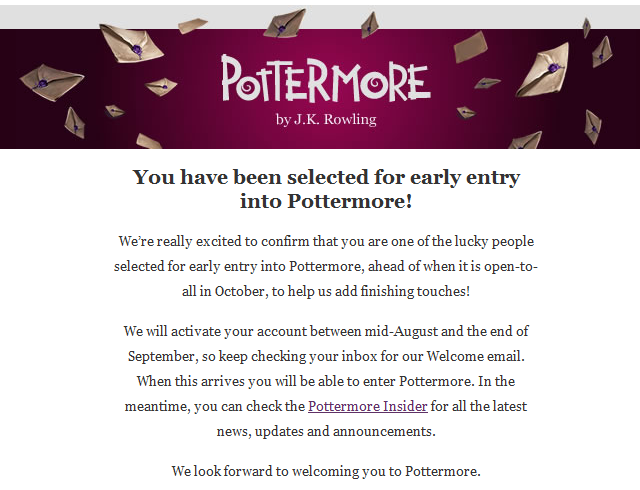 As the picture above indicates the Welcome Emails will be sent out between mid-August and the end of September.  To summarize what we know so far watch the vlog for details.
—
August 10, 2011, 9:26 AM PST Update…
There have been a high volume of tweets with screenshots revealing emails confirming access to Pottermore in mid-August.  So far there has been no pattern as to how the emails have been received and it has not been based on what clue day you entered. The only thing in common is that all mention mid-August as the time of entry. There is also a new post on the Pottermore Insider mentioning that the emails are about to be sent:
If you didn't manage to find The Magical Quill and register for the Beta, please don't worry; Pottermore will be open to all in October. However, if you did manage to register for an early access place you will soon receive a 'selected for early entry' email.
—
Educated Guesses Per PottermoreBeta's Calculation (NOT OFFICIAL)
Day 1 August 8-14, Day 2 August 15-21, Day 3 August 22-28, Day 4 August 29-September 4, Day 5 September 5-11, Day 6 September 12-18, Day 7 September 19-25
Don't those numbers just thrill you? To think – those of you who signed up early are possibly days away of being sorted by the sorting hat…well not quite. In fact many sources say you are going to be starting at the root of the Harry Potter books, which is the Dursleys! Soon you will take your journey to Hogwarts and discover fun facts along the way. You can find a more detailed outline of what awaits by reading our past article Pottermore: Harry Potter Lives On.
Stick with us to watch how the Pottermore experience unfolds. While J.K. Rowling and associates are very guarded about what is revealed about Pottermore, so far it seems describing the details are completely permitted. Just as you stepped into the magical world of Potter in search of the [easyazon-link asin="054506967X"]Sorcerer's Stone[/easyazon-link], upheld the honor of the [easyazon-link asin="0439358078″]Order of the Phoenix[/easyazon-link], and wondered at the power of the [easyazon-link asin="0545139708″]Deathly Hallows[/easyazon-link] – relive the adventure and find out things you never knew before thanks to Dragonblogger and Pottermore.
Those of you who have entry to the experience tell us – what do you look forward to the most?
Subscribe to our Pottermore RSS feed for the latest on the site.
Calculations Credit: PottermoreBetas (Picture)
[easyazon_block asin="0545162076″]