UPDATE: Persian Poetess has just written a thorough analysis on the round of Sorting Hat questions she received: Pottermore Sorting Hat Questions Analyzed.
Follow our Twitter account @dragonbloggers and subscribe to our Pottermore RSS feed for more breaking news.
The hours are ticking by for fans of the Harry Potter books to receive their welcome email to the Pottermore Beta. As we previously discussed – forecasting of when that may be is spreading like wildfire. To get a taste of Pottermore does not necessarily require your welcome owl to arrive yet. In fact, there have been some great details released thanks to social media and YouTube. Two clips in particular are dazzling J.K. Rowling devotees and show a snippet of the wand selection process as well as the much anticipated sorting hat process…
Wand Selection
[youtube width="550″ height="343″]http://www.youtube.com/watch?v=lespwtqCbgA[/youtube]
The video above reveals for a brief moment two factors in regards to wand selection:
Your eye color.
What you fear most.
Once again, I am tickled how unexpected the formulas are for tailoring your Pottermore experience. It is becoming increasingly obvious that this will be far from the quintessential online personality quizzes we have become so accustom to. Don't believe me? Then take a look at the next clip that shows a journalist getting grilled by the sorting hat itself.
Sorting Hat
[youtube width="550″ height="343″]http://www.youtube.com/watch?v=tFbOmE2Xi88[/youtube]
This clip imparts some unusual questions regarding your Potter persona for example:
How do you wish to be remembered when you die?
Are you partial to the river or the forest?
Heads or tails?
I wonder if it is possible to game the system and nail down potential houses because of this. Though it seems simple enough to attach a house to particular questions, I feel the folks at Pottermore have something trickier up their sleeve. As amazing as all this customization is, will it lead to something tangible?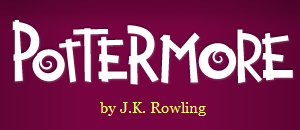 Imagine if you could purchase house robes engraved with your name or a wand whittled to the exact specifications of your own. If that is too tricky, then perhaps a very finely made certificate on vellum that rolls out like a scroll or other Potter paraphernalia you could show off. It is uncertain if the Pottermore shop will ever become that custom for the user but you cannot deny how genius that would be if it was.
Many fans are hungering for the e-books understandably and cannot wait to load those up on the e-reader of their choice. Worried that your e-reader is not on the list? Fear not, according to the Pottermore Insider post You ask, we answer, any book under the sun will be at your digital finger tips:
What formats will the ebooks be available in? Will I be able to read them on my iPad/[easyazon-link asin="B003Z97FOW"]Sony Reader[/easyazon-link]/[easyazon-link asin="B002Y27P3M"]Kindle[/easyazon-link]…?
The Pottermore Shop is due to open in October. Our aim is to offer the ebooks in an as many formats as possible. We'll provide more information closer to the time.
There you have it folks…Harry Potter will dot your LCD/E-ink screens very soon.  For now, those devoid of a welcome email wait on the edge of their seats – hoping to be let into the majestic gates of Pottermore.
For the latest Pottermore coverage, follow our Twitter account @dragonbloggers and subscribe to our Pottermore RSS feed.
[easyazon_block asin="0545162076″]