Thanks to Google Feedburner now you do not need to add a wordpress plug-in to post your article to twitter whenever you publish a new post.    You can set this up under your Google Feedburner account, click on your feed and click on "Publicize Tab", then you will see the new "Socialize" button on the left.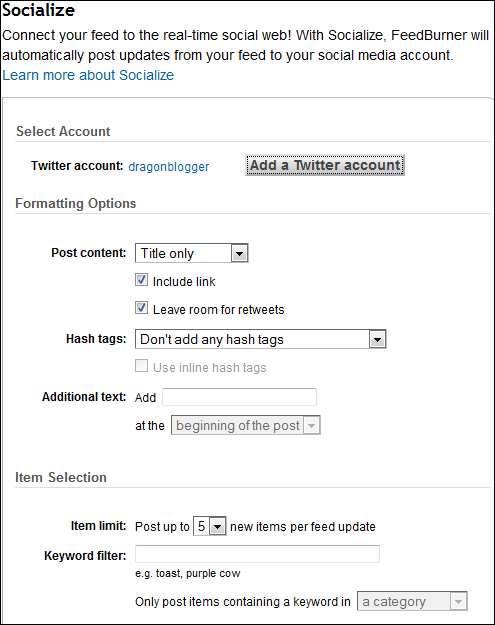 From here you can configure your twitter accounts to publish your feeds by adding the twitter accounts one at a time but you have to log out of twitter after adding each account before adding the next one. You have a variety of options including making sure that room is left for retweets, adding hashtags to allow articles the potential to trend or join trends, and adding some custom statement before each tweet. Please note that 1 feed can only publish to 1 twitter account, so even though you can add multiple twitter accounts, you can only set 1 feed to publish to each twitter account.
Since you can select the drop down of the twitter accounts you have added, you should have had the ability to "filter" your feed and define keywords and match them to category or your blog title, and only those specific articles that match the category or title will be fed to that twitter account. This means if you run a magazine style blog and you have multiple twitter accounts, one for technology, one for entertainment and one for food, you can filter your feed stream so that only your technology category articles post to your technology twitter account, food ones to your food twitter account and so on. To accomplish though you have to copy your feed and have multiple feeds setup on feedburner for your blog, so you can devote 1 feed to technology, 1 for entertainment..etc.
I predict Google Feedburner Socialize will negate many people using twitter feed plug-ins and the flexibility opens up a whole new world of publicizing your articles on twitter under a variety of accounts.
One thing to note, URL's are shrunk using Google's new "Goo.gl" URL Shortening service, which should be interesting to see how well it works and tracks metrics and analytics. At this time I don't know if Goo.gl URL shortening passes the full 301 redirect so that your site reflects the traffic, or it is limited to 302 redirects and your analytics won't see the visit. It would make sense for Google the owner of GA to have GA track the clicks and visits from its own URL shortening service.
Here is a full video demonstration I created to show you how to setup Google Feedburner Socialize for your blog feed:
Please leave me a comment and let me know if you think Google Feedburner can be beneficial to your blogs and if you will be replacing your wordpress plug-in to use Feedburner post to wordpress instead.
-Dragon Blogger
Are you worried about cissp dumps prep and Pass4sure 100-101 ? Check out our latest resources for Testking and Actualtests VCP-510 questions for practice with definite guarantee of ECCOUNCIL training.