Surge protectors are something that we easily take for granted. They often hide under our desks, and if they're doing their job, we never think about them. This has caused a shift over the last two decades, from the surge protector being an important tool to protect your valuable electronics, toward it being a cheap upsell pushed onto consumers as an afterthought when they're buying a computer, printer, or microwave at their local big-box store. I'm very happy to say the QICENT SC-6A5U is anything but – and a very refreshing return to quality and attention to detail for this very important, and often under-appreciated aspect of our high-tech lives.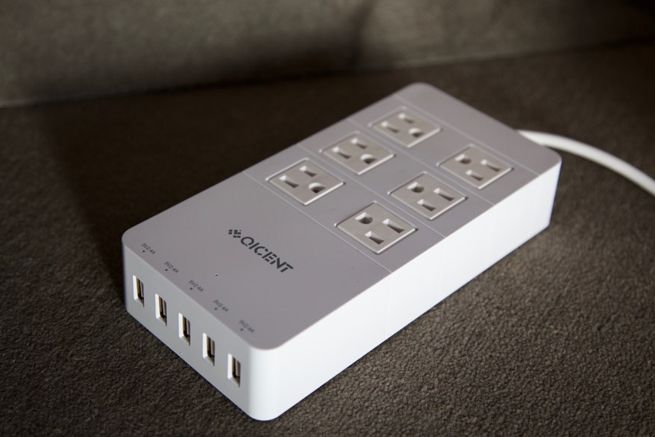 I love QICENT packaging, which is very tidy, and feels professional, but the first thing I notice about the product is the weight of it. This isn't cheap plastic twist-tied to a piece of cardboard. You can feel the weight of the components inside, designed to condition and distribute the power. It feels good to hold – solid, reliable.
Removing it from the packaging, a few things stand out. The case is made of plastic, but is sturdy. It does not give or squeak as I squeeze and try to bend it. The unit has a wide footprint with four soft bumpers on the bottom, which means that it won't be pulled off my desk or tipped over by the first thing I plug into it.
The outlets themselves, six standard AC receptacles, have a little more space between them than I am used to, which means that while I might not be able to plug in six large power adapters, six small ones seem like they would fit side by side without issue – something many surge protectors these days do not account for. The cord is also a reasonable length, falling just short of 5 feet, and is firm but flexible. This means the SC-6A5U won't be usable as an extension cord for most people, but will be able to snake out from behind a desk, or navigate through the cutouts in a desk fairly easily. A sturdy switch next to the cord allows you to turn the unit off, and a small blue light provides an indicator of when the unit is on.
All of this makes the QICENT SC-6AU5 a great surge protector, but here's the kicker: not one or two or three, but five DC USB ports, each rated at 5 volts, available on the end of the unit. This means no messing around with power bricks taking up outlets to charge your phone or tablet – just plug in and you're charging fast, with 2.4 amps per port. That's a total of eleven devices you can power from this unit.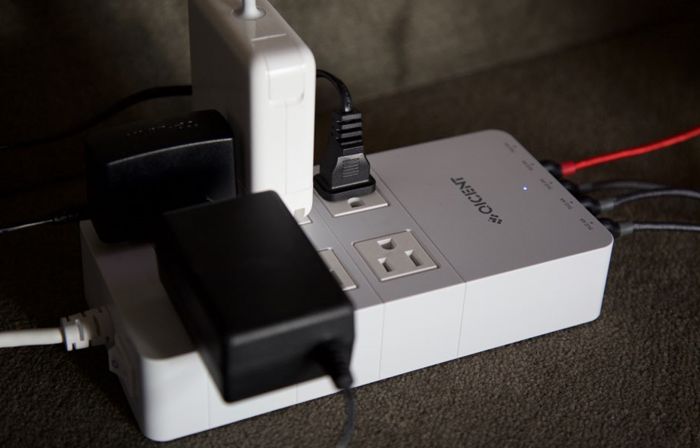 There is no shortage of options for surge protectors today, but the QICENT SC-6A5U is an easy choice, and a welcome addition to both home and office. If you care about what you're powering, and want a reliable companion for your gadgets. Mine is currently an amazing companion to my hobby station, sitting on top of my desk and powering four Raspberry Pi's, two PC's, and a cell phone charger, and I couldn't be happier.
If you're not familiar with QICENT yet, you will be. They're making inroads in the US market, and with a fleet of excellent products such as this available on both Amazon and Newegg, you're likely to see them in more and more homes and offices.