Are you looking for one of the best SEO software for your marketing team?
Finding the right SEO tool is challenging as there are hundreds out there. If you've just started and are not sure how to select the best SEO software, the simplest approach is to check the rankings and the user feedback of leading SEO tools. This will give you insights onwhat to expect when you make a choice.
In this article, I'll show you the top rated SEO software 2017 in terms of their rankings and user feedback. This list will help you make the right decisions.
SEMRush
SEMRush is the highest-rated the most liked and most used SEO software out there. It is used by some of the large brands like Forbes, Blinds, eBay, Disney, Amazon, and others.

It's one of the easiest tools that anyone can use, without any form of training. SEMRush has a lot to offer its clients. It's a complete SEO package that is perfect for all types and sizes of businesses.
Jussi, who is a current user of SEMRush, says that he'd need more than 24/7 to use every feature SEMRush offers.
You can analyze backlinks, track traffic, generate keywords, spy on competitors, and pretty much everything related to your website. Interested in seeing what your competitors are doing? No worries, SEMRush got you covered. You can scan your competitor websites with a few mouse clicks.
In terms of price, SEMRush isn't too expensive. It only costs $100 a month for the basic plan which is more than enough for any small business.
Ignitur
Ignitur is one of the top SEO software, primarily designed to help web marketing agencies simplify their marketing projects, collaborate with team members in real-time, and get more done in less time.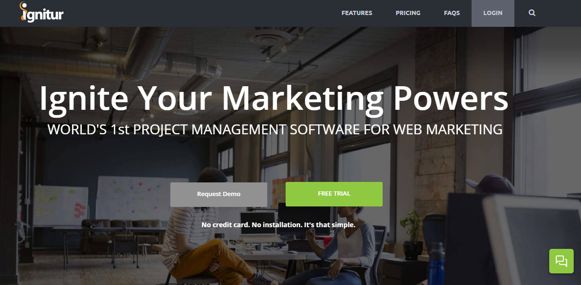 It is, in fact, a complete internet marketing software that has several tools that help businesses with task management, in-depth white-label reporting,team collaboration, built-in editor, and more.
It has secured 4.8 stars for user experience, and 92% of the marketing professionals surveyed called Ignitur: "an innovative and time-saving tool." It's primarily famous for its ease of use and powerful SEO tools.
Ignitur is great for web and SEO agencies. If you manage multiple client websites/projects, you'll love it. Managing multiple and complex tasks with it is a piece of cake.
It's equally awesome for small businesses for the fact that it provides small businesses full control over managing their marketing tasks at a price that's quite affordable.
Moz Pro
Moz Pro has secured 4.4 stars at G2 Crowd and is at the third place in this ranking of best SEO software 2017. Moz Pro comes with a full set of different SEO tools that help businesses in improving their SEO performance.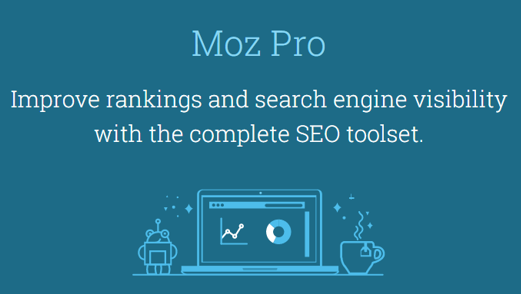 Some of the best SEO features include rank tracker, keyword research tool, backlink analysis, site crawl, on-page optimization, reporting, and more.
Moz Pro is an all-in-one SEO tool for small and large businesses. Though its backlink analysis isn't as in-depth and comprehensive as some of the other SEO tools like SEMrush, but its site crawl and on-page SEO analysis are the two best features. These two features alone can improve your website's ranking to a great extent.
If you own a small business, you can start off with Moz Free and if things work well, you can switch to Moz Pro. If you're an agency, start off with Moz Pro because free version won't be as helpful.
SEO PowerSuite
SEO PowerSuite is at 4th place in the rankings and is doing exceptionally well in terms of helping small and large businesses in improving rankings of individual web pages. It comes with a free version that's perfect for small businesses.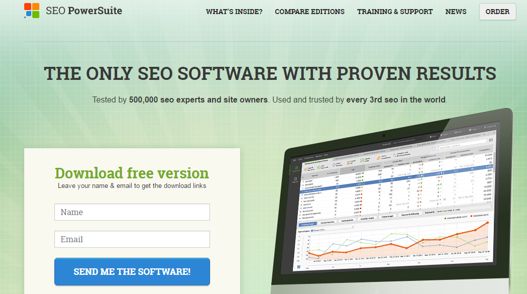 SEO PowerSuite comes with four different SEO tools: Rank tracker, website auditor, SEO spyglass, and link assistant.
These four tools together make SEO PowerSuite one of the best tools for agencies. It isn't just a professional level SEO tool but it's super easy to use.
The analysis is powerful and in-depth whether you're tracking Google rankings of your website or finding backlinks. This is one of the best things about PowerSuite.
On the other side, the time required for analysis might irritate you because it takes a lot of time. This is one of the major drawbacks.
Nevertheless, you'd never regret waiting for the results but if you're in a hurry or dealing with hundreds of clients, things might get a bit tough.
Ahrefs
You must have heard a lot about Ahrefs. It's one of the most powerful SEO tools because it's perfect for small businesses. You can easily track a single domain with its free plan.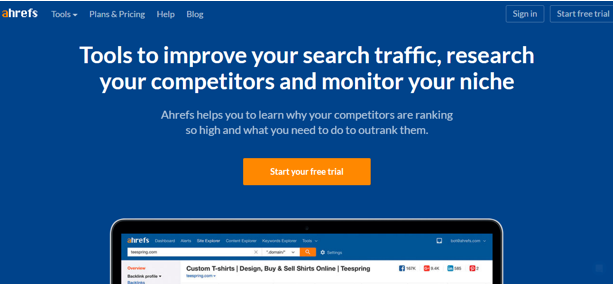 Things get a lot more interesting when you switch to its paid version. You get full access to all the features including rank tracker, content analysis, backlink analysis, site explorer, keyword explorer, and several others.
One feature that makes Ahrefs best in the game is that it helps you with competitor analysis too. You can find pretty much everything about your competitors from one central dashboard.
Conclusion
Don't get too overwhelmed with the entire SEO concept. Yes, the algorithms will continue to evolve (which is a good thing), but as long as you're armed with the right SEO software that will help you to get user insights, and essential data to create compelling content for your target audience, you'll be fine.