Okay, you may think this is contradictory or ironic that I am telling you the following:  If you are a WordPress blogger and want to increase your commenting, purchase CommentLuv 3.0 right now!
I am not even using CommentLuv on DragonBlogger.com or my other two main sites right now during my Livefyre review period, but I know a good deal when I see one and have been using CommentLuv for over 2+ years prior to my current Livefyre test.
With CommentLuv Premium you not only allow other bloggers to showcase their articles which adds incentive, but the plugin prompts them to increase the # of articles they can display by encouraging them to retweet and share your article on Twitter/Facebook.  This will get more clicks so they can display more articles to link back to them.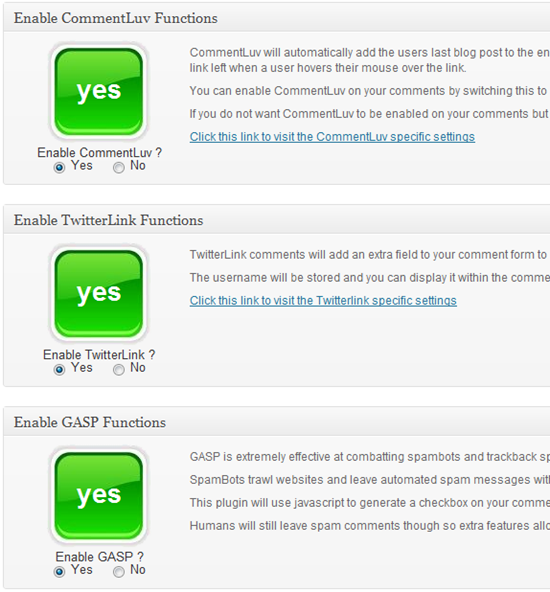 Reasons to Purchase CommentLuv Today
$40 for CommentLuv Unlimited Site License
The next 7 days only, CommentLuv Premium is $40 for an unlimited site license.  This is a great deal, and $40 to install on as many sites as you want is a better deal than nearly any other plugin you will find on the market, for a plugin with this much functionality to be t this price is crazy.  This is why I purchased it this morning even though I am not even using it on this blog (yet).  I own it because I want to have it at this price for other blogs or if I do decide to convert back to using CommentLuv after my Livefyre review.
CommentLuv Premium Includes GASP
CommentLuv Premium includes GASP (Growmap Anti Spambot Plugin) so you are getting 2 plugins in one with the new version.
CommentLuv Includes TwitterLink
CommentLuv Premium includes the TwitterLink plugin so that you now add the Twitter field to your comment form so Twitter users can leave their profile name and link back to their Twitter profile.  So now you are getting 3 plugins in 1 with CommentLuv Premium.
CommentLuv Premium Enables Keyword Name Functions
Basically CommentLuv Premium also replaces the KeywordLuv plugin and automatically makes the site link for user profiles with username@keywords their chosen keywords.  But also, if you don't want to allow keywords to link externally, you can disable this and have CommentLuv premium deliberately strip the keywords out of the username so they only get the name and the @keywords are removed.  You can also allow the plugin to give keywords if user leaves X number of comments first, nofollow, dofollow or custom dofollow based on certain rules (# of comments…etc).  This means CommentLuv Premium replaces NOFF (NoFollow Free), KeywordLuv, DoFollow as well and now makes CommentLuv the equiv of getting 6 WordPress plugins with 1 plugin.
BUY COMMENTLUV PREMIUM NOW
Seriously, for $40 you get 1 plugin that replaces 6 other WordPress plugins and for only the next 7 days it is $40 and for an unlimited site license.  I know many other WordPress bloggers snatched up CommentLuv earlier than me, I didn't get to do the beta testing because I was committed to testing Livefyre at the time and had other commitments but now that I finally saw what the full version of CommentLuv Premium has I can tell you that I fully endorse it.
Even if you only wanted to use 2 or 3 functions of this plugin it would be completely worth it and honestly because this plugin is so feature rich I am even more likely to put CommentLuv back on my site after my Livefyre review period ends.
Click to Buy CommentLuv Premium Now and disable/remove the other 6 WordPress plugins you no longer need!
Not convinced you need CommentLuv Premium?  Here is what I want you to do WordPress readers, tell me a compelling reason why you think this plugin isn't worth the $40 and shouldn't be purchased?
-Dragon Blogger