This article summarizes my most recommended WordPress plugins that specifically enhance your WordPress dashboard to make it more valuable to you as a blog admin.  Some of these plugins provide more benefit if you run a collaborate blog or allow guest authors on your blog, but they all deserve mention and are my top recommended WordPress Dashboard related plugins.
Dashboard: Scheduled Posts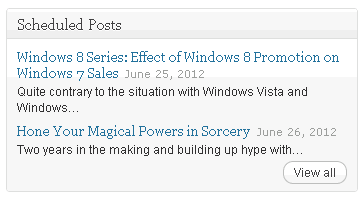 If you like to have several days worth of blog posts queued ahead of time like I do, then Dashboard: Scheduled Posts is what you need hands down.  This plugin shows your upcoming posts and when they are scheduled for.  It would be nice if it also included the author for multi-author sites (but it does show all upcoming scheduled posts by any author).  I use this plugin on all of my WordPress blogs.
Download Dashboard: Scheduled Posts from the WordPress plugins library, it is free.
Dashboard: Recent Posts Extended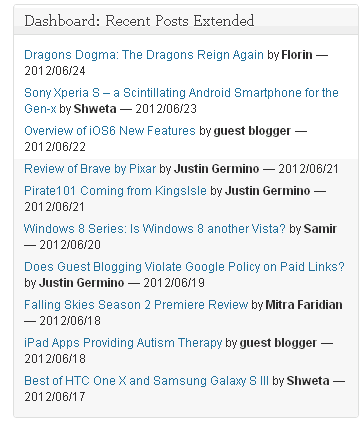 Sometimes you need to know more about your recent posts that were published like who was the author and what date they were published at a quick glance without having to click on your "Posts / Scheduled Posts" links.
This is where Recent Posts Extended comes in which displays your most recent articles from any author as well as date they were published.  This is excellent if you allow guest posts and/or run a collaborate blog as the default WordPress recent posts doesn't show posts by other authors.
Download Dashboard: Recent Posts Extended now and have quicker visibility into your recently published articles.
Better Recent Drafts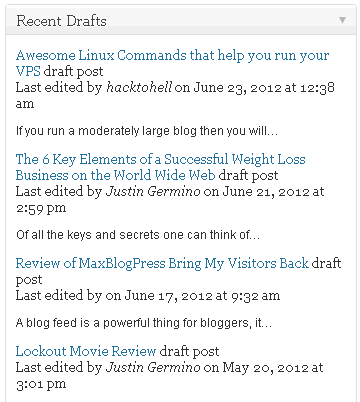 I just recently found this one a few months ago and now it is one of my favorite if you allow guest posts on your blog.  This is especially valuable if you use the MyBlogGuest site and have your blog to allow for "direct publishing" because you can see any MyBlogGuest articles that are submitted directly to your drafts right on your WordPress dashboard screen.
I needed a plugin that would allow me to see all drafts on my blog, not just mine and this plugin does the trick.
Download Better Recent Drafts now from the WordPress plugin library.
Google Analyticator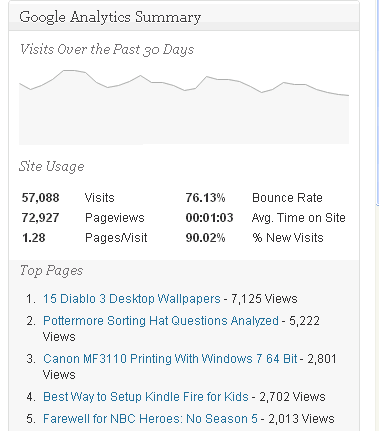 Yes, you can embed Google Analytics into your blog theme directly or via it's options, but I find it more efficient to rely on a plugin that way if you change blog themes you don't accidentally screw up your Google Analytics.
On top of that, Google Analyticator comes with an awesome WordPress Dashboard module that gives you most of the Google Analytics you need at a glance without having to leave your blog and head over to Google Analytics.  This saves you time and clicks.
Download Google Analyticator now from the WordPress plugin library as it is another great free plugin.
Special Mentions
There are other plugins I use as well and highly recommend like Peter's Post Notes which allows you to send custom messages to other writers/authors and they display right on your dashboard so you don't have to go fishing around for them.
If you use the CommentLuv Premium WordPress plugin the CommentLuv Click Stats is an awesome dashboard module that shows you the most recent clicks made to your post from CommentLuv links which helps you gauge the value of what's popular when linked from CommentLuv and how effective the plugin is at getting you clicks to your articles.
What are some of your favorite WordPress Dashboard enhancing plugins, share them here and let me know how they improve your efficiency as a WordPress blogger or admin.
-Dragon Blogger