I have actually been considering purchasing a Netbook for the past few months for when I save up my blog income enough to purchase one. A netbook has so much more potential with having a full Windows XP Operating System, USB Ports, Wi-Fi a camera and more. In researching this article I was browsing Samsung Netbooks on TechForLess.com and saw they have refurbished models for a fraction of retail cost.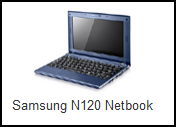 I really liked the Samsung N120 Netbook which comes with a 1.6ghz Atom processor, 1GB of RAM, 160GB HD, 10.1″ display, camera, up to 6 hours of battery life and Windows XP home full version. For a refurbished price of $279.94 as it was listed when I checked to write this article, this is a device that gives you far more flexibility than a brand new netbook or tablet device for a fraction of the cost. I even particularly liked the stylish blue color of the case for this model. The N120 only weighs 2.8 pounds which makes it extremely portable.
The fact that you can have 97% keyboard to type on, multitask and have several applications open at once including Microsoft Word, Excel, FireFox, Thunderbird and any other application that will run on Windows XP is a big plus. You can also even record video or do live chats with the 1.3 megapixel motion camera that is built into the Samsung N120 Netbook.
Though a Netbook is not a powerhouse like a typical laptop it is ideal for certain tasks. You can carry it around easily as it is much smaller than a traditional laptop and lighter weight. It is ideal for browsing the internet and reading news, catching up on email or writing blog posts from the road. I think a netbook makes a great blogging companion in my opinion.
TechForLess.com seems like a great website to find good deals for Netbooks and other tech devices, you can also purchase an extended warranty for a reasonable price for your Netbook in case you are concerned about it being refurbished.  Or you can simply go with ReUseTek to find something.
How many of my readers already own a netbook for blogging on the road or on airplanes? How many of you use a traditional laptop for traveling?
-Dragon Blogger