Honestly I wouldn't have even thought to look for a plugin that goes through your entire WordPress blog analyzing every external link to report which ones are broken if it wouldn't have been for the @GrowMap article about WordPress Broken Links Plugin.
This article is excellent and a must read for fellow bloggers, so instead of showcasing the plugin I am telling you to learn more and visit the Growmap Article after you finish reading this site.
I will just say that with the tips from this article I ran the plugin against DragonBlogger.com and it found 580+ broken links out of the over 12,700+ external links it found on the site.  It also is able to check links in your comments, and I was surprised to find that all of them came from comments left on my blog and were related to the links in people's URL they leave in comments.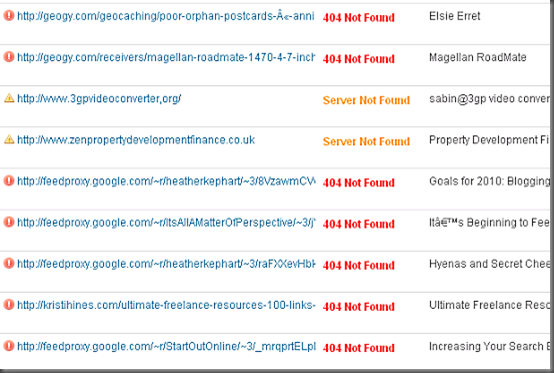 I saw many from bloggers I know too, bloggers who must have gone through and done restructuring of their URI scheme since they left that comment and now their link landed back on a 404 error page.
Now as all of these broken links were in the comments themselves, I chose the simplest fix which is "unlink".  This isn't a big deal because actually since I converted to the Livefyre system these links were probably not linking out anyway since only Livefyre commenting displayed.  These links were in fact only in my database and didn't actually show up on the posts themselves but would have if I would have been using the default WordPress commenting system.
Still, my site hadn't had PR update since I switched commenting systems so it is likely my pages could have had PageRank decrease as a result of linking out to broken sites.
I can tell you that with WordPress Broken Link Checker plugin you can easily find and clean up those broken links.  It has other options besides unlink and I encourage you to visit the GrowMap article to read more which is why I am not showcasing it completely here.
Oh, one more thing folks, this is completely free there is nothing to buy.  The WordPress plug in is free and there is no reason you shouldn't be sculpting your outbound links with this plugin.
Read more about WordPress Broken Link Checker and tell @Growmap I sent you!
-Dragon Blogger