I have to thank Kimi over at Free Video Tutorial for writing about the ReplyMe Plugin for WordPress. This plugin allows you to ensure that when people leave a comment on your WordPress blog they only get notifications when their own comment gets a reply, this can be used in combination with the Subscribe To Comments WordPress plugin for readers who want to get notified about any comments left on an article of interest, but for those readers who only care about replies to their own comments this plugin will automatically notify the commenter that someone has replied to their comment.
The ReplyMe plugin can be found just by searching the WordPress Plugins on your WordPress Admin Dashboard, or you can go to the ReplyMe Plugin Website directly.
When you install the plugin, it works just fine without doing any customizing but you can choose exactly how you want the email response to be laid out to commenters when they receive a reply.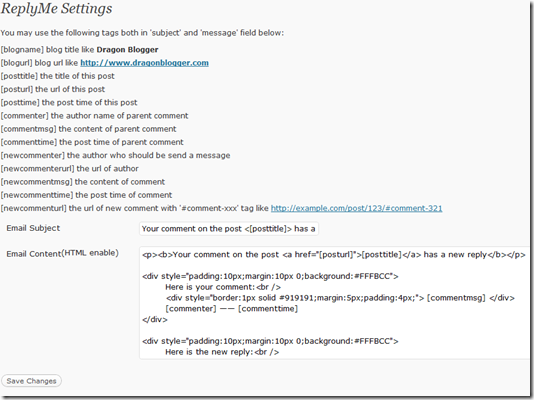 If you are a WordPress blogger I think that ReplyMe is a critically important plugin to make sure that your commenters are notified when a response to their comment is left without them having to subscribe to the entire post itself and seeing all comments left on post.  Again, you can leave that option in there for the reader, but it shouldn't be required just to see their own comment replies.
-Dragon Blogger