Nowadays it is important to be able to access your files no matter where you are, and what device you're using. Typically the manner in which that is done is using cloud storage, but that can be slow, costly, less than secure and have limited space availability. What Resilio Sync offers is a different alternative – to sync your files between all your devices without going through a public cloud.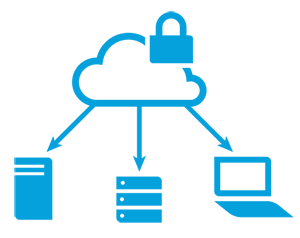 Essentially Resilio Sync uses a modified version of BitTorrent protocol that will let you synchronize your files by directly transferring them to one another. In layman's terms what that means is at no point will your files be anywhere other than one (or more) of your devices – which is how it bypasses the need for a cloud entirely.
In fact Resilio Sync will let you effectively set up your own 'private' cloud encompassing all of your devices. Functionally as a sync software it is similar to some of the other cloud storage services that you may have sampled in the past, and comes with all the same benefits. However because it is not utilizing cloud storage in any way, it is not beholden to the same limitations.
Benefits and Features
Because it is based on BitTorrent, Resilio Sync will always select the fastest path by which to transfer files. In that way it is able to provide faster speeds than any other type of synchronization.
Due to the fact that no part of your files will be transferred to third party servers, they will be a lot more secure. Additionally the data that is transferred is encrypted to prevent cybercrime.
Unlike cloud storage that has limited storage space (and can cost a prohibitive amount to acquire more) – there are no such limitations with Resilio Sync. The only limitation is the amount of storage space available on your devices.
Sync only the files required
With the Selective Sync feature you can choose to sync only the files that are required on various devices. That way you can be flexible in choosing how to backup files on your PC, transfer them to your mobile devices, or even store them on Network Attached Storage (NAS) devices.
Compatible with all platforms
Practically every platform is supported by Resilio Sync, and it has a file sync software Linux, Windows, Android, iOS, OS X, as well as versions for most major NAS devices.
If you are offline, the software will use the local network to sync your files to connected devices.
Due to its user-friendly and clean interface, setting up Resilio Sync to transfer files, automatically synchronize them, or even create a backup is extremely straightforward. All you need to do is select the files that you want to transfer or sync, and watch as they zip across the internet to the devices that you want them to be on in no time flat.