This is a Sponsored post written by me on behalf of Fellowes for SocialSpark. All opinions are 100% mine.
We are living in the information age. This is an exciting time. This is a time where data seems to flow faster than the speed of light. Many times, this data is transferred in digital form. However, there are still those mounds of paper that we need to deal with, in hard copy data storage. When we are finished with the paper versions of our data, what do we do with it? Do we put it in the trash, or do we shred it?
Why Shred?
One of the key things to come to mind, before even finishing the question, is "identity theft." According to IdentityTheft.info, about 7% of adults may be affected by a form of identity theft or misuse. Granted, that is not a huge number, and clearly, the lack of a paper shredder is not the only reason, but do we want to give the thief an advantage? It takes much less time to shred a document than all of the hours and hours trying to "fix" an identity theft crisis.
You may not run the risk of crossing paths with a thief, but let's also not make it easy for a well-meaning person to peruse your information. You don't want your daughter seeing the bank statement that you no longer desire to retain as hard copy, do you? Don't just throw it in the trash. Shred it. Keep in mind, too, that some of the well-meaning people in your life may simply be guests in your home. They probably don't want to know your bank account balance, so help everyone out and if you throw it away, shred it first.
It is not only your own personal data that you want to be concerned about, but also things such as company data. If you bring work home with you, and you have finished your project, it may be time to destroy the paperwork that would be thrown away. You want to be able to face your boss (or the board of directors) being able to say, "I shredded it." Why put yourself in a liability situation?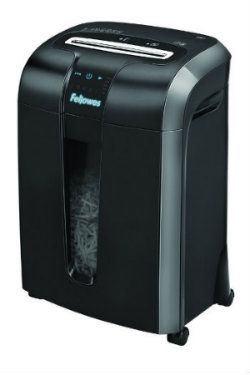 Why the Fellowes 73Ci Shredder
Security Shredding
According to machine-solution.com there are 6 levels of security, for data destruction (paper shredding). Level 6 is considered "secret" shredding and Level 5 is considered, possibly, overkill, for most users. What level of security is the Fellowes 73Ci Shredder? It is a level 4 security shredder, which is considered more than adequate for day-to-day situations for most companies, small businesses, and bloggers, as well as personal environments.
How does the Fellowes 73Ci perform this security level shredding? This shredder uses heavy-duty crosscut blades. It can reduce a piece of paper to 397 particles. Ok, we see it on TV, with the detective trying to put a shredded piece of paper back together for some great clue, but really, are you going to spend time trying to figure out a 397-particle jigsaw paper? And, that is just one piece of paper. Imagine almost 1200 particles for only three sheets of paper and figuring out which particle goes to which piece. It would be much easier to go back to the original source than to put that puzzle back together!
Jam-Proof Performance
100% seems like a tall order. Fellowes 73Ci boasts of a 100% jam-proof system. So, far, I haven't had a jam, but even 99% jam-proof would be marvelous to me. This shredder breezes through the toughest data destruction job like melted butter. Fellowes is the only brand (that I have found) that boasts of this 100% jam-proof system. This is credited to their technology and, rather than one or two anti-jam features, a multi-level prevention system. Does any other brand really dare to claim a 100% jam-proof system? Claiming this means that the company would have to back it up. Fellowes is confident that they can back up that claim, and boldly declares a 100% jam-proof system. Keep in mind that it is a system that is built to prevent jams and not necessarily that no jam has ever occurred in the history of time. However, that is still worth a lot of points in my book considering how many times I have had to deal with jams with shredders by Fellowes' competitors. Fellowes has taken the time and applied their innovative solution-based approach to creating this multi-level system, focused on preventing those jams.
Human Safety
A shredder may not be a wood chipper, but it is of some measure of concern, especially when it comes to safety of the hands and fingers. Granted, the Fellowes 73Ci already helps to prevent injury to the users by not having jams that need un-jamming, but, in addition to the preventative safety measure, Fellowes has implemented what they call "SafeSense® technology." The Fellowes 73Ci will stop when your hands touch the paper opening, without harming your hands. For those who are afraid of being cut, this is peace of mind.
Energy Saving Technology
The Fellowes 73Ci also takes energy savings seriously. They have maximized the shredder to be as energy savings as possible, using only what needs to be used to get the job done and get it down well.
Ease of Use
According to MobileBurn.com capacitive touch screens rely on electrical responses to human touch, allowing them to be controlled with a light touch. This Fellowes 73Ci Shredder has this type of touch screen, allowing the ease of use similar to what one would find in a notepad or smart phone. No broken button controls to worry about, here, as this user interface is very friendly.
Leader in Shredding Technology
Fellowes, Inc. has been around awhile. They have been manufacturing the personal shredder since 1990. These days, they are a leader in shredding technology. Their company, as you can tell by this impressive list of features, is concerned about the security of shredding, but also, human safety, energy, and ease of use. With an eye toward innovation and an ear to hear what consumers want, it is clear to see why they have been able to attain, and maintain, the level of leadership in the shredding technology arena.
Price
The Fellowes 73Ci runs for about $199 retail. It has become available in most office superstores in January 2013. For less than $200, you have a compact, sleek looking unit that will take care of your paper refuse problem, and your data confidentiality concerns. This is a small price to pay for security (level 4) and peace of mind (preventing identity theft).
Final Thoughts
Personally, I really love the idea that this shredder doesn't jam. That is one of my favorite features. According to Fellowes, this is also a common complaint about other shredders by Fellowes' competitors. Fellowes has addressed that with this little 73Ci shredder, and that, alone, is worth the price, to not have to deal with risking my fingers to dig shredded paper out of a jammed paper shredder. The other features are a plus, as well, and this thing looks pretty good in the office, as well. Appearance is a pretty good bonus. So, what features do you like the best? (You can let us know in the comment section below.)