Disclaimer: This was a sponsored post, commissioned by ABBYY.com. I was compensated to review the FineReader software and share my thoughts and opinions. The words and opinions are mine and mine alone.
---
Every Optical Character Recognition Software (OCR) application is expected to perform the standard task of converting printed material into a text or Word processing files that can be edited and stored easily. This is a task that ABBYY FineReader 10 performs perfectly well. I have manually performed a few complex OCR operations using FineReader 10 and my report is this: FineReader 10 is way ahead of the pack. Unlike the other apps, its interface is pretty clear and straightforward requiring no random menu maneuvering to locate the features that I am looking for.
When you first open ABBYY FineReader you are given the new Task list right off the bat and you can scan a document into one of several formats: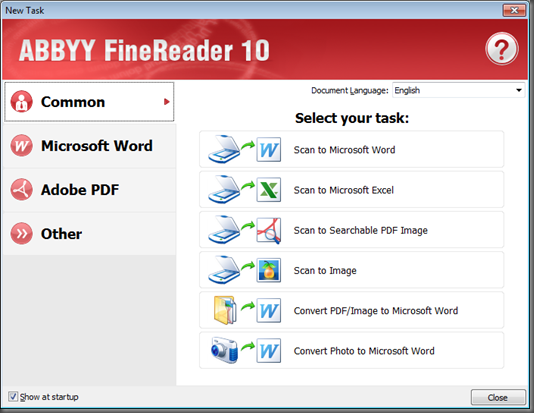 I decided to test scanning a document into a PDF first and loaded my multifunction printer/scanner with some documents and selected the Scan to Searchable PDF Image option in FineReader 10.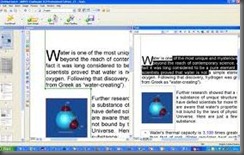 When I used FineReader 10 to scan a PDF brochure, the application instantly split two-page spreads into distinct pages. This was unlike the other applications I have used before to scan the same brochure, one of which I had to look around for an option setting that could perform the task and the other which could not perform the task.
FineReader 10 demonstrated exceptional qualities when handling difficult documents that mix up various page sizes or with impertinent markings on the pages. Using its Page Editor feature, I was able to crop all the images to one size-which made my image to PDF output excellent.
The Eraser tool also enabled me clear out all the markings that would interfere with my OCR processing. Other rival apps come with limited page editing tools which make such operations at best clumsy at worst impossible.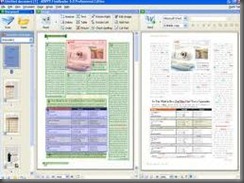 FineReader 10 comes with a very powerful spell-checking tool which optionally opened up after I had performed an OCR on a page image. This detected all the wrongly spelt words in my source document, which a rival app was unable to capture. After my OCR operation, I did not have to spell-check my out put in Word for a second time. This is because FineReader's proofreading and spell-checking tool is by default supersensitive to dubious characters and misspellings and most of the words it motivated me into confirming had in fact been correctly read.
Since I prefer double checking my work, FineReader 10 provides an option setting which makes it possible to cut down on the number of dubious readings that the application reminds you about. FineReader 10 also comes with a pliant set of tools that magnify and highlight the page section that the application is spell-checking. This is not available in other apps that I have tested.
In Review
FineReader 10 is definitely one of the best products I have used over the past few years when it comes to performing OCR tasks.  You can even try the product out yourself by downloading the 14 day Fine Reader trial from ABBYY.com and test out the product to see if it meets all your document conversion needs.
-Dragon Blogger