So recently I was contacted by Incentivibe to review their sweepstakes platform for websites and particularly those running on WordPress right now and learning how it works, how you benefit from it and what it can do for WordPress blog owners who are looking to grow their mailing lists and social media following.
What is Incentivibe?
Incentivibe is a platform that pools a host 25-30 sites together to offer 1 giant prize worth $500 in value.  Each site gets to pick what prize they want from the list, in my example the $500 Amazon gift card was chosen, but another site could have chosen an iPad Mini or $500 PayPal cash instead.  The businesses or bloggers who join Incentivibe all pay $25 per month and as doing this are able to offer this $500 prize collectively every month.  Since they all pooled together, this eliminates the hassle of having to find other sponsors, negotiate sponsorship and directly work with other sites to all collaboratively come together to offer a prize.
After you sign up for Incentivibe which you can do a 14 day free trial on your site, you will be given instructions which are very good to install the Incentivibe WordPress plugin and install the configuration script into it.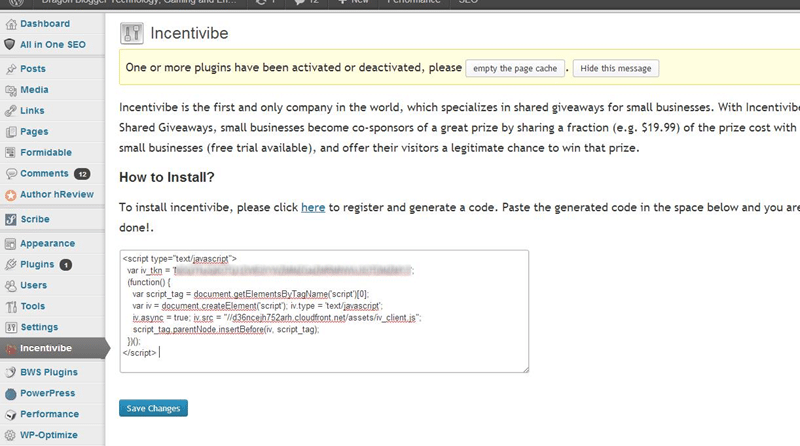 That's it, now Incentivibe is running on your site and you just sit back and watch the entries roll in.  As a sponsor you don't have to do anything, Incentivibe collects all entries, selects the winner, contacts them and awards the prize.  Incentivibe also lets all sponsors know who the winner is, which sponsor site hosted the winner and keeps the sponsors informed of when the winner receives the prize.
The cool thing about the pooling is that 1 site may want a different prize, but since Incentivibe picks the winner and from what site, they award the prize that that particular site was giving away this ensures that the winner always gets the prize that the sponsoring site was offering.
On my first day of testing Incentivibe here were my analytics within 24 hours.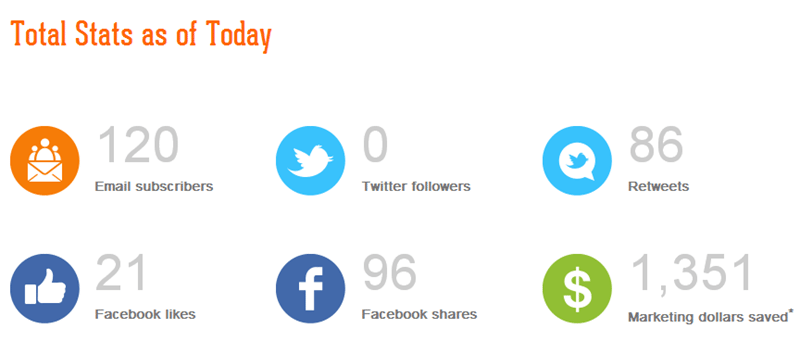 I had 120 email subscribers, 21 new FB likes (many were already fans), 96 FB shares and 86 FB retweets.  The calculation in marketing dollars saved is provided by Incentivibe and is based on dollar values are based on large case studies published in established media.  They will provide more details if you contact them and want to know how they reach those estimates.
Remember, this service is primarily about generating email leads and is designed for the affiliate marketer or company that sends newsletters/marketing products via email.  This service blows Contest Domination WordPress plugin out of the water as far as I am concerned in what it can do and how easy it is.  It also is automated, you are giving away a $500 prize product every single month and you can change which prize it is monthly and rotate.
At any time during the program (remember it is rolling so it constantly is adding new subscribers) you can export the mailing list either directly as a csv file, or to Mailchimp or Aweber.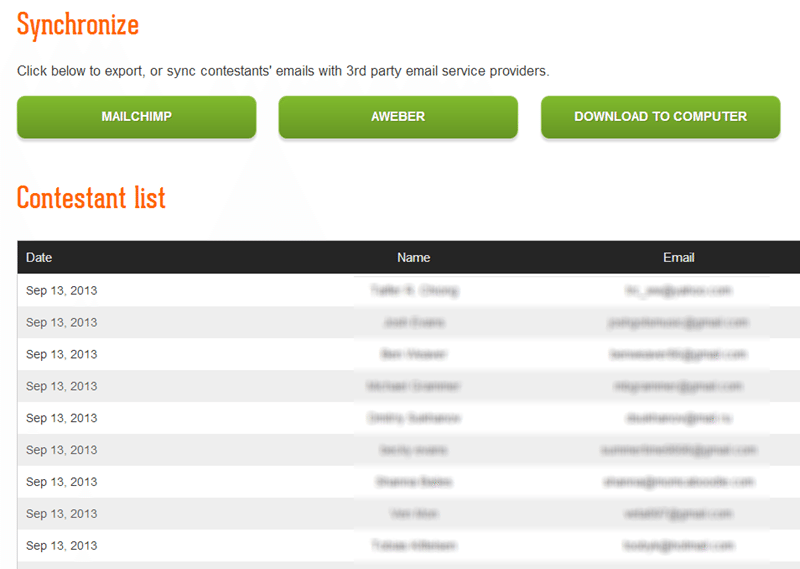 Again, email lead generation for adding subscribers to your mailing list is the primary and largest benefit of using Incentivibe, bloggers or businesses who have a mailing list and market or send newsletters to engage and showcase items to newsletter subscribers will gain the most benefit from leveraging this service.  Also this is a great way to instantly get started with a  mailing list if you have been wanting to start one and haven't yet, you can grow and get an amazingly large email lead pool very quickly.  Just remember that like any mailing list, you will get unsubscribes and spam reports if you just blast email them without giving any warning or notice, this is why I recommend you setup an autoresponder for any mailing list that you will add these emails to. The autoresponder should send an initial email reminding the user that they are subscribed from entering the giveaway on your site and remind them what benefits they will get and to stick around.
Also, as most entrants won't read the terms of service, it is a habit and I myself skipped over it when doing a test entry so I know!  The terms of service clearly state that an entrant is giving permission for their email to be added to the sponsors mailing list only and subject to the terms of the mailing list.  These terms and conditions are automatically generated and stated for each sponsor and unique for each sponsor who uses Incentivibe
Dragon Blogger is co-sponsoring $500 Amazon Gift Card with other companies through Incentivibe's cost-sharing platform for expensive prizes. Using Incentivibe's service allows Dragon Blogger to give its visitors a legitimate chance of winning something expensive. Emails entered into this contest will only be shared with Dragon Blogger for newsletter subscription and with Incentivibe for winner announcement and prize delivery purposes. One winner is chosen from the combined pool of contestants from the multiple businesses who have co-sponsored each prize. As such, by submitting an entry you agree with the Terms and services laid out by Incentivibe Inc. below. Dragon Blogger is not responsible for legal, administrative and prize distribution and hence cannot be held liable.
If you choose to subscribe to Incentivibe's newsletter then you will receive weekly/monthly emails with other expensive giveaways that you can enter. You will always have an option to opt-out of those weekly emails.
All legal, administrative and prize distribution responsibilities are under Incentivibe Inc. Incentivibe does not use any contestant's data for purposes for renting, selling or otherwise. By entering this contest you agree to subscribe to Dragon Blogger's Newsletter.
How Readers Join and Enter to Win an Incentivibe Hosted Giveaway
Depending on if you configured Incentivibe on your site to display a lightbox popup or use the minimized bar for entry, your readers will see the entry popup immediately on visiting your site.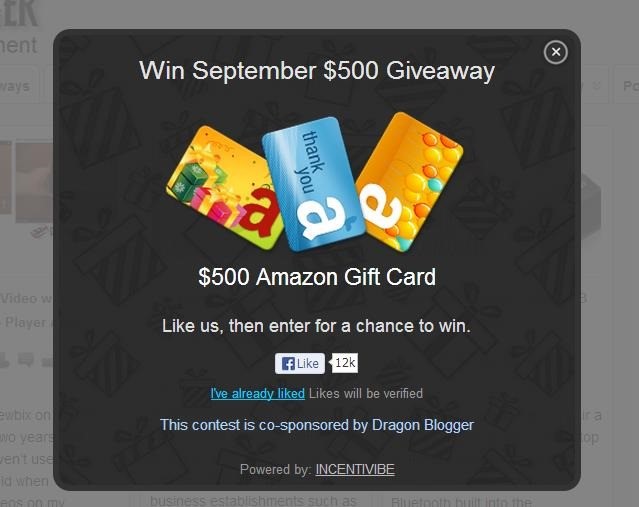 They are then presented with the way to enter and join the giveaway, you can configure Incentivibe to collect email first, or Facebook Like your fanpage first before they enter the sweepstakes, in my case they Facebook Like Dragon Blogger Technology, then they can enter the giveaway by leaving their name and email.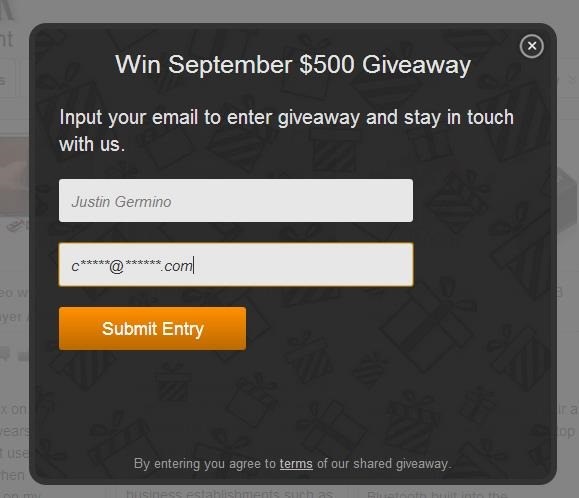 Note, that the terms and conditions of the Incentivibe Sweepstakes are listed on this sign up area and not the initial first entry page, since the actual entry to the giveaway comes from this 2nd page.  Incentivibe currently lists all entrants 18+ and from all countries except the following: Residents of Quebec, Canada and Taiwan, South Korea, Portugal, Italy, Austria, China, Russia, Hong Kong, Greece, France, Japan, Spain, and Czech Republic are not eligible to enter or win.
Once a user submits their name and email they then have the option of getting more entries by sharing the sweepstakes on Twitter and Facebook.  They get 10 entries for each person that signs up under their referral link, not for just clicking.  This is how they can really get better odds.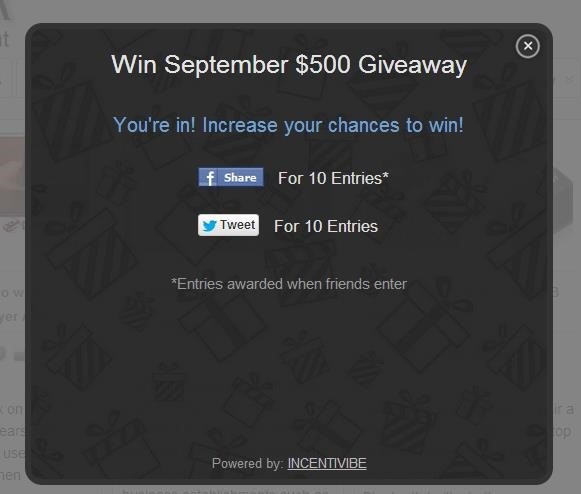 After an entrant signs up, they get an email confirming their sign up which again lists when the current sweepstakes will end, when winner will be chosen and more.

The great thing about Incentivibe is the simplicity in entry for readers, they simply only ever have 2 actions (like) and enter email, or reverse order and there will be more options coming soon as well.
I thought the popup would be too annoying for readers, but all I received was positive feedback on the fanpage that it was easy and many people liked the simplicity better than other giveaway widgets.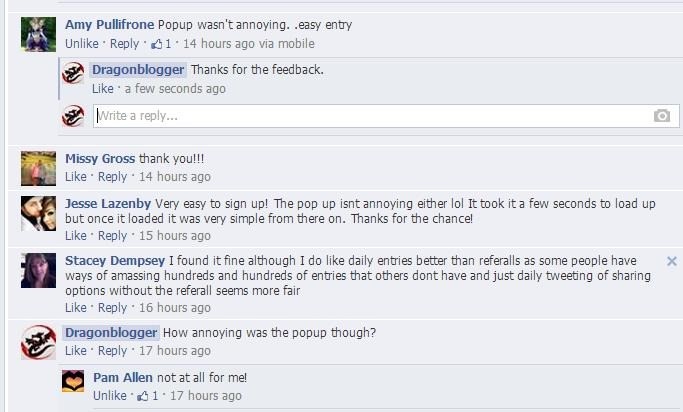 Readers were excited that I was participating in a $500 Amazon gift card giveaway and I had 90+ email sign ups and over 200+ social media shares in the first hour of testing Incentivibe.
Less than two weeks of joining Incentivibe and it calculated that I saved over $6,000 in marketing and I had 520+ new mailing list leads and nearly 700+ social media shares.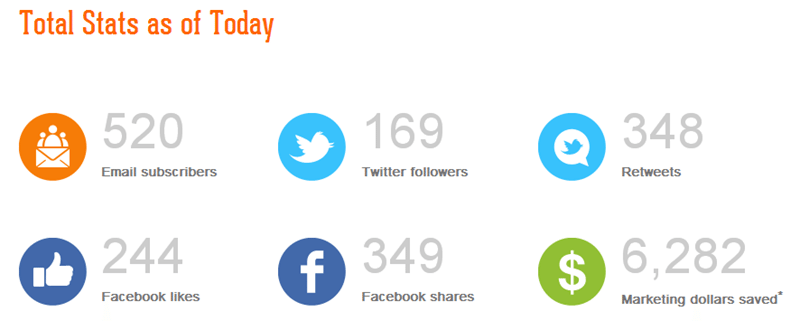 One thing I noticed about Incentivibe is the subscribers come in waves, and taper off a bit as your regular readers have already entered.  So the platform is most effective when you are bringing in new readers, new traffic and maybe even doing a little bit of paid promotion via SponsoredTweets or other marketing platforms in conjunction with it.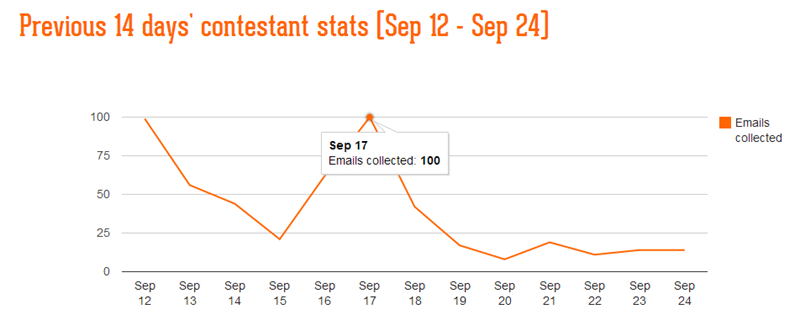 On two days I collected over a hundred new emails on single days, but the average was about 15-18 emails per day joining the giveaway between the nearly two weeks of running on the platform.
By the end of my initial trial for the review which started September 12th – October 1st, I had the following total stats.  This is a really good return from the first 14 days of the service being free and this being a total less than 30 days.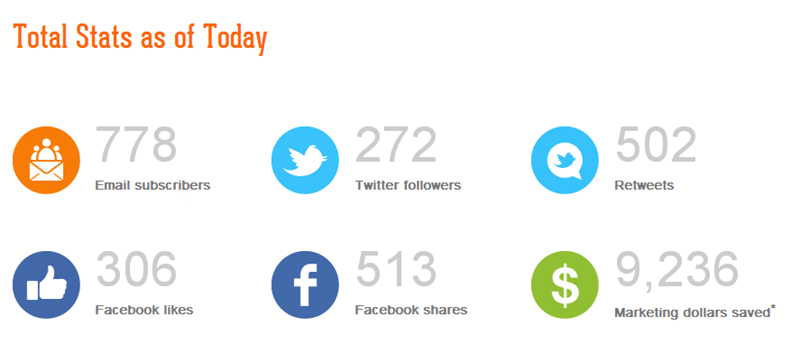 Incentivibe Chooses the Winner and Announces
Because Incentivibe has 1 static widget code that is the same code for the giveaway which rolls monthly, it can't display the winners in the widget.  So what Incentivibe does is send an email to everyone who signed up for the giveaway and lets them know who the winner was.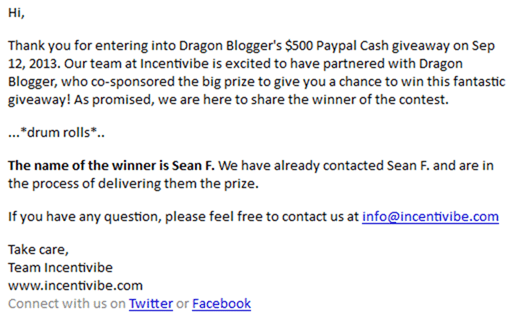 This does a great job of letting everyone know who the winner was so there is transparency and it is clear there was a winner.  But there was some confusion with my readers, a glitch in the system showed that I ran a $500 Paypal Cash giveaway in September but it was a $500 Amazon Gift Card giveaway instead, this glitch was fixed and caused by a duplicate entry issue the team said and won't happen again.
The second is that there are many sites hosting Incentivibe sweepstakes and the email is tailored specifically for the users who signed up via their site.  So Dragon Blogger entrants got the email above, while if you entered from SITEXYZ you would have a different email which showed Sean F. may have won a different prize.  It is the same winner and they actually won the prize that was offered on the original hosting blog, but this can cause confusion to readers who have signed up for multiple giveaways, so if you signed up for Dragon Blogger Incentivibe and SiteXYZ you would see 2 emails, one from each site showing Sean F. won 2 different prizes.  This makes it appear like one person could have won multiple prizes and was done to preserve anonymity of the other sites involved in co-sponsoring the giveaway but could cause confusion to entrants who see multiple emails about the winner.
Incentivibe Deters Contest Sweepers
A contest scraper or sweepstakes sweeper is someone who basically searches on Google for all sweepstakes/giveaways/contests possible just to enter as many as possible hoping for winning some of them.  There is nothing wrong with this, I do this myself and enter so many Rafflecopter, Punchtab, PromoSimple and GiveawayTools giveaways just to hope to win some things, I won 3 giveaways in the past 12 months entering an average of 20+ giveaways per month.  Few were a high value prize however.
Incentivibe uses script code that is not visible to Google Search, so you can't search for "incentivibe" or any code or part of incentivibe hoping to find the blogs hosting the incentivibe widget just to get as many entries and odds as possible.  Incentivibe also doesn't target or have a marketplace showcasing all sweepstakes like other platforms.
The reason is simple, Incentivibe knows that contest sweepers just enter emails and do all entries to get a chance at winning, very few have any interest in what your brand offers as a product or service.  So by making it so people see your giveaway only by arriving on your brand page organically they are likely to be adopters and were looking for something you were offering anyway.  This makes them more likely to stay part of your mailing list and newsletter, remember the main purpose of Incentivibe is to get newsletter/mailing list subscribers by offering a giant prize in exchange for a chance at winning.
Summary
Incentivibe impressed me enormously and I found that it provides an incredible return on investment, for $25 per month you can be part of a $500 product giveaway and help generate buzz around your site and the product you are co-sponsoring to giveaway.  You don't have to use the lightbox option if you don't want to, you can embed the giveaway on a single page or post and just drive traffic to your "monthly giveaway" for example, or you can maximize reach by making it popup or be a little bar at the bottom of every post/page on your site.  You have great flexibility here and can tailior/customize your social media share accounts at any time so say you want to drive follows to 1 social media account for October, then another social media account for November.
If have always wanted to offer a $500 prize whether it is an iPad Mini or other great package and just don't have the sponsors or budget to fund the whole prize yourself, Incentivibe is a great way to be part of a great prize giveaway and get some attention, traffic and email leads for your mailing list campaign.
But wait, there's more!
Incentivibe is running a giveaway where one lucky winner will get $1000 worth of Facebook Ad Credits, this is a huge jumpstart for any blogger, brand or business so I suggest you sign up and enter for your chance to win.  Just click on the link above or image below.

Incentivibe has a 14 day free trial, and it lets you know as you get close to when it expires and you don't have to put in any credit card or billing information to sign up for the free trial, so if you have been wanting to join the sweepstakes scene and just haven't had the money or ability to get sponsors for a cool prize like a $200 Google Nexus 7, this is your chance to offer great $500 prizes for only a $25 per month commitment and can really help boost your email mailing list subscribers by driving leads who were interested enough to come to your site in the first place.
I have been obsessed with computers, tech, gadgets and games since the early 1980's having grown up on the Commodore 64 and Amiga computers.
By day I work in the IT Security Industry and have been in IT for over 20 years. On my spare time I am a Vlogger, Blogger, Streamer, Gadget Reviewer, affiliate marketer, influencer and entertainer. I am also an avid movie fan, TV Show fan, Anime fan, video game fan and fan of trying anything and everything new.