brevo recently asked me to review their marketing campaign service as they know I have worked with several other email marketing providers before and wanted me to see for myself what their service had to offer and how it could compare to the others not only on features, but also best most of them on price.
brevo Pricing is King
First off, I will tell you from pricing alone there is no other mailing list marketing service online that I have found that can match these subscription prices.  We are talking about the ability to send 60,000 emails per month for only $39 per month, or 40,000 emails per month for only $7.47 per month.

This means for $7.47 per month you could send 1 email per month to  your mailing list of up to 40,000 subscribers, or 2 emails per month to a mailing list of 20,000 subscribers, or 4 emails per month to your mailing list of <10,000 subscribers.  This is an unbeatable price, and NOTHING gives you 40,000 emails per month for $7.47 per month.  This IS seriously worth considering if you are doing email marketing, or want to do email marketing. The only thing cheaper is setting up Amazon SES and doing your own email marketing which involves a lot of overhead typically and technical knowledge which means less time developing campaigns.
brevo Importing Subscribers

Importing Subscribers from a CSV file is easy with brevo and you can easily map your columns to fields for your mailing list.  After clicking on your Contacts, then +Add Contacts button, you simply select your CSV file and import.  You can choose to create a new mailing list as you import, or select a previous one.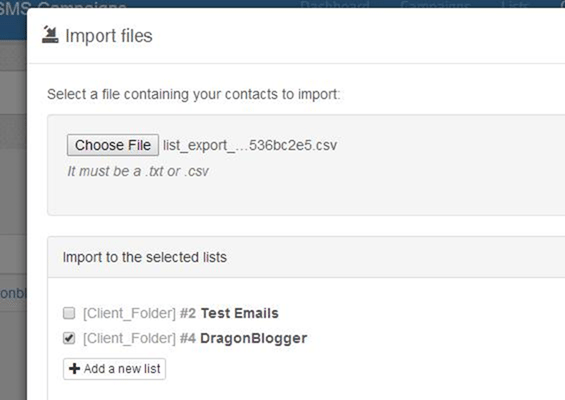 I imported over 11,000+ email subscribes exported from another email marketing provider I had been using and originally ran into a hiccup.  There were 2 illegal characters in the first name of some of the entries, apparently some International character sets could cause an error during import.  It isn't hard to figure out which subscriber failed, you get an email showing you how many imported, and you simply look at the number below to see what tripped it up.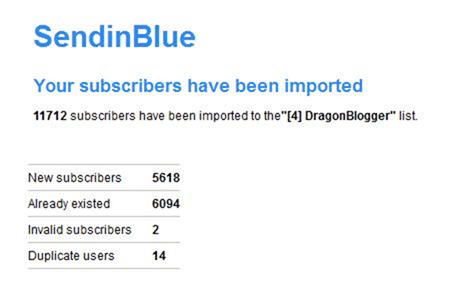 I opened up a support case and they were going to work to resolve it, meanwhile it was an easy work around, and once I fixed the name to change the International symbol to a UTF-8 character then I was able to go back in and re-import the list.  Finally all 11712 subscribers imported, and it noted the 6094 which were imported the first time, it will always detect and never cause duplicate entries in your contact list.
brevo Creating Email Campaigns
Creating Email Campaigns Is Good, Could Be Better
When you first click on Create a Campaign with brevo you set the default campaign settings, like name, subject, emails…etc.

This is not a big deal and works very well and is all easy to do, then you click the "create your email" which is the next step button and you are presented with 3 different editors to choose from to create a mailing list campaign.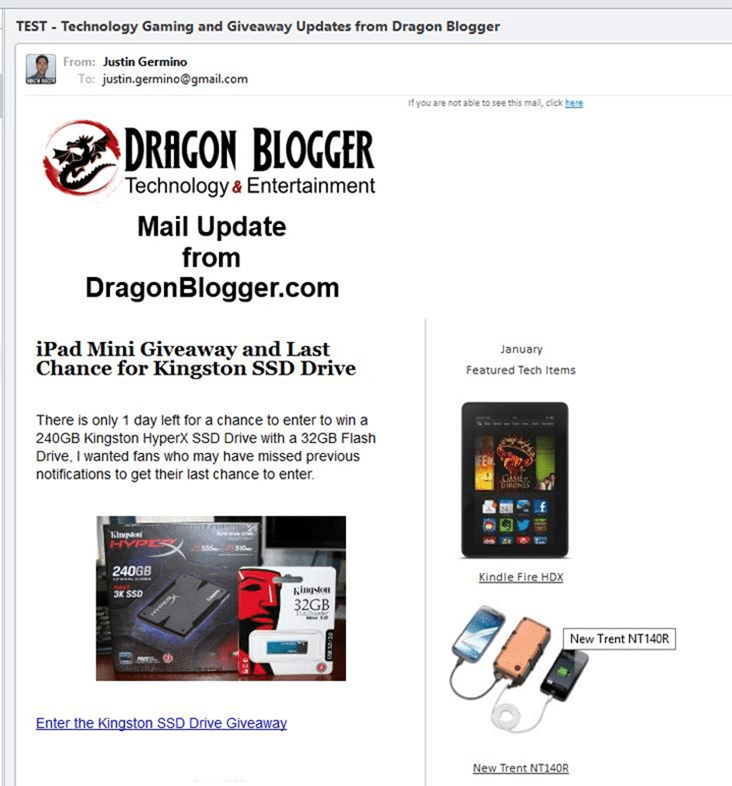 Drag and Drop Newsletter Builder
The Drag and Drop Newsletter builders is perhaps the easiest if you need a quick and new newsletter and are perfectly fine with one of their default formats.  They have some excellent button and widget options.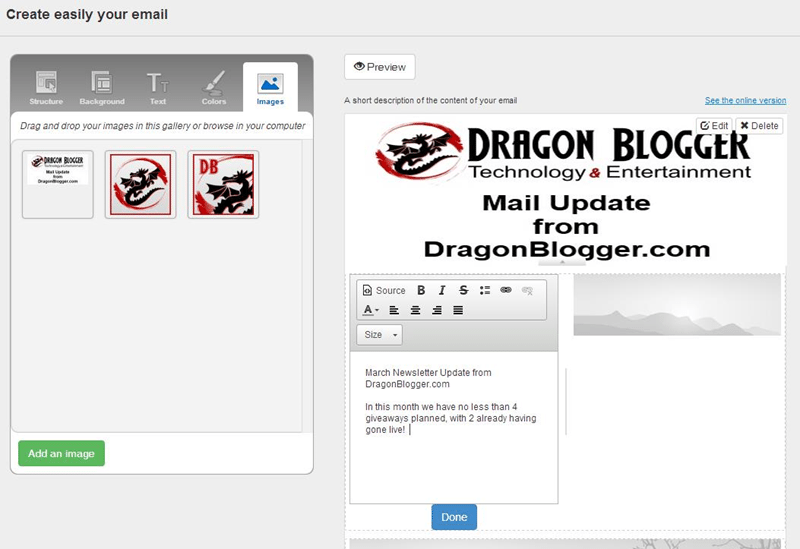 You can easily add and upload images which are hosted by brevo and you can set background color, text, as well as drop widgets wherever you want.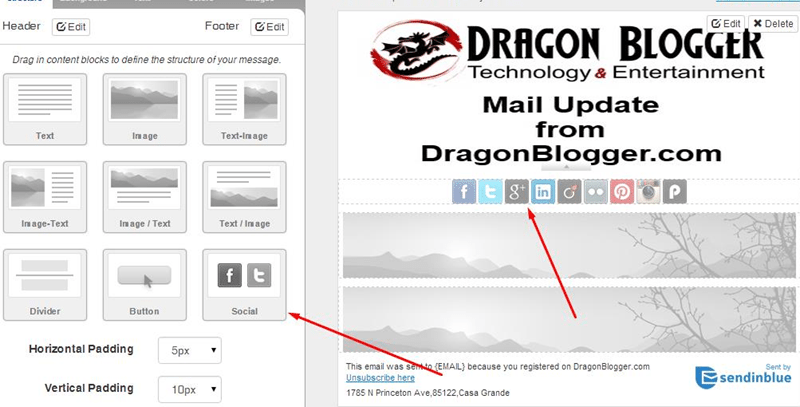 In particular I loved the social widget, which can have all your site social media buttons easily accessible to all your mailing list subscribers and is a really nice touch.  However, they don't give you the ability to remove the buttons for the networks you don't' use.  It is all buttons show, or no buttons show.  I only wanted Facebook, Twitter, Pinterest and Google Plus to show, I don't use some of the others, so had no need to show their buttons yet there was no way to selectively show only the buttons I wanted.
When working with a text block, you can easily modify by splitting, duplicated or manipulating the text widgets.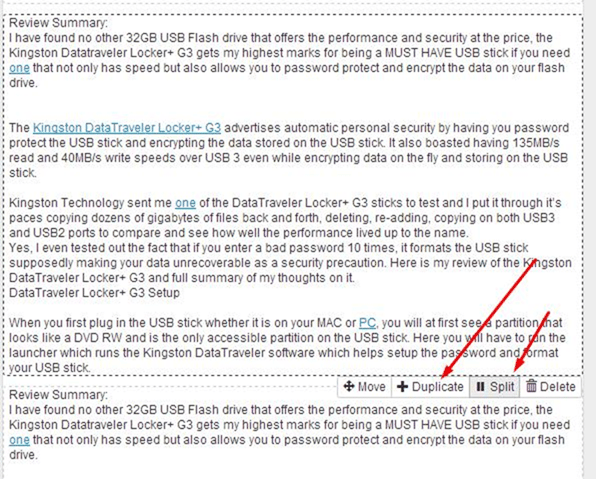 However, I noticed there were some bugs when trying to manually put in code for images and getting images and text to play together nicely in the same widget was damn near impossible as it kept stripping out the image code.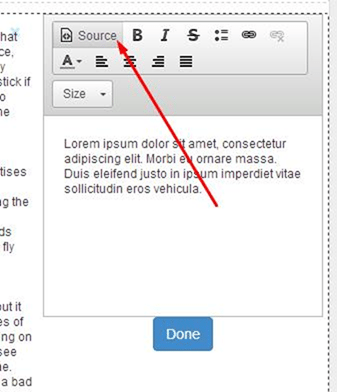 It would also abolish any images that were externally sourced in.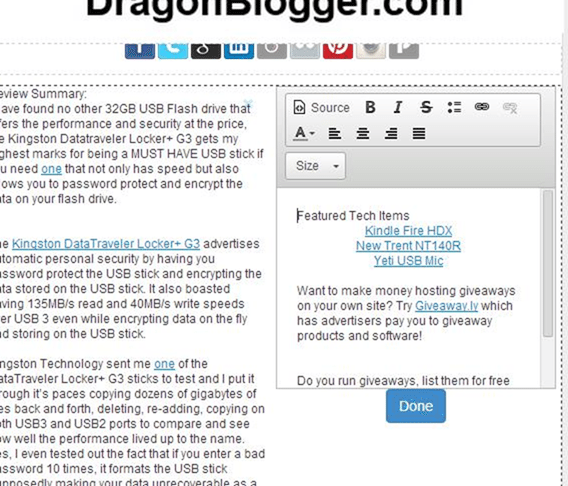 As a result I quickly realized the Drag and Drop Newsletter builder was not going to work to reproduce the type of newsletters I did on my last email marketing provider.  It is designed to work better with isolated elements, top to bottom, without text and images being side by side.  So think of it ideal for single column full width newsletters but not ideal for ones where you want a sidebar column.  For this you will want the WYSIWYG editor instead which is much more powerful but has it's own limitations.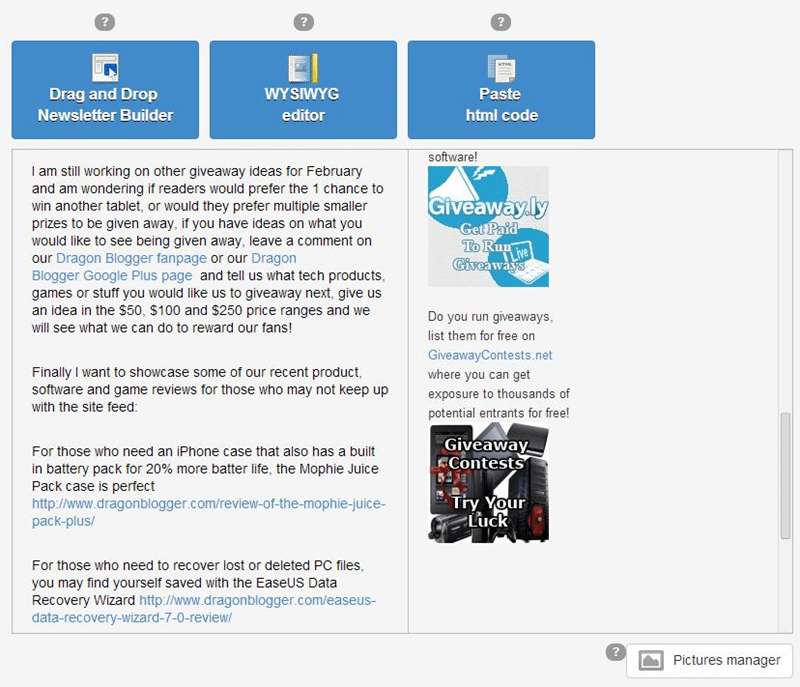 The WYSIWYG editor gives you full rich text control over your newsletter and full HTML source code, with it you can design anything you want using tables, HTML code and can build any custom appearing newsletter you want.  I even just copied the HTML source of my old newsletter from my old marketing provider and imported it and it flawlessly imported perfectly.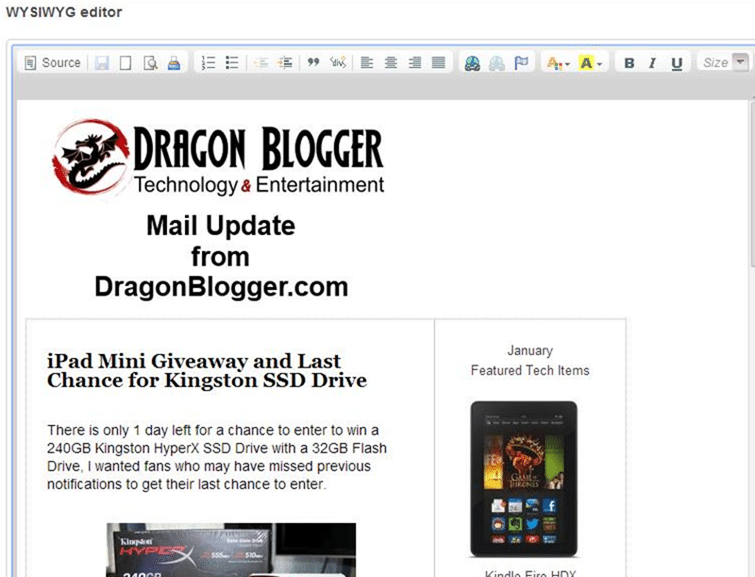 The only problem with the WYSIWYG editor is that there is no way to upload new images into it, you have to literally source the images in from another website first, so using <img src" tags or copy/paste the image from your hosting site first.  However, one feature the WYSIWYG editor has that is amazing and I have seen with no other email marketing providers is the replace image function.
This works if you send identical newsletters every month and just want to swap out images, with the Pictures Manager button, you literally have access to directly upload a replacement for every image inside that newsletter.  Note the WYSIWYG editor won't let you add a new one, but it will let you upload and replace any existing one.  So this makes it easy to simply swap out images for new images and then build text around them.  This kind of makes up for the ability of not directly adding new images and makes it easy to rotate out product recommendations every month.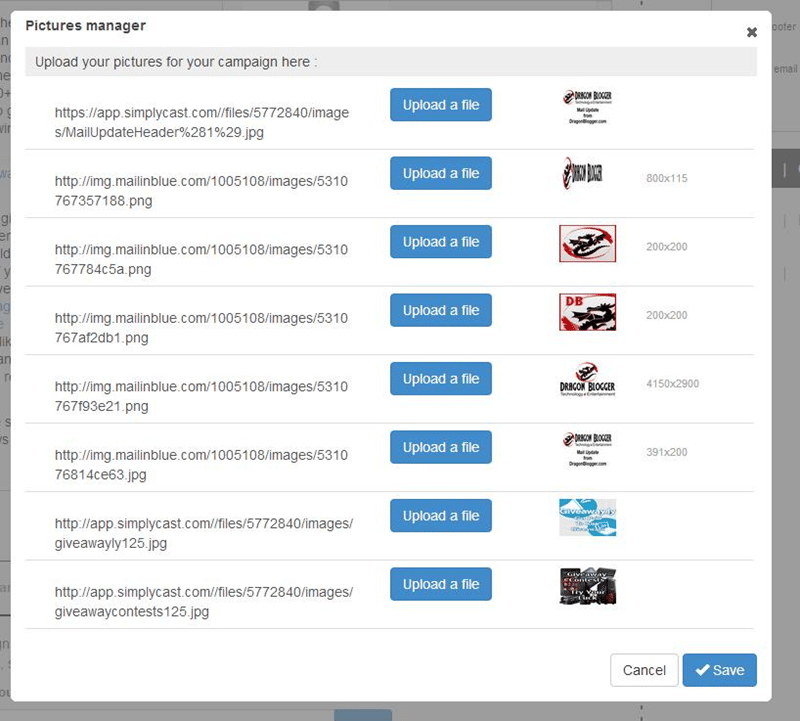 Building links for images or text is no big deal and as easy as any other program, you just click on the link button and build your link.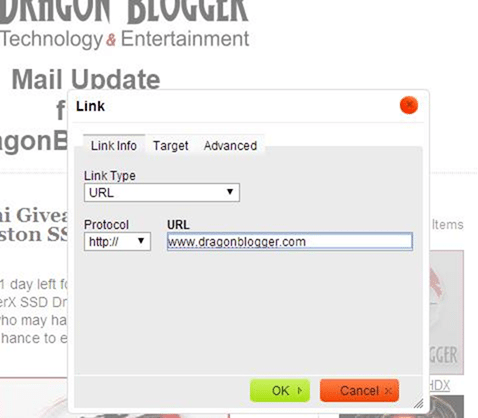 You can even build "mailto" links which will directly open email client for reader to email you.
This is basically a full HTML source editor and you simply write everything in HTML source, I just use WYSIWYG however as you can just click the source button and get access to the HTML source anyway so you get the best of both worlds with WYSIWYG editor in my opinion.
brevo Test Emails
You can send yourself as many test emails as you want until you get the exact look and feel that you want for your newsletter, once you do it is so easy to clone and copy newsletters for future use so as long as you use the same format you only put the most effort into the first time you build a newsletter.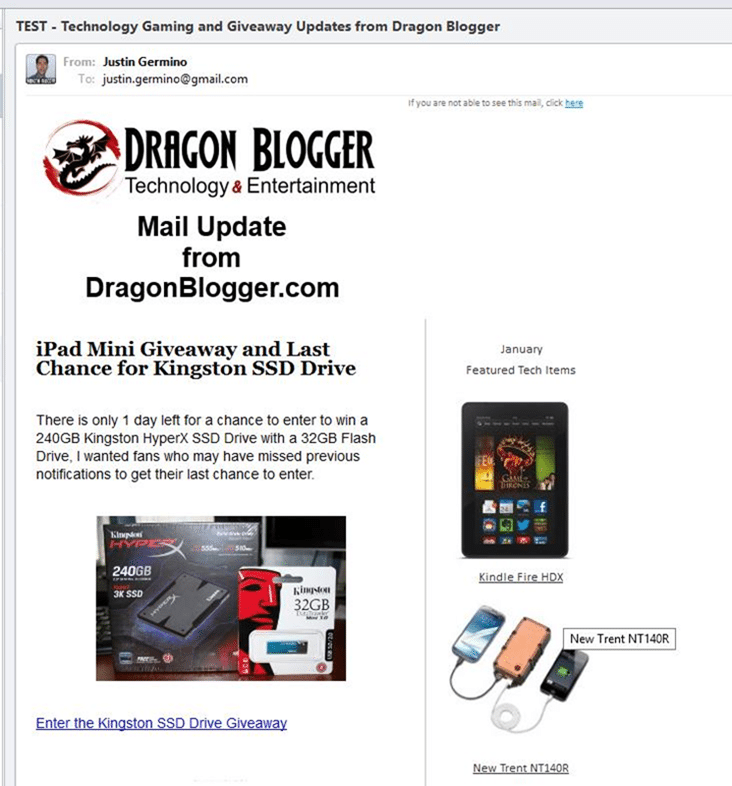 brevo gives you excellent preview options and even lets you preview the email on many different browser and email clients automatically too.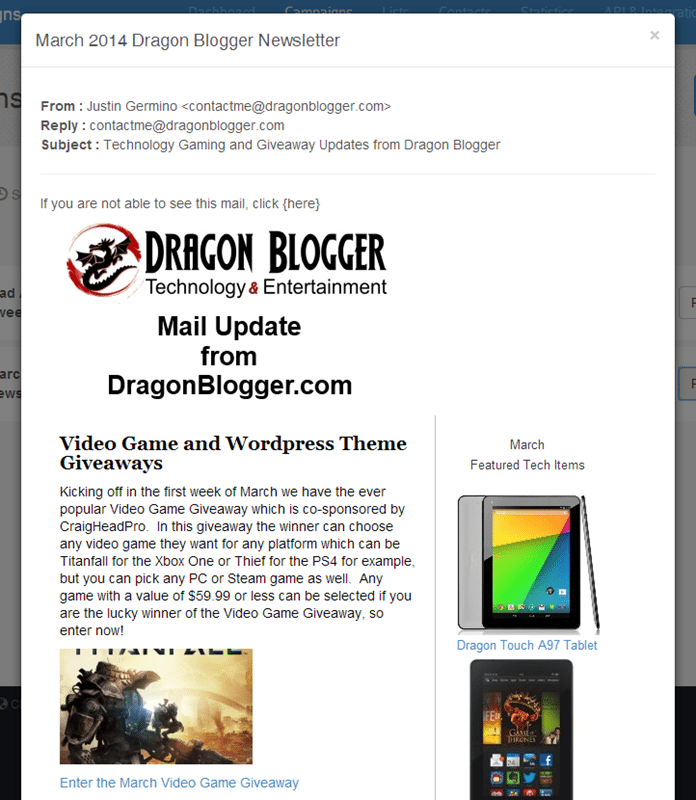 brevo Creating Sign Up Form
It is a little hidden but to create a sign up form for your mailing list you would go into the API & Integration and Sign Up Forms.  Here you would create your sign up form and tie it to your contact list.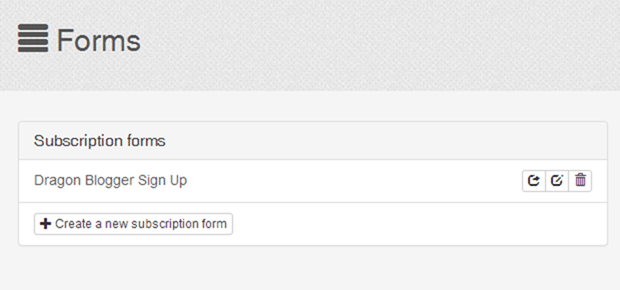 The editor for creating the sign up form is a little limited, I would have liked to seen it as featured as the WYSIWYG editor in the campaign editor, but it does work well and is easy to use.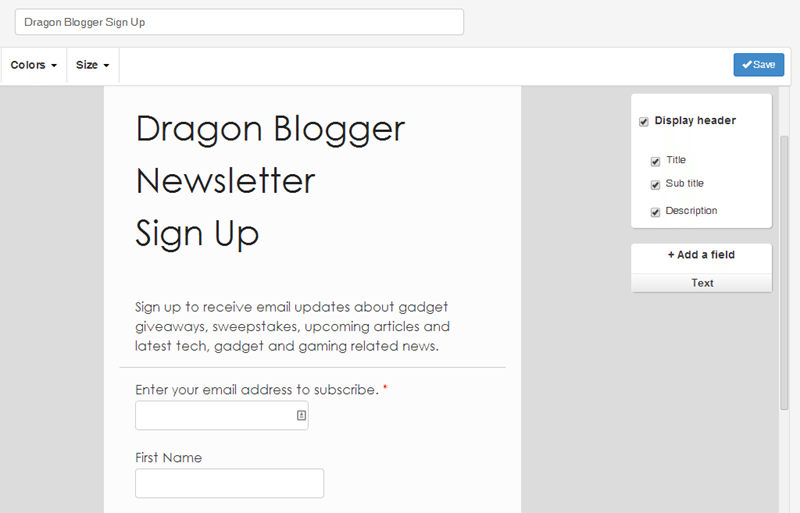 You can customize the verbiage and add any field that you have defined in your contact list.  You can upload a background image, but this would just be a tiled background image and there is no way to add a single logo around the header of the mailing list, but you can always manually put one above the form. Overall it is elegant and better quality than some of the sign up forms I had used on other provides, though lacks the full HTML Source access for true customization.
brevo Trigger Email Marketing Campaign
brevo lets you create trigger marketing campaigns, these are emails that go out when specific trigger conditions are met.  One of the most common would be an email whenever someone new subscribers to your mailing list.  To set a trigger marketing campaign, you just go into the Trigger Marketing campaigns and set a new one up in your dashboard.  Here you select the trigger conditions and you have a lot of variety here, but the most simple is selecting "added date" and whenever, which means whenever any new person is added to the contact list, they will get the trigger email.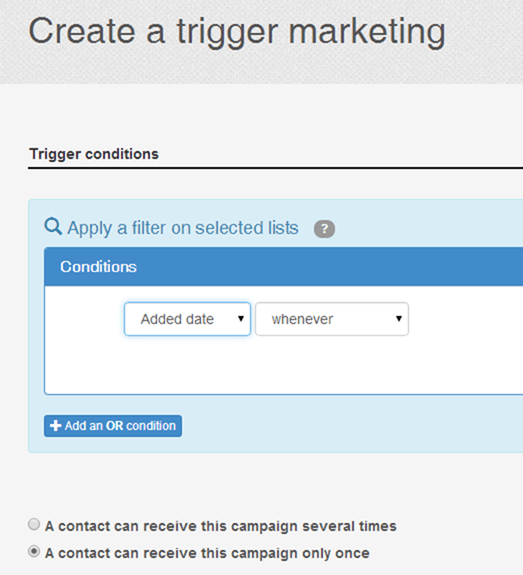 Make sure you set it so a contact can only receive this campaign only once to avoid any duplication of emails and you are good to go.  You would use the editor as you would the regular email campaign editor.  You can be really creative here, you can actually have it trigger reminder emails for people who are non-readers, those who haven't read your last email campaign, or even clickers, thanking them for interacting with your most recent newsletter.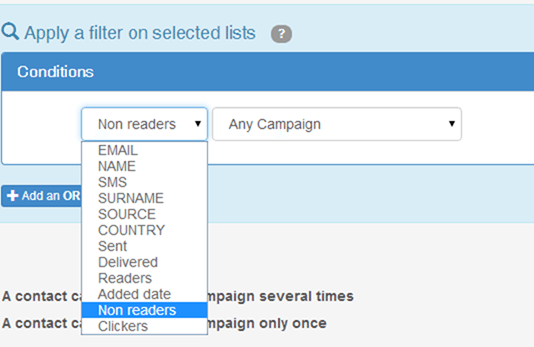 But be careful to avoid trigger marketing email spam, you could annoy the hell out of readers if you use it wrong, still these are powerful trigger marketing tools and you can think of creative ways to leverage them.  Think of using Country to localize a thank you email or an affiliate marketing trigger based on Country of reader who signs up (provided they select country in drop down list or enter it).
brevo also has a WordPress plugin that allows you to easily create email subscribe forms in WordPress as well as send emails via SMTP to your brevo email subscribers  Download the WordPress Plugin Here.
Summary
This is part 1 and covers just the initial sign up, importing contacts and building your first email marketing campaign. brevo also does SMS marketing campaigns as well so you can leverage it for your marketing needs.  It could use some more social media integration automation like auto publishing your email marketing newsletter to your hooked in Facebook Page, Twitter…etc and this is something they should add in the near future, this is a feature that other services have that brevo is currently lacking.  Still overall for the amount of features and the incredible price it is hard not to recommend brevo and I have now switched to them as my primary email marketing provider due to their price being so much better and their editor actually being just as easy to work with if not a little easier than my previous marketing provider which was costing me $47 per month for 15,000 unique contact emails per month, now I can get 60,000 emails per month for $39 per month instead.
In my upcoming part 2 I will talk about the email marketing analytics and analysis which is excellent and is yet another compelling reason why you should be looking at brevo as your email or SMS marketing campaign provider.
Disclaimer:  brevo contacted me and provided me with a review account of the bronze plan so that I could properly do a full review of the service with my current mailing list for direct comparison with other email marketing providers.  There was no cash compensation received and there is no affiliate links to brevo at all in this article, all opinions are 100% mine and mine alone. If you do decide to sign up and try brevo for yourself, let them know DragonBlogger sent you.
I have been obsessed with computers, tech, gadgets and games since the early 1980's having grown up on the Commodore 64 and Amiga computers.
By day I work in the IT Security Industry and have been in IT for over 20 years. On my spare time I am a Vlogger, Blogger, Streamer, Gadget Reviewer, affiliate marketer, influencer and entertainer. I am also an avid movie fan, TV Show fan, Anime fan, video game fan and fan of trying anything and everything new.