Drive Benchmarks
Let's continue with SSD performance differences.  This will be testing the Patriot Ignite480GB against the Samsung SM841N 2.5 256MB SSD.  The tests I will be running are BootRacer which tests how quickly these SSD's can boot into Windows, then CrystalDiskMark and finally PCMark
So starting up the SSD test's, we have BootRacer and as I mentioned, this tests how quickly the SSD's can boot into windows.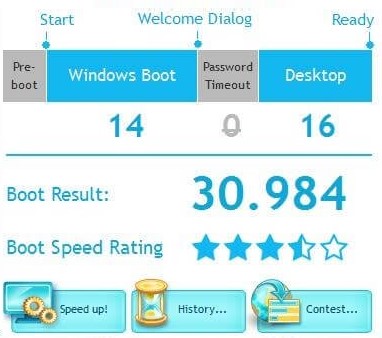 Tied to the Asus Sabertooth Z87 on the custom built PC, the Patriot Ignite 480GB takes a total of 30.98 seconds to boot into windows.  14 seconds to actually boot into windows then 16 seconds to get to a solid desktop, with no other programs loading.  The tests can of course be sped up a bit by disabling certain services and programs from loading, but the only services running are what comes with windows and the services programs installed start up.  Those programs being drivers only needed for the devices inside of the computer.
On the Alienware, even though the total time was almost 1 second higher, there was more than drivers loading.  I can't say it was bloatware, but it was more than just drivers.  Pre-installed on this machine aside from drivers was Drop-box, AlienRespawn (to reinstall Windows), Alienware Command Center (to overclock, change the system lighting and more), Alienware Digital Delivery, Cyberlink Media Suite Essentials (Blu-Ray), Dell Foundation Services, Dell Support AssitantAgent, Dell SupportAssist, Dell System Detect and McAfee though seems to have uninstalled itself when I chose for it not to bother me anymore.
Very light on the bloatware, so they really didn't install needless junk, all of them have a purpose, but of course you could always uninstall them, they are not necessary and they are not blocked from uninstalling.  While the Windows boot time took 4 seconds less on the Alienware, it took 5 seconds longer to actually get to a fully useable and stable desktop.
Ok, boot up times are boring, we all know even some of the slowest SSD's still boot up pretty quickly, but now let's see what CrystalDiskMark tells us.  Pretty important test, tells you the reads and writes your drive can perform, the faster it reads and writes, the faster everything will run. So let's check it out.
First one on the bench, is the Patriot Ignite.  Impressive speeds, but unless you have something to compare it against they don't tell you much.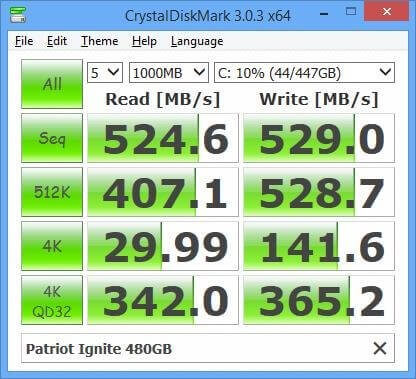 While Samsung is known for making some good drives, it seems like Patriot topped out on some of these result's.  So let's move on to the Samsung.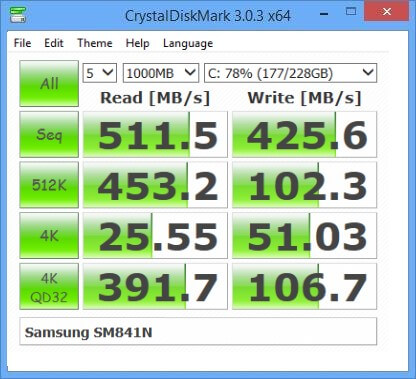 They might be a little hard to read, so let's put them together.


As a little more of a visual representation, I made bar graph for you.  I squeezed it a little together to make it easier to read.

As you saw in the legend in the first screen, orange represents the Samsung SSD and blue represents the Patriot SSD.  While the Samsung did outperform the Patriot in some, over all the Patriot drive outperformed the Samsung drive.  The 4K Read and Write were better, Write was almost triple on the Patriot drive and again Sequential read and write speeds were higher on the Patriot.
OK, now what does this mean for your performance, these are just numbers and bar's, well let's put it more to real world use here.
For a real world use to put the puzzle together for you, we will use PCMarks storage test.  This test will show how quickly it loads games such as World of Warcraft and Battlefield 3, the applications such as Adobe's Photoshop, InDesign and Illustrator then Microsoft's Word, Excel and PowerPoint.  These are programs and games you and I might use every day.
Alienware Area51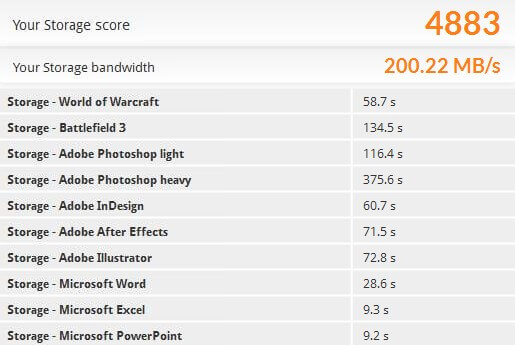 Custom Built PC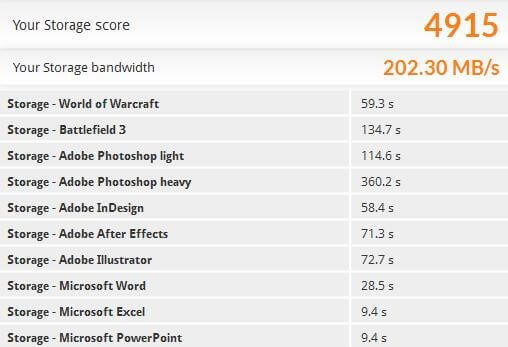 Combined Scores

Comparing the 2, we can see that that the Patriot Ignite 480GB scored slightly higher, which means programs loaded just a few second fast.  The most noticeable was the Adobe Photoshop heavy test, the Patriot loaded 15 seconds quicker than the Samsung SM841N.
Now, the Samsung in the Alienware might have been faster than the Patriot, it really didn't need much more to be faster, but this is where the additional programs loading might have taken the toll on performance.  The programs loading in the background make frequent calls to the hard drive since they are mostly monitoring programs, to get a speed increase one would just exit or uninstall these programs though I left everything running to show real world performance, I will show you a little more real world performance later on in the review, in the form of gameplay, but on the last set benchmarks we will check out the CPU.