I read about the Boogie Board LCD Writing Tablet in Popular Science and it seemed like a fantastic product. This light tablet uses trillions of liquid crystals under a touch sensitive pad that activate when you apply pressure via pen like stylus. This is a device that acts like a scratchpad or notebook where you can doodle whatever you want and erase it all with the touch of a button. It operates for years off of one battery and it costs less than $30.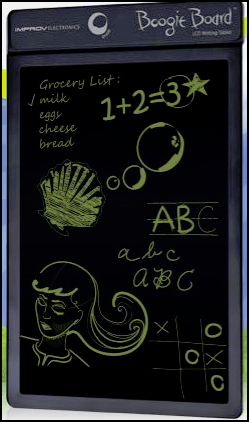 The product is actually so popular it is sold out on Amazon.com and you have to join a wait list to be notified when it is in stock again. Though you don't get color, this product alone will save thousands of trees by the fact that you won't need to use scratch paper anymore. The only disadvantage is you can't permanently save your scribbles and notes, and there is mention that in a future version you will be able to transfer your writings to a computer via wireless download or USB so you can store your notes forever or save them as images or documents on a USB memory card.
My son uses tons of scratch paper for doing math problems for first grade and we give him spelling tests every night where we burn through 2 – 3 sheets of paper per day. This device would be perfect to elimate the waste of paper. Everyone who uses notepads or scratch books for casual jotting of notes and discarding them should consider purchasing one of these devices and help go more "green" in your household.
If 1000 people save 5 sheets of paper per day by using this product, this would reduce paper usage by 1,825,000 sheets of paper per year. According to estimates that 1 tree of average size creates 81,430 sheets of paper, this saves 224 tree's per year for only 1,000 people. 10,000 people and this would be 2240 tree's per year (you see where I am going with this?).
There are some pro's and cons of the Boogie Board LCD Writing Tablet
that I have read about from Amazon and other sources.
Pro's
Use less paper (doesn't eliminate completely)
Pressure sensitive, amazingly easy to write on and get thicker/darker lines by pressing harder, really simulates a pencil well from what I have read.
Instant erase, you finish using up a pad you click 1 button and whole pad is blanked.
Light (the thing is very light weight and about as thick as a piece of gum)
Con's
No backlight (this means that in low light it can be hard to read), then again you can't read paper/pen in low light either.
No way to store data (you have to erase it eventually, should be a way to save scribbles and notes)
Drawing is darker than pictures indicate (again it should be readable just fine in normal or bright light, but this is a complaint I have read).
With all being said the majority of the feedback is all positive and most of the con's will probably be solved in a future version. I have officially added this item to my wish list, but I will not pay the $150 or more some auctioners are charging for it when it retails for $30.
-Dragon Blogger