Ileane from Basic Blog Tips wanted to know what I thought of the Google Chrome ScribeFire extension which allowed you to write and publish blog content to any number of blogs right from your Google Chrome browser without having to go into each of your blogs and login directly.
I spent an evening playing with some post creation and editing and found ScribeFire to be a really useful extension to Google Chrome but lacking much of the finesse and features of Windows Live Writer that make that my preferred blog authoring software.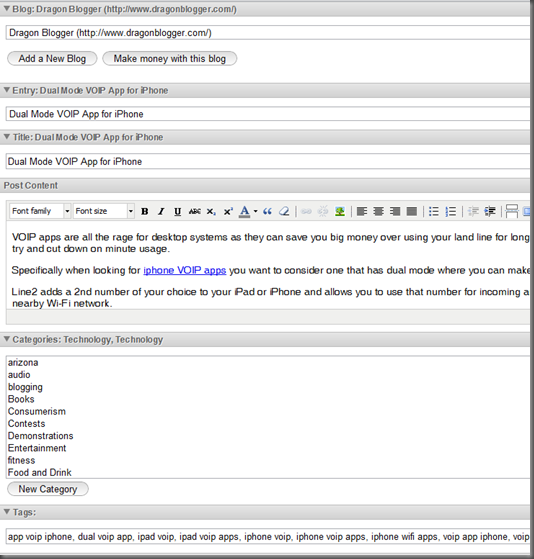 Here are some limitations I found with ScribeFire in comparison to Windows Live Writer:
ScribeFire has some problems between selecting old posts and then trying to select new post again, it doesn't instantly clear and let you get a fresh post without a refresh. 
Cannot preview your post with ScribeFire
Cannot copy/paste images directly into post, must upload them like WordPress Admin editor.
I also like that in Windows Live Writer I can quickly and easily turn any text into a link by highlighting the text and hitting Control+K, clicking the "link" button to turn text into a link just slows down link building for me.
Summary
Overall, I think ScribeFire is actually a really good Google Chrome Extension to allow you to create, edit and publish blog posts online and even lets you schedule them for publish at a later date.  The ScribeFire extension though is still very much like the WordPress Admin Editor and has some of the same limitations, which is why I adapted to the Windows Live Writer blogging platform and almost exclusively write all of my blog content with Windows Live Writer. 
-Dragon Blogger