We are influencers and brand affiliates.  This post contains affiliate links, most which go to Amazon and are Geo-Affiliate links to nearest Amazon store.
Sentey is not a very well known company for for many of us, but it looks like it might be time that they start getting some recognition.  Let me know what you think after looking through my review of the Cobalt Pro GS-5910 keyboard.
I cannot get enough of this matte black rubberized coating this keyboard has.  I didn't realize it too much during the unboxing, but the more I played with it during the review you can see I start to notice.
Take a look at my unboxing video of the Sentey Cobalt Pro GS-5910.
Inside this box below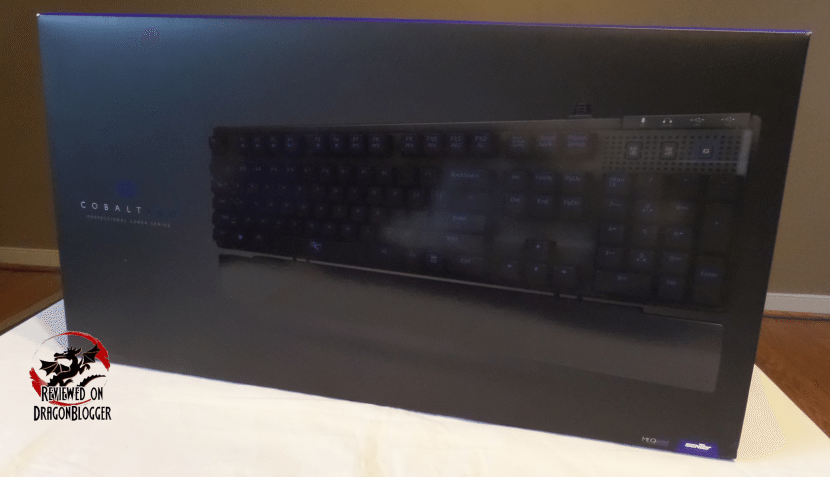 Came this box, below.  Kinda looks like a little black book, but it's another box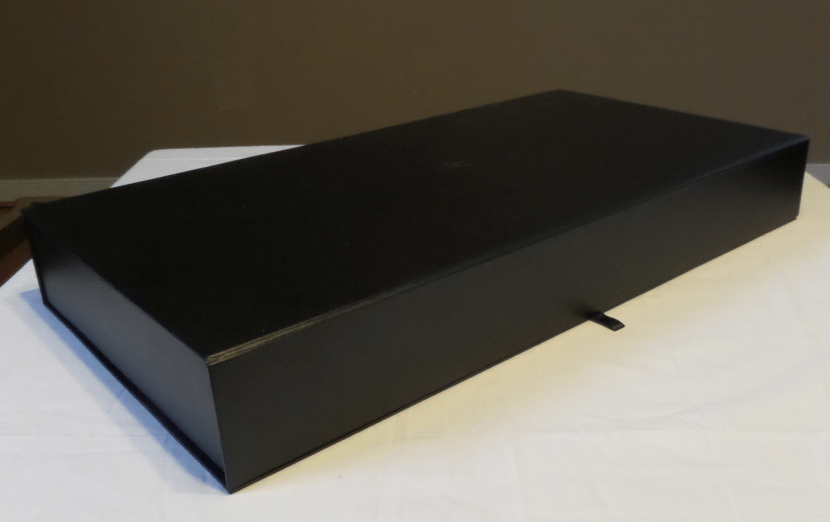 If you read my previous review, this might be getting a little repetitious, but trust me you will want to keep watching.
Pulling this tab;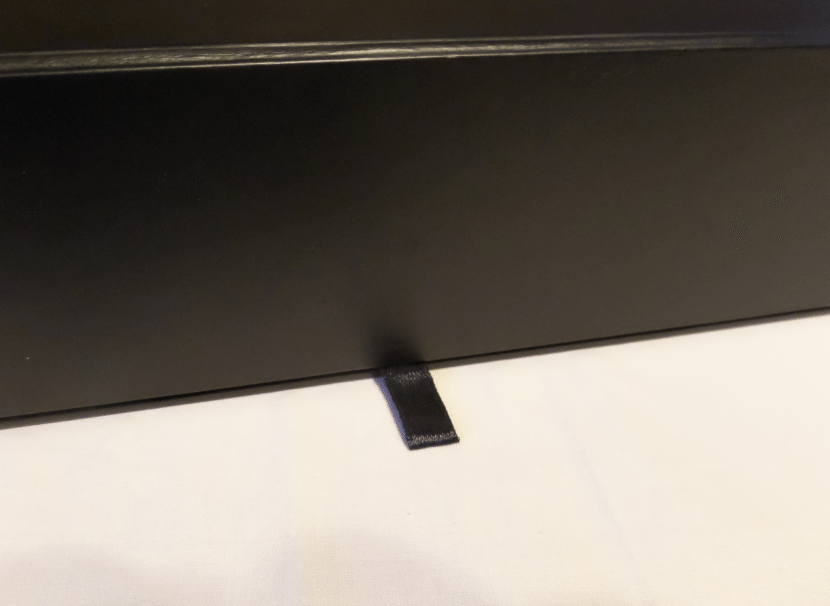 Reveals this case.  It's just a simple case, but it is very slim and sexy.  This is not a bag, this is a sturdy case.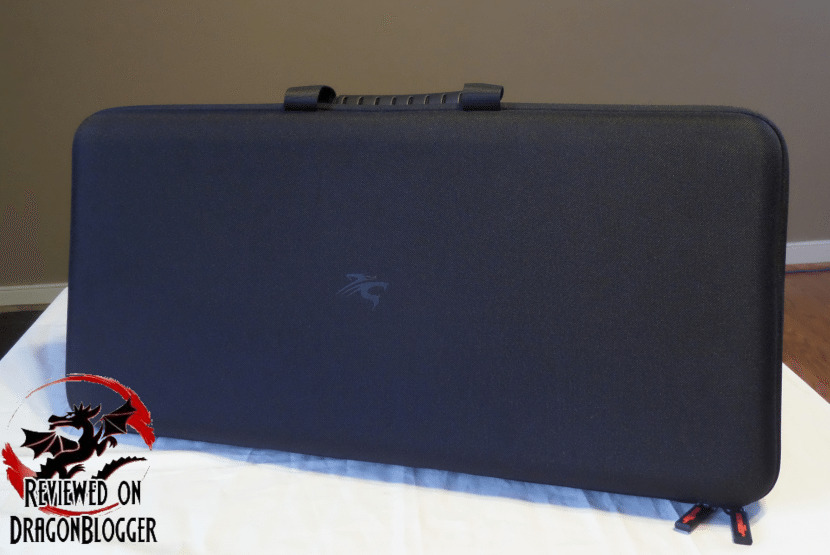 But opening this case reveals what dreams are made of.  This keyboard may not look like much right now, but it gets better.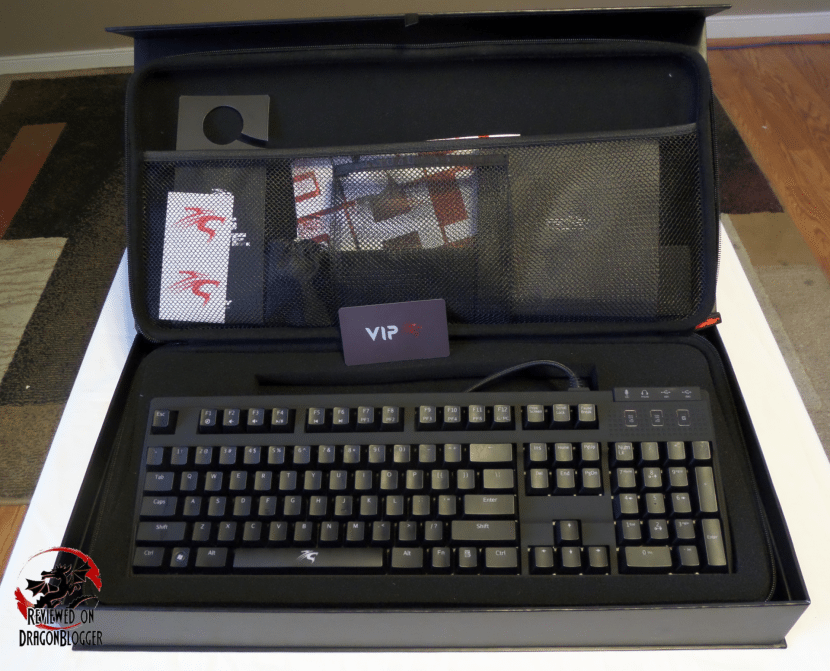 Lets look at the accessories and extra's before we get to the good stuff.  Here are all the stickers, posters, drivers, manuals and accessories that come in the case.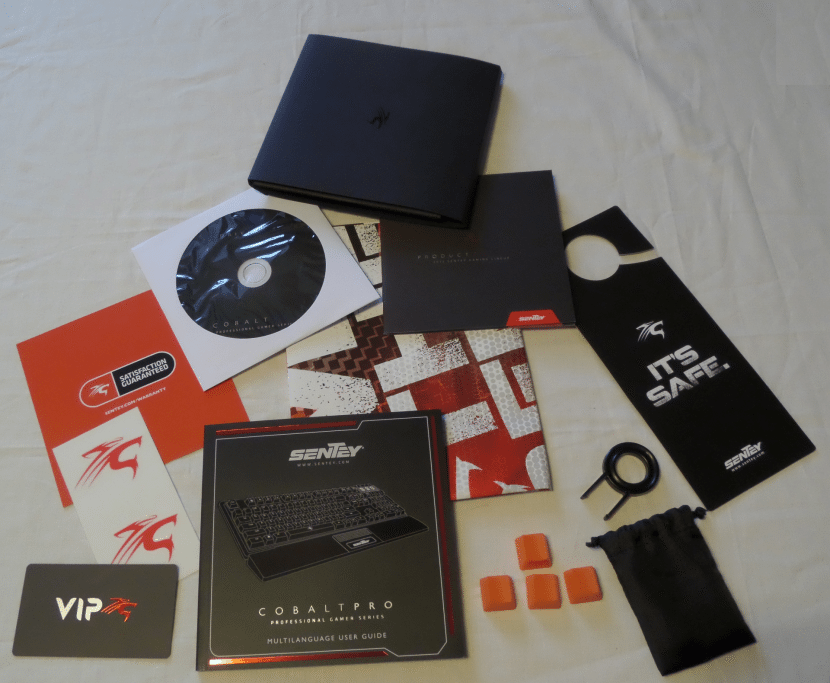 Here are the extra keys, key extractor and bag to hold all of these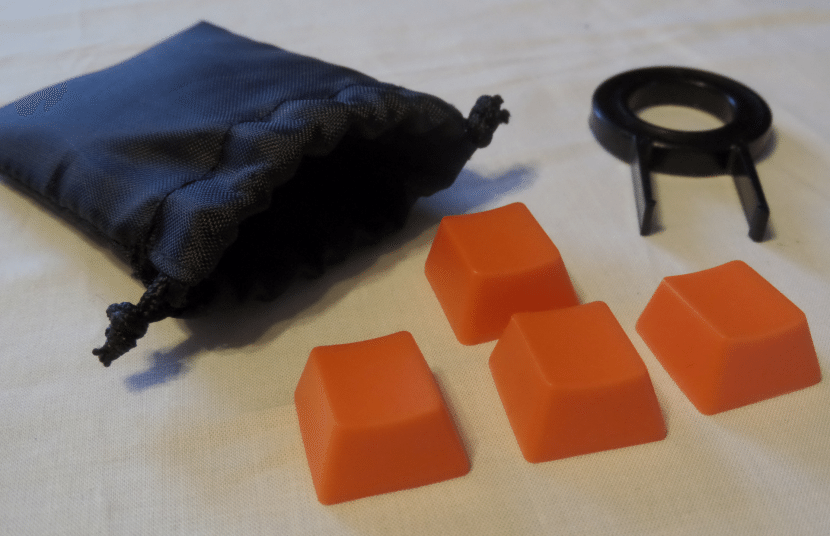 Unlike other keyboards though, Sentey knows you know what keys you are using more frequently, maybe you don't always need to see the characters on those keys.  I didn't say numbers, letters or anything like that because these keys are blank.  There are no markings so you can put these keys where ever you like.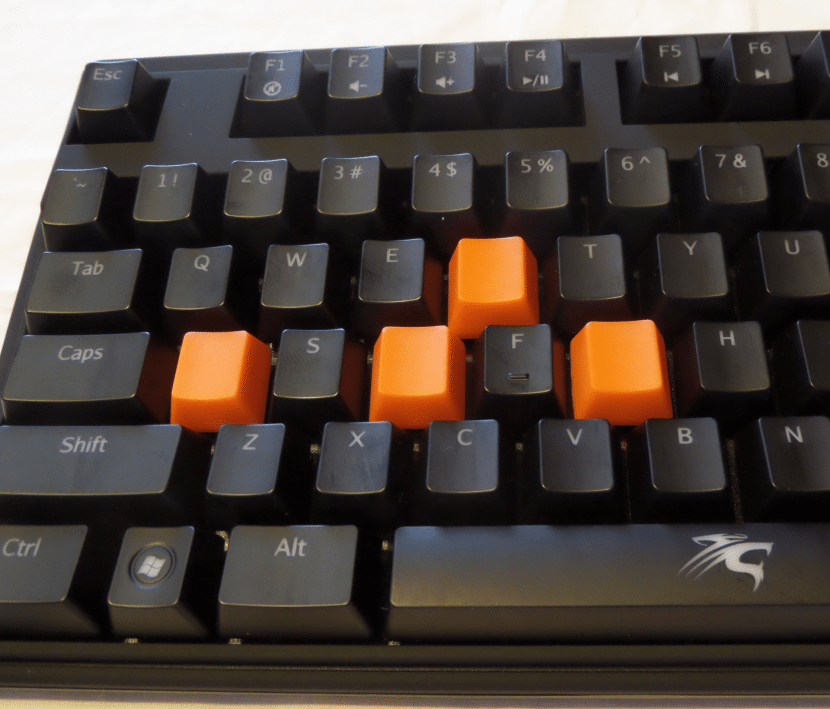 While most people will probably change the most commonly used keys like WASD, or the arrow keys, you are different.  You may like D, R, A, and G.  I happen to like those letters.  No, not because I am a drag queen or anything like that…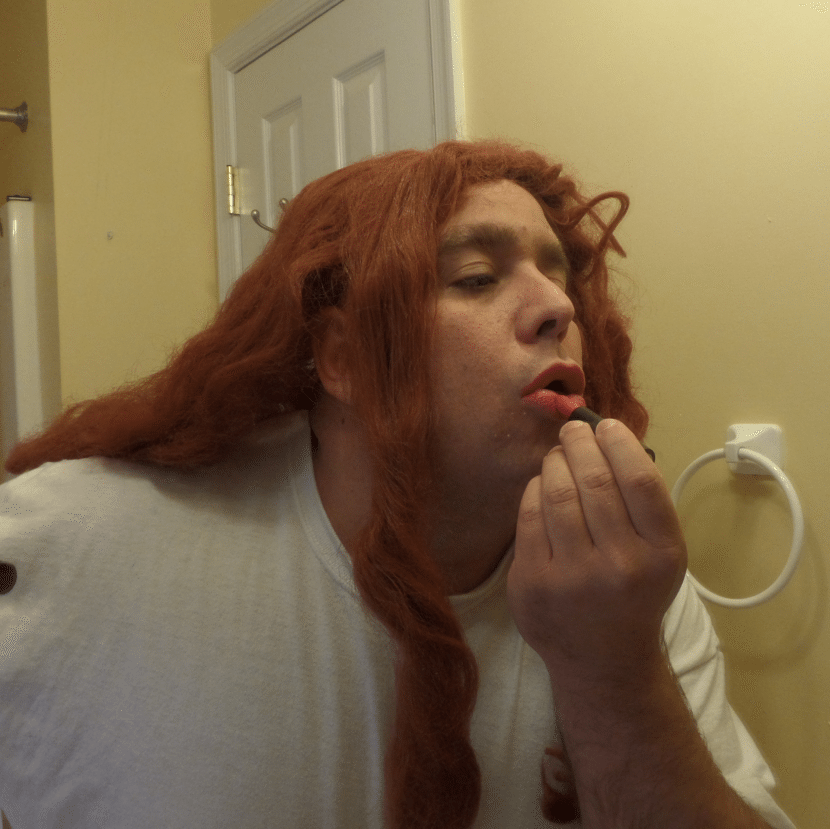 I can explain, I can explain.  I was trying to pay for school and feeling a little confused about things and those guys were always so nice to me…. Ummm so let's get back to the review
So yeah, you can chose whatever keys you like. And as usual you can use the included key extractor.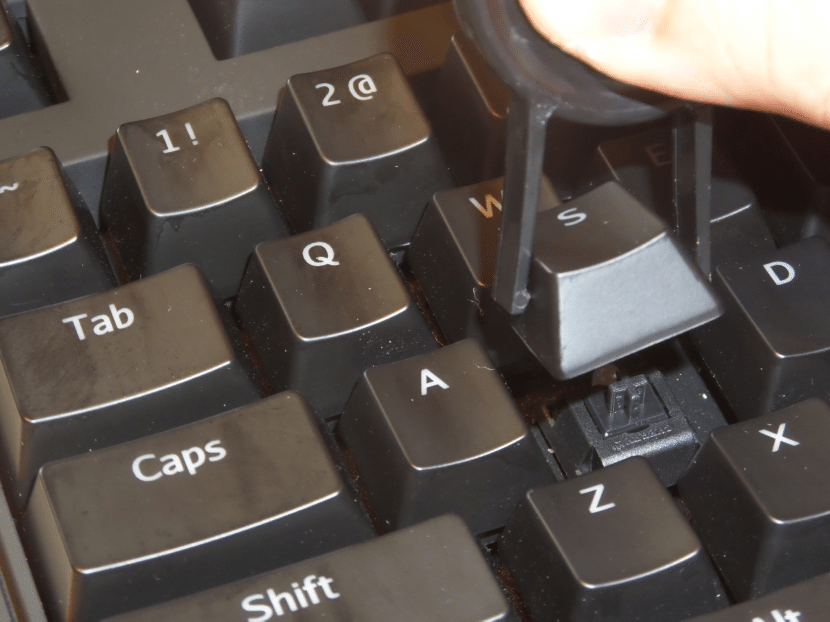 As you pull the keys out, you can tell that these don't look like regular switches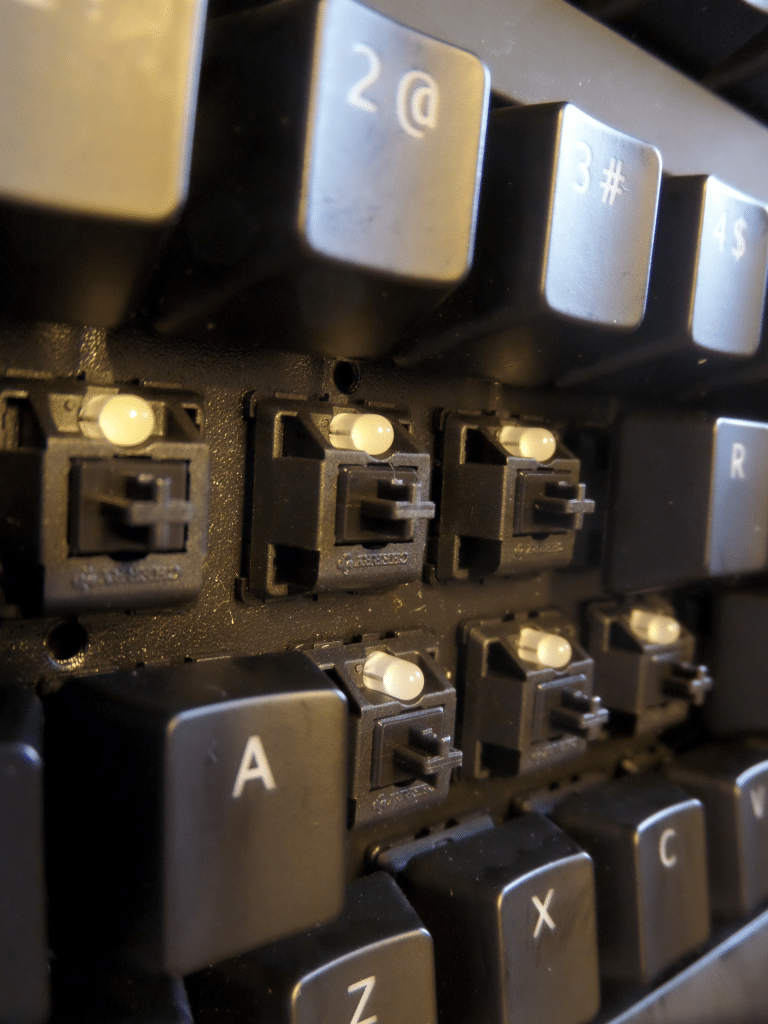 That's because they are not, this keyboard comes with Cherry MX Black switches.  What are Cherry MX Black switches you ask?  These are the switches used back in the day in keyboards in the 80's, that provided a medium to high actuation force, so there is a little resistance when pressing a key.  These switches help for typing and game play because they help reduce accidental key presses. This keyboard is rated for 50 million key strokes, so for sure they are making sure it lasts.
Sentey goes a little further than just adding these switches.  The little bulb you are seeing over each key is actually the back lighting, more specifically, the blue back light.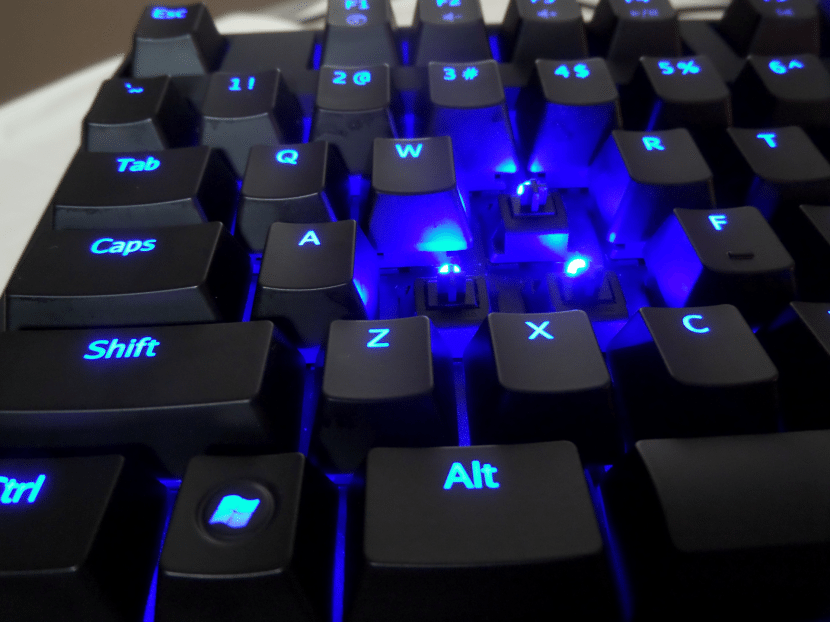 These are LED's, each key has their own which speaks tons to the quality of this keyboard.  Many companies will have a few lights in key area's to illuminate 8 or 9 keys with 1 light, if that bulb dies, a batch of keys are no longer illuminated.  In this, if 1 bulb dies, it only affects the lighting for 1 key.  50 million key strokes, Cherry MX Black Switches, individual LED blue lighted keys; I'm not done yet though.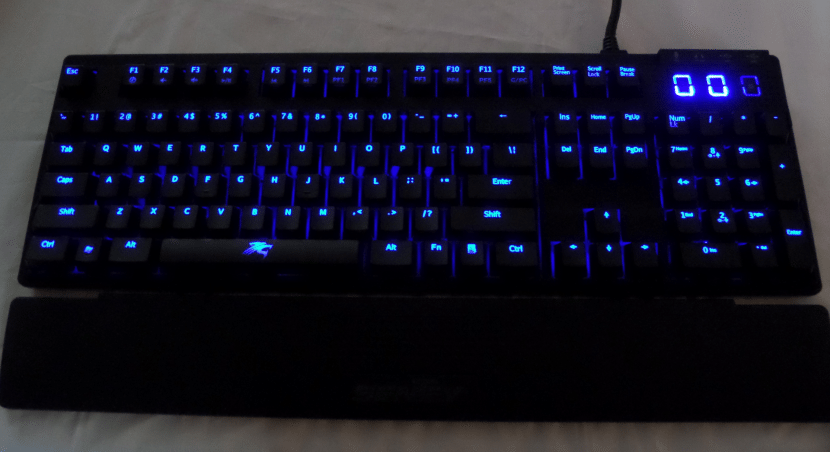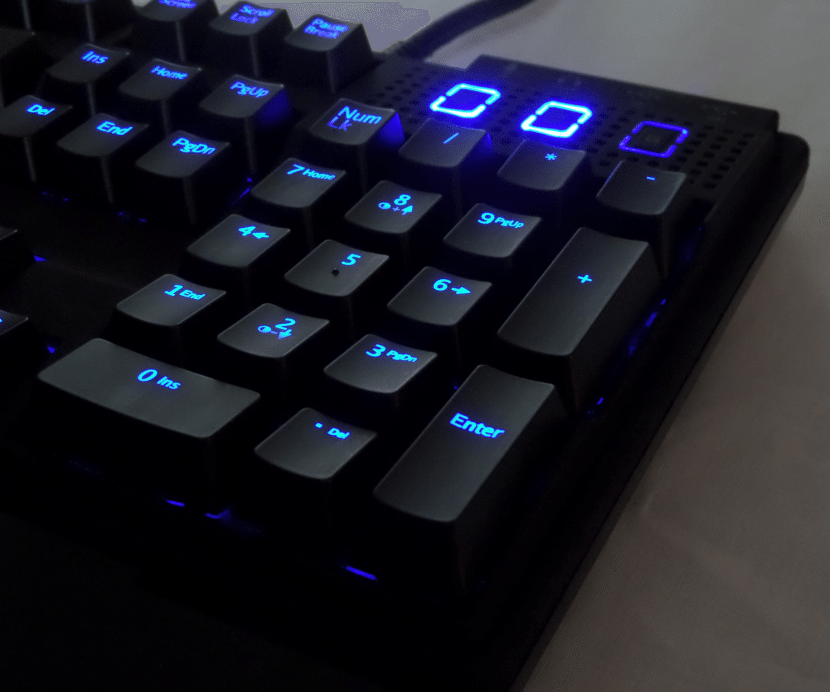 It's looking real nice.  This is how it looks like with the unlabeled keys and with the back light enabled.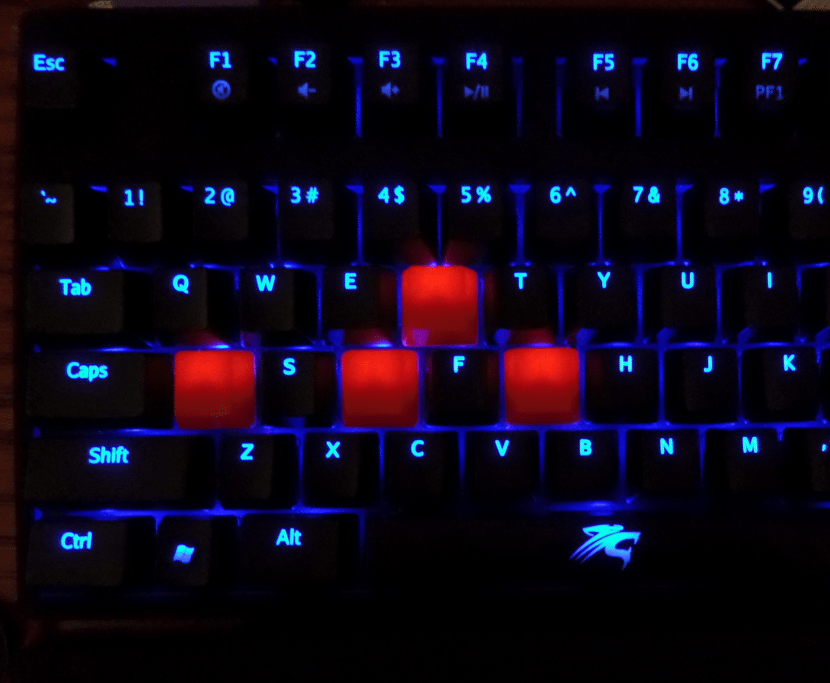 Then there are different levels of illumination, and even breathing, check it out
Aside from the illuminated and interchangeable keys, you can also save macro's here.  Clever the way their software is laid out.  It looks like the keyboard and the wrist rest are where you store your keys.
From this software you have 5 different profiles, with 10 macro's per profile.  The keyboard has 128KB of built in memory, it looks like they are putting it into good use with this.  They went a step futher with this software too, not only can you create these, but you can export your macro's incase you have to reformat or are switching PC's, then you can reimport the profile.  This is also nice to swap profiles with friends.
You can access the profiles from within the program or by pressing Function+F12.  When this software is running or you have tapped Function+F12, the G key is lit.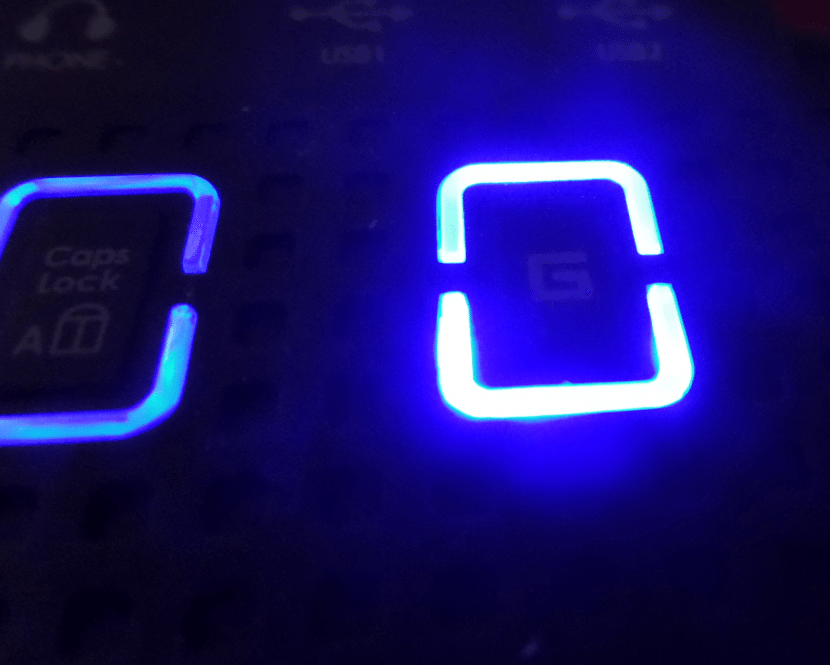 Here are your Profile keys

The space bar is branded with Sentey's logo and also shines blue.  Every single key on this keyboard is back lit.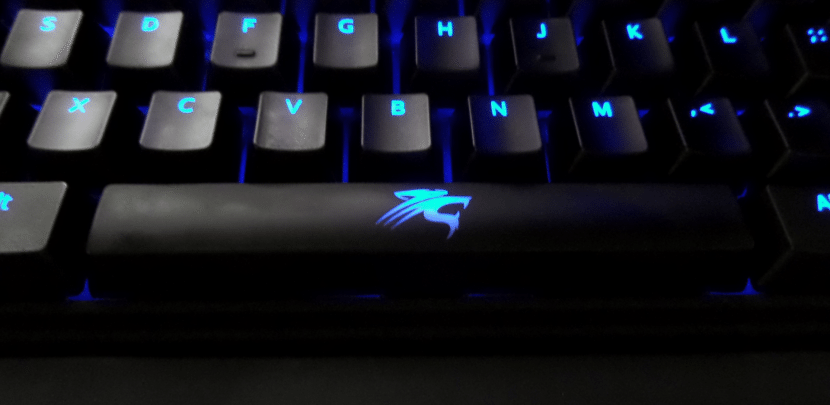 Everything is coming now a days in USB, but they are not doubling the USB ports on motherboards.  If you wanted more USB ports, then you have it now.  Typically you would have to buy a hub, buying this keyboard, you actually did buy a hub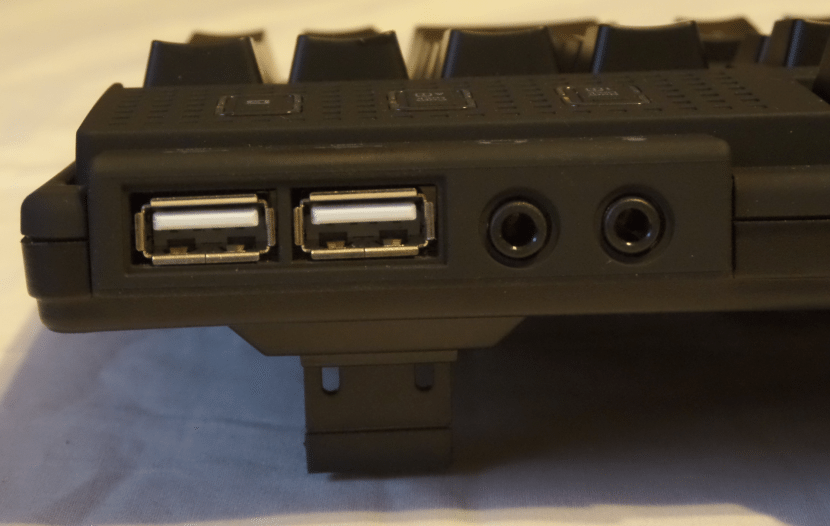 This keyboard features not only 1 USB port, which in itself is a great addition, they included 2 ports, this helps out tons.  You can connect your headphones, mice, phone cables, just about anything to this freeing up 2 ports on the back of your computer, that is definitely a great thing.  Adding to the ports, they are throwing in audio ports.
Next to the USB hub, Sentey included a 3.5mm Microphone and a headphone jack, which is great not only for home use, but amazing for LAN parties.  To make these hubs possible, you need to plug the USB cable of course to the back of the computer and then the headphone plugs as well, they work as pass throughs.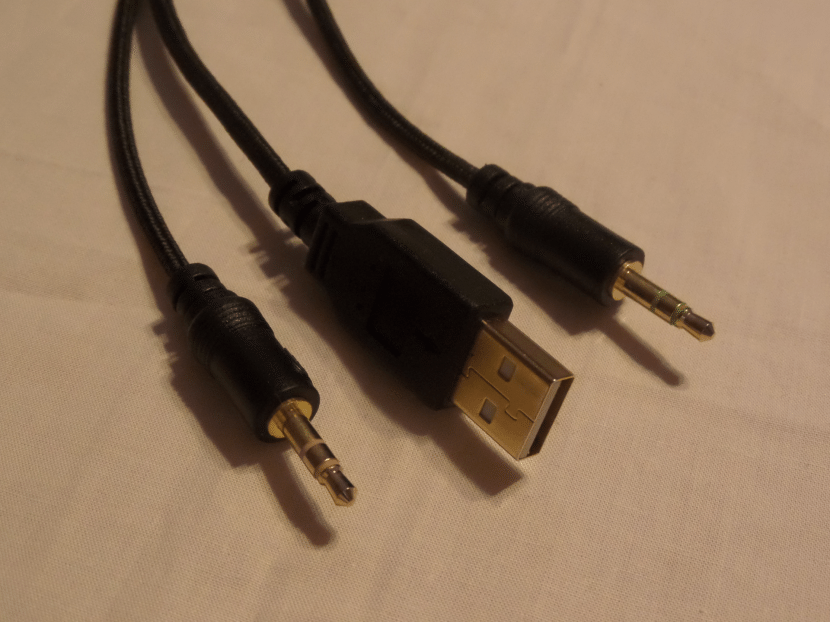 One thing that always feels like an afterthought on any keyboard I have used is the wrist rest, they never feel right.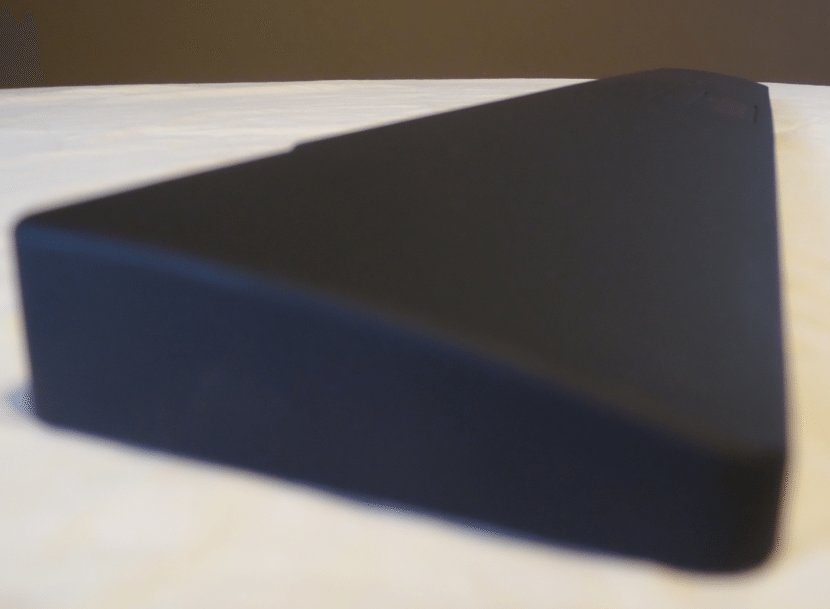 This simple stretch of plastic seems to always be forgotten, yet it is very important to help avoid your wrists hurting after hours of typing in the office or hours of non-stop gaming.  It's almost like the people that make these keyboards have never used a computer?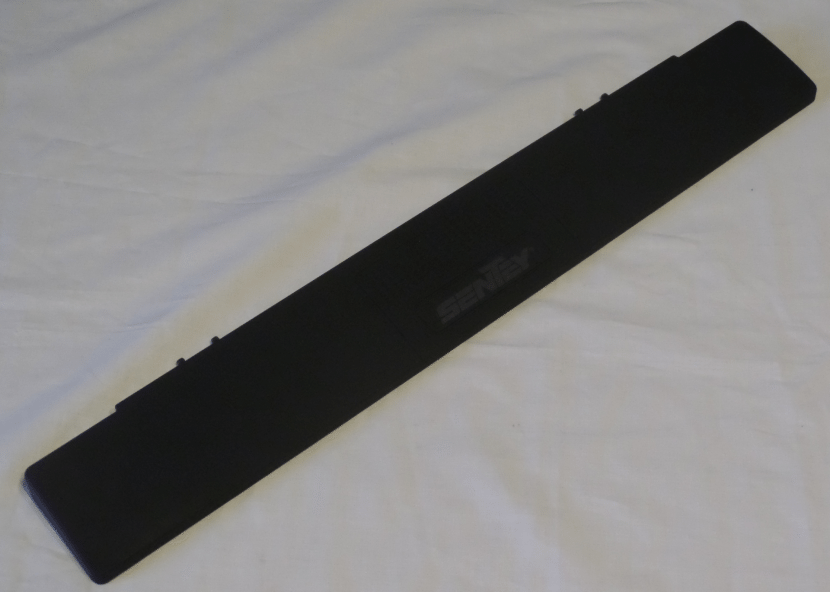 Sentey did it right though.  Putting my wrists on this wrist rest feels like this is made out of foam or cotton.  Reminds me of a job I used to have.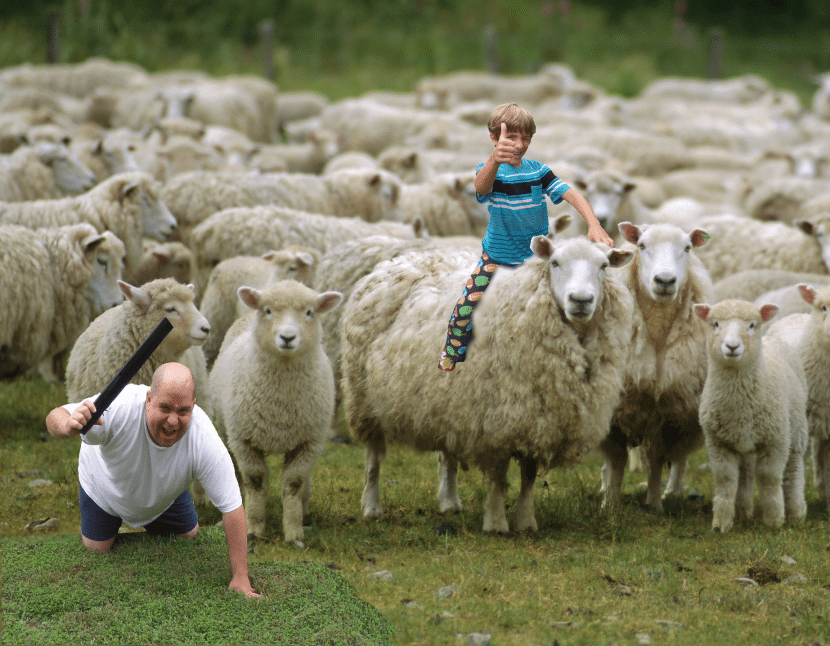 Even passing your fingers over the plastic, it feels very smooth and soothing.  They call it Soft Black Matte, but it seems like it could be a rubber coating of sorts, again, it is very soothing.  Both the keyboard and the wrist rest are coating in this.
This keyboard has so many things going for it, soft black matte coating, wrist rest, individual key lighting, USB/Audio hub, programmable macro's, Cherry MX Black switches, blank swappable keys, carrying case and amazing packaging, but 1 huge problem that keeps it from being a 5, it was almost going to be a 4.  A few days before I wrote this review, while I was prepping for it I saw the price of this keyboard to be $149.99, and actually is still on a few sites, but on Amazon, you can pick it up for $99.99, which saved it half a star.  Please remember, as of 8/9/2014 the price was $99.99 on Amazon, when you read this review it could be more or less.
If you can justify that price, even comparing it with other manufacturers, I would suggest this keyboard.   If you can't justify that price, maybe wait till it goes on sale, it is that good to justify waiting.
We are influencers and brand affiliates.  This post contains affiliate links, most which go to Amazon and are Geo-Affiliate links to nearest Amazon store.
I have spent many years in the PC boutique name space as Product Development Engineer for Alienware and later Dell through Alienware's acquisition and finally Velocity Micro. During these years I spent my time developing new configurations, products and technologies with companies such as AMD, Asus, Intel, Microsoft, NVIDIA and more. The Arts, Gaming, New & Old technologies drive my interests and passion. Now as my day job, I am an IT Manager but doing reviews on my time and my dime.