If you are like me, you have a ton of different programs and sites for your media. These range from YouTube, iTunes, Spotify, etc. People also keep sharing these via Facebook. Sometimes it is a pain to swap between everything, pause one and visit the other, and then remember what you were doing after. Thanks to Emoplayer, your media and social networking can all be combined. This guy can add your local music and shared media from Facebook in to one convenient library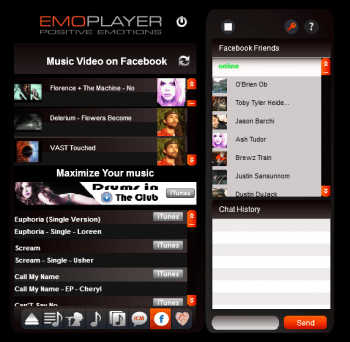 The installation was a little different than I was expecting. It is initially downloaded and installed via their Facebook page rather than a downloaded file. It doesn't make it any more difficult, as it still walks you through it step by step. You will need to associate it with your Facebook account though, which sounds like a given if you want it to grab your feed's videos and music though. It only takes a few moments once you give it the permission and begin the download. Once installation completes, it will launch and you can begin diving in to your new media player!
Once Emoplayer is running, it you need to authorize it to pull from Facebook.  Again, no surprise as it imports directly from your feed. Once it comes up, you will see a list providing some suggestions. The top half of this list contains imports from your feed.  You will also see who posted it. If you click on the name, a YouTube type player will pop up to check the video out. Click on the thumbnail of the video, it will add it to your library. The second half of this list contains "maximized" music. These tracks include extra features such as notes, lyrics, etc from the artist and include ways to keep up and connect with them using methods such as Twitter.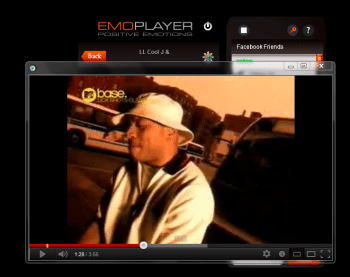 On the far right you will also find there is a list of your Facebook friends with a chat interface. I found this is kind of nice so you can talk with others while listening to music, without having to have Facebook open. This was primarily integrated I think to allow for video and music sharing, using the new iCloud Messaging service. You can also import your local library by clicking the add tracks button that is located with your other options, on the bottom bar. This opens a dialogue box so you can navigate to which ever folder you want to import. This will combine your local files with anything that you have added from your feeds as well. In addition to this option, the toolbar at the bottom will bring up your playlists, artists, songs, and albums. A couple other added features includes shares from using the iCloud Messaging service and Facebook.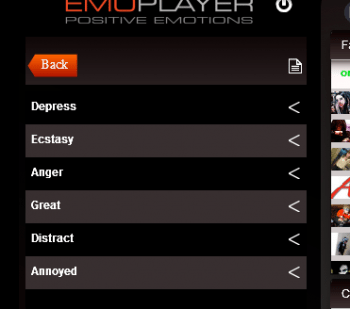 Once everything is imported, you can begin playing anything from your library. While playing there is a button that opens up the "EmoFlower" which is a graphic that lists varying emotions and feelings you may be experiencing or that are inspired by that track. Go ahead and select whichever applies and that song is labeled with it and is added to an "Emotional Playlist" which is a quick and easy way to select a variety of songs depending on your current mood.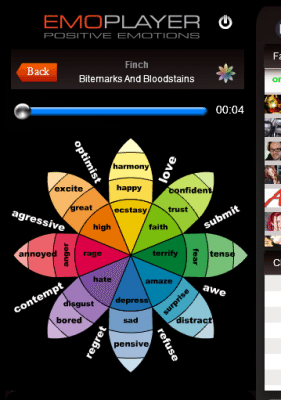 The interface takes a little getting used to, but many new programs and apps can. The navigation is not quite as intuitive as I would prefer, as leaving the now playing screen immediately stops all playback. I can see this being improved on though with newer versions, as this is still in Beta. I would also love to see a couple other options seen with some other players, such as an EQ or even an option to disable auto play when you select a song.
As a whole, I really like the concept and functionality as a whole. It combines social media with your music experience. It makes interacting with your music a bit easier and even adds YouTube right at your fingertips, which usually needed a YouTube downloader or having your browser open to your playlists. Emoplayer definitely helps ease the burden of multiple locations for media and adds a great way to share music and videos with your friends.