A little over a month ago I was reading on some forums that having an Alexa badge on your blog or site will improve its Alexa score. Since the site supposedly ranks based on popularity and number of visits from people who have Alexa bar installed, I didn't see how just having the rating badge could improve the Alexa rank of your site, so I decided to run a test and put the Alexa badge on DragonBlogger.com. I gave it thirty days to see if my site improved and factored in whether or not my traffic increased and here were my results.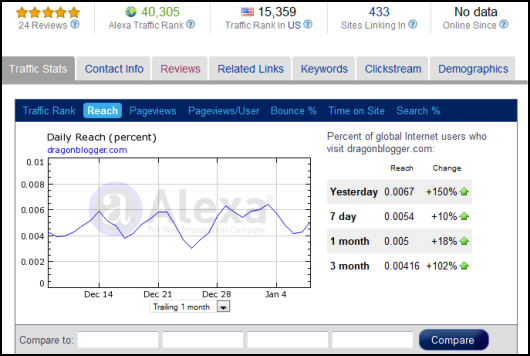 DragonBlogger.com had an average Alexa rating of around 60k back in the first day of December and my rating has improved to just around 40k in the 38 days or so I have had the Alexa ratings badge added to the sidebar of this site. The thing is my blog traffic and visitors is only up about 2% for the month, so the increase in traffic does not account for the huge improvement in Alexa rating. In a second test, I installed the Alexa badge on one of my wife's blogs and saw the Alexa rating improve by almost 100k within two weeks (drop from 800k to 600k) now this could be coincidence as the site has gained a little bit of traffic since then, but I have reason to believe that having the Alexa badge on your site does in fact improve the Alexa rating.
As a result I have now added the Alexa badge to all of my sites if anything but to help further these tests to confirm if it is actually true.
So, have any other bloggers been able to prove that Alexa increased as a result of having the badge on your site? Did you notice a difference, do you currently post your Alexa badge?
-Dragon Blogger