Fellow bloggers, I recently saw a Google Ad on a website for gaining backlinks and was curious to see what product or service was being offered.  When I was greeted with the price package and service below I was immediately inspired to write this blog article.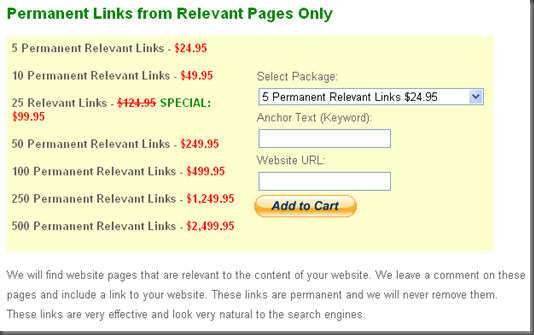 This company which I didn't include to avoid slandering is basically charging $250.00 to leave 50 comments with your chosen keywords and website on other blogs.  This is exactly the kind of service which attempts to abuse DoFollow and KeyWordLuv and they claim your comment is permanent but it can very well be deleted by the blog owner.
This is a horribly bad idea and you should never consider purchasing comments, you could easily leave 50 comments in a day by spending 2 hours doing searches on blogsearch.google.com for topics in a related niche and reading enough of a post to leave a valid comment with a backlink.  This you can ensure would be a valid and legit comment from you, without you wondering what a third party was saying and representing your site with a comment.
Worse, if Akismet or anti-spam plugins flag that comment then your website / email / profile could be blacklisted in some way and your reputation could be horribly tarnished.
Is Purchasing Comment Backlinks a Good Idea?
The simple answer is no in this bloggers opinion, I would always leave comment trails on other sites myself and never outsource or pay another company or person for this service.  I would hire guest posts and potentially purchase "embedded" links in posts/pages from bloggers directly, but comment packages are never something I would purchase and wonder how many other bloggers do or are in favor of purchasing comment backlinks?
-Dragon Blogger
Enjoy the real success with mcts dumps and cisco Pass4sure 200-101 online training programs and latest Testking. Also prepare for next level with quality Actualtests 642-832 questions and answers of PMI training.