We are influencers and brand affiliates.  This post contains affiliate links, most which go to Amazon and are Geo-Affiliate links to nearest Amazon store.
The mobile app boom has not stopped moving. Facebook is one company to take advantage of the mobile revolution. Now 70% of its ad revenue comes from advertising via its mobile app. Tablets are one device you can use to the install mobile apps.
The one issue with the Kindle Fire tablet, in particular, is that it's impossible to access the Google Play store. It means many apps are inaccessible, which reduces how useful your Kindle Fire can be. But you can install apps onto your Kindle Fire via sideloading.
This tutorial will show you how to sideload apps onto your Kindle Fire.
Beware of the Disadvantage
Before this tutorial begins, you have to keep in mind that there's one major downside to installing apps via sideloading. There's no possibility for automatic updates when you sideload because you can't connect to the store in order to download them.
In the event that a major update comes out, you should consider deleting the app and reinstalling it by following this tutorial again.
Step 1 – Prepare Your Kindle Fire
To begin with you have to start by preparing your Kindle Fire for accepting apps. First of all, you need to go setup the file manager and the directory. Start by going to the top navigation bar and going to Settings. When you are here you have to look at the Applications menu.

When you get to the applications menu, go to the Unknown Sources toggle ad turn it on. This will allow you to sideload apps. When you are done with this, turn it off because it could inadvertently allow you to install malicious software.
After this, go to the Apps for Android application and find ES File Explorer.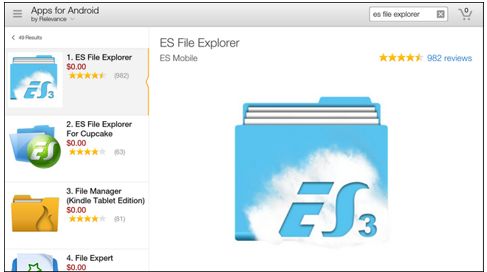 It doesn't matter if you use this app or not. This is just a free file explorer that's simple to use. Create a folder in the internal storage area. Tap the New button when you're running ES File Explorer. You should now have a folder called /Sideloaded Apps/ in the internal storage root.
Step 2 – Installing Android Apps
For this example, you are going to be installing an app like SnapPea, which you can't find in the Apps for Android store. Download the APK file directly from the website. Just copy and paste this APK file to the folder you created in the previous step.
Go into this folder and click on the APK file. If everything has gone according to plan, you should see the Android installation window for SnapPea.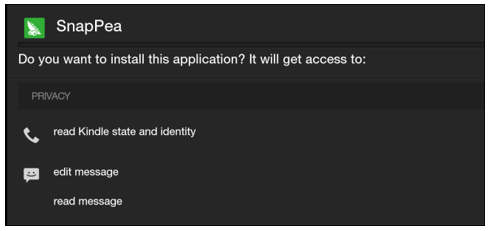 You have now installed your app that doesn't come from the Apps for Android store. You can now use the app in the way you please.
Step 3 – Installing Apps from Google Play
With Google Play Store apps, you will have to go through another step to complete the process. This step can be completed from the web or you can use an existing Android device with access to the Google Play Store. For example, you could use your smartphone.
The APK Downloader extension for Google Chrome can let you take apps right out of the Google Store. This will give you the APK file you need to install the app, as detailed in the previous section.
Another method is to take the app off of your other device. For this, you need to install the App Backup & Restore app on your device. Run it and backup your device for transfer to the Kindle Fire. You will find your APK files in the App_Backup_Restore root. Mount your device onto your computer.
Now you have the APK file to copy and paste onto your Kindle Fire.
A Warning
 While apps do run as normal using these techniques, things like the retina display icon may look fuzzy. The Kindle Fire won't be able to distinguish between an app directly downloaded through it and an app you've sideloaded, though.
These techniques can be used with any version of the Kindle Fire, including the newest Kindle HDX.
Will Amazon Ever Make this Easier?
 One of the reasons why Amazon will never make this process any easier is because it's in direct competition with every other tablet provider, including Google and Apple tablets. To allow people to download apps from these stores would act as a form of promotion, and that would leave the company in a difficult position.
While working around this problem is relatively easy, the future will undoubtedly come with more obstacles to overcome. Thankfully, the principle of manually installing the app files remains the same, so it should be relatively easy to manage.
What are your experiences with sideloading apps onto the Kindle Fire?
We are influencers and brand affiliates.  This post contains affiliate links, most which go to Amazon and are Geo-Affiliate links to nearest Amazon store.
I cover the art of using smart, simple shortcuts that lead to growth.
I am a regular writer for Forbes, Inc., Huffington Post, Entrepreneur Media (among others), as well as CEO and Chairman of Alumnify Inc. Proud alum from 500 Startups and The University of San Diego. Follow me on Twitter @