My wife has been looking for a new blog theme for one of her blogs and had me investigate the WordPress Classifieds Ads Theme over at SiteMile Scripts & Themes. This theme has some advantages and serious benefits over the ClassiPress theme that is common for classifieds blogs, and it will be chosen as the classifieds theme for her blog over the next few months.
While on SiteMile I perused some other themes and they have an Auction theme, ReviewPress theme, a Storefront theme and even an AutoPost plugin which is a wordpress plug-in that lets you generate automatic posts from RSS content. It is a good option for people who want to generate blogs that self publish and focus more on AdSense revenue and showcasing other news streams than producing their own manual content.
They have a nice looking "LemonTheme" which is free for anyone who just signs up for the site, which is not a bad theme to play around with for free and is quite clean looking and feature rich.
SiteMile offers more than just WordPress themes and plug-ins though, they are a full service scripting and theme shop and are able to write custom PHP plug-ins for your blog, create a new theme for wordpress or a new site for Joomla. Just about anything you need done with your blog or website you can hire contact Sitemile and they should be able to do for you.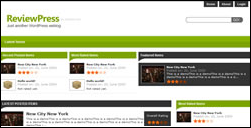 So if your looking for a specific wordpress theme to run for an action site, classifies, storefront, product review or if you need to hire somebody to design something custom for your wordpress or web site implementation, consider checking out SiteMile and see if they can meet your needs.
With very fast customer email response times I was impressed with the company right away and was happy to be testing and using their WordPress Classifieds Ads theme for my wifes blog.
-Dragon Blogger