Disclaimer: This was a sponsored post, commissioned by BudgetGagdets.com. I was sent a free copy of the Emergency Solar Charger for Apple iPhone/iPod Touch w/ Strap to review and share my thoughts and opinions. The words and opinions are mine and mine alone.
---
One of my favorite things about being a Technology blogger is when companies offer to send me useful products to review.  I thought the idea of an iPod/iPhone charger that was powered by Solar energy was a brilliant idea and the fact that I live in Arizona the sunniest state in the country made me the perfect candidate to test this product.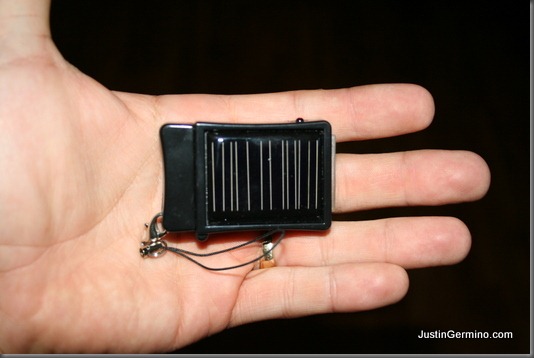 First you will see the charger is a little smaller than the iPod Nano itself (much smaller than an iPhone).
The device has 1 connector which plugs into your iPod/iPhone to charge it, and the other side has a connector which takes a USB iPOD cable and will charge the device via your USB power (for quick charges and the first time).
Think of this thing as like an emergency battery, it will provide up to 25%-30% of total iPod/iPhone power.  The device has a red LED light on the side that will light up to show you that it is charging (no way to know when its done).  The first time you use the device you have to charge it via USB cable first, for some reason the battery when first arrived would not charge via Solar power.  The Emergency Solar Charger only takes about 2 hours to charge via USB adapter and it charges in about 6-8 hours on a good day of sunlight.
I let my iPod drain completely to no battery for my testing, this means when I tried to power on my iPod Nano, it would say "Low Battery" and just shut off.  I plugged in the fully charged Emergency Solar Charger and my iPod Nano immediately showed a power source with the lighting bolt symbol over the battery symbol.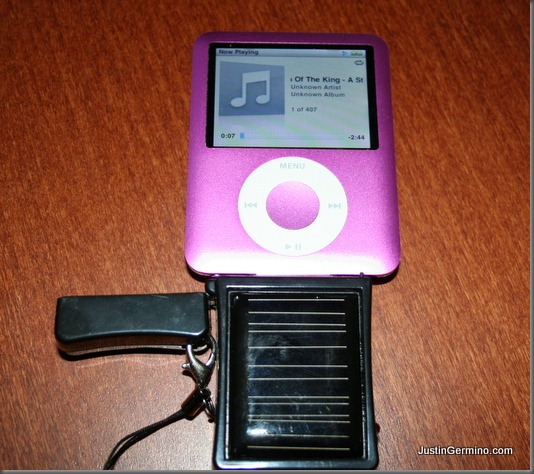 I was able to let it power and charge my iPod Nano from zero battery to about 2/3 battery, the device claims 30% emergency power but this is probably for an iPhone as my Nano must take less power to charge.
Here's the best part folks, the Emergency Solar Charger for the iPhone or iPod from BudgetGadgets costs less than $7 and shipping is free!
It does ship from outside the country and took about 10-14 days to arrive, but this device allows you to travel with a portable solar ipod/iphone charger and if you are frequently outdoors and leave it where it can collect some sunlight by clipping it to your purse, briefcase or whatnot, you can have a fully charged power source every day for your iPod or iPhone without having to plug the device into a computer via USB cable.
This is a good option for people who play movies/music on their iPhone during long airline flights that don't have USB ports to charge your iPod.
My honest review is that at less than $7 this is a product that is worth having if you own an iPod Nano, iPod Touch or iPhone and you want to keep an emergency spare power source that doesn't need to plugin to charge.
I do think that the company should include a note or instruction saying specifically to charge the device on the USB iPOD cable before you try solar charging it, it took me a day to figure this out.
Budget Gadgets also sells dozens of other unique and inexpensive accessories such as iPod/iPhone/iPad Accessories, Cellphone Accessories, PC/Laptop Accessories, Video Game Accessories, Car Accessories, Sport, lasers, Toys and Hobbies, watches and more.  There is always free shipping and you can find dozens of gadgets under $10.
UPDATE
BudgetGadgets has worked with DragonBlogger.com to provide a 5% discount coupon to all of my subscribers who want either the Emergency Solar Charger for iPhone or any other great budget gadget.  Just use the following coupon code for any order and receive 5% off: JM5OFF32
-Dragon Blogger