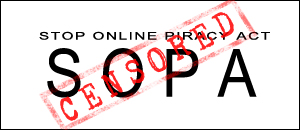 UPDATE December 20, 2011 3:27 PM PST: SOPA Hearing postponed to a later unannounced date according to the official markup page.  This is huge! 
Despite claims that SOPA will be tabled for the New Year, lawmakers on Capitol Hill have managed to push to resume SOPA hearings on Wednesday December 21.
For those who are not in the know SOPA, or the Stop Online Piracy Act, is a bill that will effectively change the integrity of the internet.  How does that translate into simpler terms?  I'll give you a very straight forward example.  In honor of the holidays, how about a nice round of the animals of YouTube singing the public domain Christmas classic Deck the Halls?
[youtube width="420″ height="263″]http://www.youtube.com/watch?v=8-0WVfj76bo[/youtube]
The adorable animals in the video I just showed you  committed a major crime as outlined by the convoluted wording of SOPA.  This is because  several companies like Warner Music, Disney, and Sony Music have all recorded copyrighted versions of the song.  Due to this simple fact, they could easily manipulate the public domain license of the song and claim that Klaatu42 (the creator of the video) violated their copyright regardless if he used one of their recordings or not.  Klaatu42 would be forced to take it down (perhaps even get drawn into a legal battle) and every other video creator on YouTube would have have to follow suit.  On top of that, the entire Google domain could be penalized for hosting the content and be wiped off the face of the internet.  That my friends is the kind of damage SOPA could inflict.
SOPA has been bandied about since October 26, 2011 by Republican Congressman Lamar Smith along with a group of 12 co-sponsors.  Originally its intentions were to police notorious foreign copyright offenders and protect the intellectual property rights of US enterprises.  The problem lies in the fact that under the noble guise of this bill, big Hollywood or entertainment entities could effectively shutdown websites sporting material they didn't like regardless of whether a copyright violation was actually committed.
Don't believe such companies will stoop that low? A good example of the nefarious enforcement of this can be found as recently as last week.  Hong Kong based online storage company Megaupload received a DMCA takedown notice from Universal Music Group.  What did Megaupload supposedly steal from UMG you ask?  A song?  No.  Images and media?  No.  They simply had the gall to get some of UMG's talent to sing an original song in a promotional ad campaign for Megaupload.
[youtube width="420″ height="263″]http://www.youtube.com/watch?v=pCkI5I8vsBg[/youtube]
So far the SOPA hearings discussing cases like these have been more akin to a three ring circus.  Calls for tech and security experts to speak during the congressional markup have fallen on deaf ears. Harmful provisions concerning DNS redirects and firewalls have remained intact thanks to a 22-12 vote.  Republican Rep. Steve King tweeted his boredom about listening to the debate regarding the bill.  Even Smith, the lead author of the bill, ludicrously characterized Google as being the biggest profiteer of piracy.
Unfortunately, there are some critics of this legislation who are not serious about helping to protect America's intellectual property. […] [Google's] opposition to this legislation is self-serving since they profit from doing business with rogue sites.
Appalled, Google co-founder Sergey Brin fired back on Google+ and compared SOPA's measures to the online censorship enforced in China and Iran.
Two bills currently making their way through congress — SOPA and PIPA — give the U.S. government and copyright holders extraordinary powers including the ability to hijack DNS and censor search results […] I am shocked that our lawmakers would contemplate such measures that would put us on a par with the most oppressive nations in the world.
While it is heartwarming to see some companies on the internet still championing free speech — the bottom line is — everybody is concerned about loosing profits.  The biggest loser in regards to SOPA is YOU.  Not Google, Facebook, Twitter, or any of the other networks eager to consume your online hours and information; nor Paramount, Sony Pictures, Warner Brothers, or other film titans swimming in the dough of DVD sales, toys, and other merchandise.  It is you who grants all of these companies your business.
You have the power.  Do not let them take that away from you.  As mentioned above, plans to get this bill into effect could succeed as early as December 21.  Lets not ring in the New Year by giving up the freedoms that we hold dear.  Visit the following Opencongress.org page to find out more about the bill and fill out the form to let representatives like Lamar Smith know exactly why you do not support it.
Mitra Faridian first joined the site in 2011 under the handle "Persian Poetess." Her gaming and entertainment taste is very eclectic and she's always open to a fun new virtual adverture. Email her at the following address: mitra [at] dragonblogger.com