I have done several reviews of Sponsored Tweets which is a service by IZEA that allows advertisers to hire Twitter personalities to promote their message and Twitter users to make a little side income promoting company products and services that they like and are willing to endorse.  However all my previous reviews of Sponsored Tweets have been about the usage of the system from a Twitter user perspective, and how to set your profile up to receive offers and promote messages.
As I started getting an advertising budget together, I decided to start using Sponsored Tweets as an advertising platform to help spread the word out for my Google Nexus Giveaways and other gadget giveaways to help reach maximum audience and I decided to put a little video together showing you one would build an advertising campaign on SponsoredTweets, fine tune it to find Twitter personalities who are in your focus niche or category and make offers while trying to ensure you get the highest return on investment possible.
Now results may vary, but I am sharing my methodology and I continue to tune my focus, but here is a good idea on how I get started with using Sponsored Tweets as an advertiser.

For those who don't have time to watch the 11 minute video, I will do a little summary recap.
You sign up for Sponsored Tweets as an advertiser, and this requires you to sign up separate from signing in with Twitter.  There is no switch between your Twitter user profile and the advertiser profile you need to sign in separately and have separate accounts, one is sign in via email and the other is with Twitter.

After signing into Sponsored Tweets as an advertiser, you will want to first add advertising credit and deposit it into the system, since you can't hire anyone without depositing some money.  Look for IZEA sales and specials where they will do credit matches, if you have a big budget you can sometimes get extra credit and have your money go farther if you look out for their sales or contact their sales team if you plan on running a large advertising campaign and see what offers they can give you.
Once your budget is added, you click on create a new opportunity.
Creating a Sponsored Tweet

Enter the Title of your Opportunity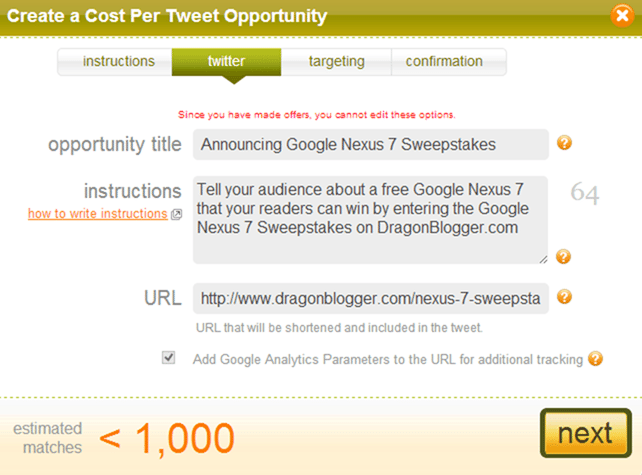 Also the instructions you want, these are the details to provide to the Twitter user you are hiring, what you want them to say about your product or service is one example.
The URL should be where the link will lead for the message being promoted, SponsoredTweets will auto shrink it with their Short URL so you will get click tracking and analytics, you can also add Google Analytics tracking parameters as well.
Finally you will want to select your payment rates and who qualifies for offers.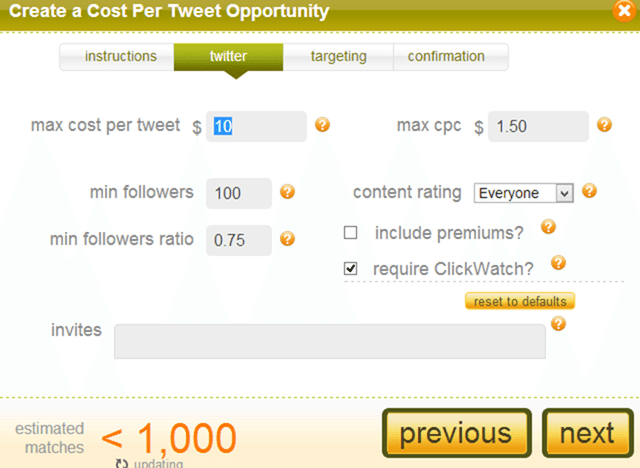 Here you define how much is the most you will pay out for a single Tweet, note that celebrities and people with Twitter accounts that number hundreds of thousands or millions of followers can cost hundreds of dollars per tweet if not thousands. I have a small budget so I typically don't have the budget to pay for more than $10 per tweet and honestly I mostly find Twitter profiles in the $4 and under price range for my ROI margins.
You set the minimum number of followers that you are willing to consider, note that sometimes Twitter profiles with a low number of followers can have very engaging followers so numbers doesn't always tell the level of engagement and the return you may get.
Follower ratio is another helpful metric as most people who follow more or 1:1 people than follow them tend to have lower engagement from their audience, when you start seeing huge ratios of followers to only a handful of following these tend to be high profile Twitter accounts.  This isn't always a true gauge but is a starting point.
Finally, you set the content rating for your message, the Max CPC (this is basically the highest CPC you will consider based on people who ran previous Sponsored Tweets campaigns, this means you won't consider someone who hasn't delivered at least that CPC or better. The only bad thing is someone who hasn't done a previous opp shows up I wish there was a way to weed out people who have never done a previous app and have no CPC metrics in the system.
Include Premiums is for Twitter Premium accounts which tends to be very high profile (and expensive) certified accounts.  Click Watch is whether the Twitter personality is willing to re-share the same message until it meets a decent ROI, up to 2 additional times.  This is very useful and helps show that the Twitter profile wants to deliver a good ROI for their advertiser.
Choosing Keywords for Sponsored Tweets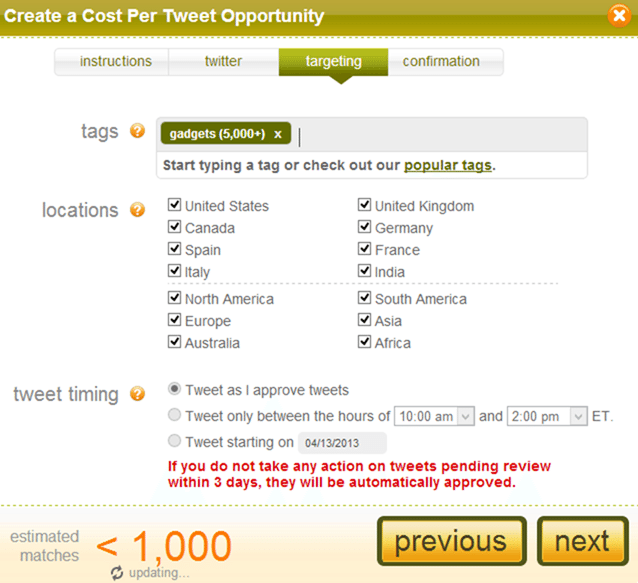 Next you would choose which tags apply to your message and this helps match Twitter profiles in the Sponsored Tweets system with the tags you specified, since the user selected these tags they are more inclined to promote your product or service if it matches.  This also helps refine your search so you find Twitter profiles who match the niche of your product or service as well.
Locations is whether you want to look for Twitter personalities in any specific locale, remember this is the Twitter profile location so many people in any location can have followers all over the world.
Finally, Tweet timing is when should the Tweet be broadcast after you approve it.  This is a good way to spread out a message between specific blocks of time, on a specific day or instantly as you approve them.  This allows you to build an advertising campaign a few days or weeks before a launch, and schedule the Tweets all for your product launch date.
Choosing People to Hire on Sponsored Tweets
Next, you would just pick and choose who you want to make offers to.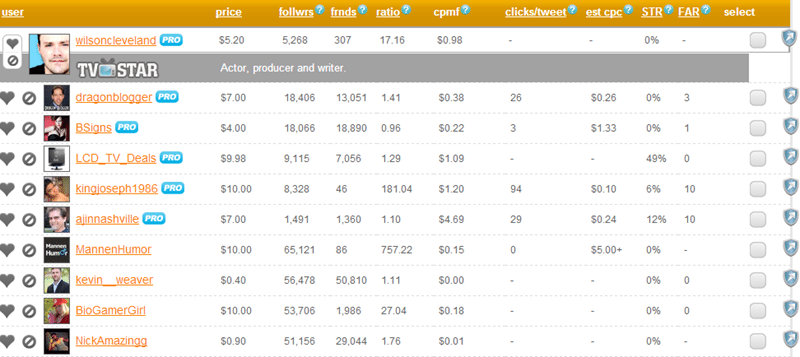 Look at the Estimated CPC of previous tweets, the number of clicks per tweet average Twitter profiles have received and the price of course is another factor.  Again watch the video above for tips on the various sorting and methodologies I use, but you can continue to refine, hire, then change tags and find new audiences to hire and repeat the process until you use up your advertising budget.
Whomever you offer the opp to has 3 days to accept it or it is auto rejected and you get your money back, if they accept it you get to review and approve each Tweet to make sure they are saying what you want to say, you can request they make changes or reject it if you feel they aren't saying what you want about the product or just didn't mean to hire that personality.
Sponsored Tweets is one of the best programs for finding and offering advertising opportunities to specific Twitter personalities, it is much more targeted than other programs like JustRetweet or EasyRetweet where you just assign credits to an opp and then anyone can take the opp provided the meet the number of followers requirement.  This is you hand selecting Twitter profiles to promote your brand or message and it is highly recommend for both advertisers and Twitter users who want to make some extra money promoting some brands.