As most of you know from reading previous articles on this site and visiting my make money online page SponsoredTweets is one of the longest running and most frequently used programs to earn money from Twitter.  I had been using the program for over a year and a half now (since October 2009) and I wanted to let readers know if IZEA SponsoredTweets was still the best program to earn money on Twitter or if something else took the top spot.
For the basis of my testing over the past year and a half I have reviewed and used the following programs:  MagPie, SponsoredTweets, MyLikes, Ad.ly but I have also tweeted and tried to sell affiliate products on Twitter via my Amazon Affiliate as well as a few tests with a Gamefly affiliate referral.
Without a shadow of a doubt, SponsoredTweets was the winner out of all the services: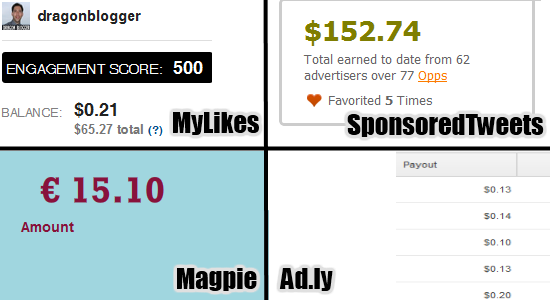 Note: Ad.ly changed their policy and no longer accepts Twitter accounts with less than 25,000 followers, so though I made about $4 with them over the past year they dropped me as an 'active' user until I reach 25k follower status.  This may ensure you can make decent earnings with them if you have 25,000 followers or more, but I don't have even close to that so I just don't know.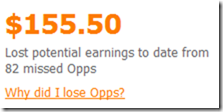 SponsoredTweets was the only program that earned more than $100 dollars in the last year and continues to provide more opps and earnings than any other Twitter program that I belong to.  This is even with me rejecting almost as many offers as I accept due to bad content match with my blog niche.  I still set my earnings per tweet to around $2.00 per tweet with my 8500+ or so followers make sure you set it under what IZEA recommends if you want to be competitive.  There is much more competition in the Twitter marketplace now so the lower you are willing to go the more advertisers will likely select you.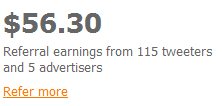 SponsoredTweets has also been providing me a small but steady income stream from affiliates who sign up under me.  As of this writing I currently have earned $56.30 from the 115 Twitter users and 5 advertisers who have signed up under me already.  Typically earnings are between .02 and .30 cents per user, but these can add up and on some days I can earn about .40 – .50 cents in just my referrers earnings.  It doesn't sound like much, but considering I pay about $7 bucks in web hosting fees for my shared hosting this whole cost is covered just by my SponsoredTweets referral income.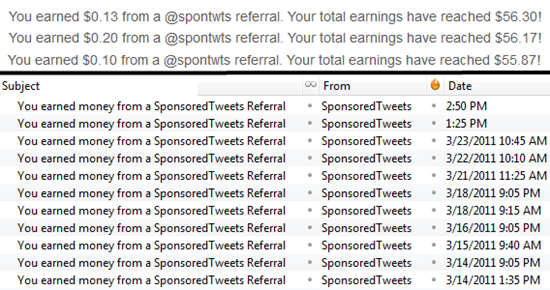 So honestly after over a year and a half I can tell my readers that if you are looking to earn some money on Twitter, SponsoredTweets is still the best program that I know of to monetize your Twitter account.  They have high quality advertisers like Microsoft, Quiznos…etc and you can earn a decent amount per Tweet instead of earning pennies per click like some other services.  They do offer a PPC program but the payouts are much lower than when advertisers are willing to pay you directly.  MyLikes just doesn't have as many good high quality advertisers in the system anymore and most advertisements are promoting other people's affiliate links on Amazon or some other bidding site.
I earned very little with my Amazon/Gamefly direct promotions, but theoretically this can be a really good way to earn if you promote products you truly endorse and have a decent following interested in the product you are promoting.
So if you haven't yet, sign up for SponsoredTweets as one of my referrers and see how much you can earn with your Twitter profile!  Here would be my pricing suggestions for new sign ups:
Charge $1 per tweet, if you have between 100 and 5,000 followers
Charge $2 per tweet, if you have between 5,000 and 10,000 followers
Charge $3 per tweet if you have between 10,000 and 20,000 followers
I really don't have an accurate estimate on what to charge past this, but IZEA has updated the recommended cost per tweet and it is much more accurate to what advertisers are likely to pay so you can use this as a guideline.  I would still use a little lower as well.  Remember to set your 10 tags for your account so you can catch as many advertisers in your niche as possible.
-Justin Germino
I have been obsessed with computers, tech, gadgets and games since the early 1980's having grown up on the Commodore 64 and Amiga computers.
By day I work in the IT Security Industry and have been in IT for over 20 years. On my spare time I am a Vlogger, Blogger, Streamer, Gadget Reviewer, affiliate marketer, influencer and entertainer. I am also an avid movie fan, TV Show fan, Anime fan, video game fan and fan of trying anything and everything new.