I just noticed yesterday that SponsoredTweets now offers an additional way you can earn money on twitter by taking "Cost Per Click" opps that are not directly assigned to you. When you log into your SponsoredTweets homepage now you will see a list of CPC opps underneath any sponsored advertisements that were directly requested from you.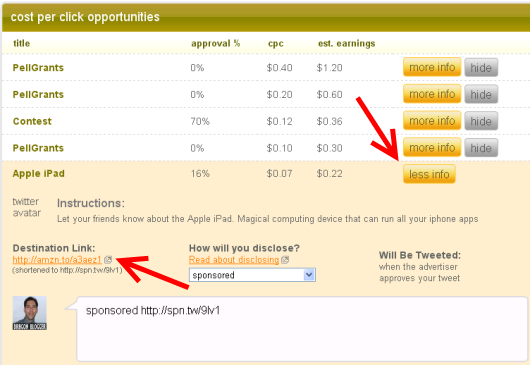 When you see the cost per click opportunities you will see the "Advertisement Name", "Approval %", "CPC",and "Estimated Earnings"
This will be the product or service you are to advertise, if you click on the more information button you will see details and the destination link. You will also be presented with the same style of "message box" where you can choose what type of disclosure method you want to use. I always encourage people to visit the advertisers website and confirm it is something you are comfortable promoting, remember your blogging reputation is at stake.
This is the % of twitter users who have had their promotion of this product or service approved.  Remember you write your tweet and submit it for review, only after it is approved will it be sent on Twitter.  Note, if you see an advertiser with a higher approval % you know they are more likely to approve you promoting the message.  Make sure you provide value to the advertisement and always make sure you write clearly and without any misspelled words.  Your goal is to impress the advertiser with your 140 character message to promote their product or service.
This directly affects how much money you earn with your twitter promotion of the product or service.  You earn the set CPC rate, and if you take an opp for .40 cents per click and you get 20 clicks, you made yourself a quick $8 for writing one 140 character tweet.  A twitter profile with massive reach can make huge earnings here, imagine a .40 cpc opp with 300 clicks from a network of 100k twitter followers, this could be $120 from a single 140 character tweet.  Lets say it took you 5 minutes to write the tweet, this is earning the equivalent of $1,440 per hour for promoting on twitter.
I am not 100% positive but I think estimated earnings is based on your previous cost per click ratio and averages and gives you an estimate of how much you will earn for a single tweet promoting this product or service.  If I am mistaken about this then maybe IZEA will read this post and correct me.
Bottom Line:
---
SponsoredTweets is now in direct competition in the CPC advertisement space as programs like MyLikes and this means more opportunities for people to earn money from Twitter. This makes a good way to augment your blogging income and earn from your social media profiles.
I would like to see the ability to earn from promoting the same products/services on FaceBook or other social networks. Currently, I am still unsure why these programs only track and consider valid links on Twitter, why not allow people with large Facebook followings to promote to their Facebook contacts and make some extra money with Facebook profile as well.
I am really happy with the new IZEA SponsoredTweets decision to incorporate Cost Per Click sponsored opportunities into their service, this gives more options and allows more people to earn from Twitter and is a win win for advertisers looking to promote and Twitter users looking to make some extra money online.
What is your view? Do you like the way IZEA implemented the CPC program into SponsoredTweets? Any suggestions or feedback?
-Dragon Blogger
By the way,if you are not using SponsoredTweets yet, take the time to sign up under me and check out how easy the program is to use.