I have been wanting SponsoredTweets to have a way to allow people to stand out among the sea of tens of thousands who have signed up to promote advertisers products and services online.
SponsoredTweets recently announced their PRO account which a user can upgrade to for $9.99 per month (taken out of your SponsoredTweets balance or credit card if your balance isn't high enough) which will add a PRO label next to your name and give PRO's priority sorting when advertisers search for people to hire to promote their brand.
Now, I barely make $10 per month from SponsoredTweets so I am using the 30 day free trial to do a direct comparison to see if I gain more opps from advertisers than when I was on a basic membership.
SponsoredTweets is by far my highest earning platform for Twitter and you can see from my earning snapshot that it does pretty well considering I only have 8.5k Twitter followers or so:

I have been a big supported of SponsoredTweets because you can not only hand select which advertising opps you want to take, but you can also opt in for CPC campaigns that you take at any time but these do pay far less and you need be more cautions with what you promote remembering that your reputation always comes first.
Right now SponsoredTweets is allowing anybody to upgrade to a PRO account for a 30 day free trial, but this will probably cause a lot of people to try it out which means many PRO's will be competing against each other which will likely not yield great results until the free trial ends and we see who is willing to pay the monthly fee.
This will pay for itself it it leads to just 5 more opps per month than what I normally get contacted for, so let's see if being a SponsoredTweets PRO is worth they monthly price tag.
Personally, I have done over 80 opps for Sponsored Tweets, Rejected 88 and have had 125 tweeters sign up under me.  I consider myself a SponsoredTweets pro and may keep the moniker because I am not a basic user.
NOTE:  It is still 100% free to sign up and join SponsoredTweets to start earning from your Twitter profile, I recommend it for anyone who has more than 100 followers and is highly interactive and engages their audience as a way to bring in a little extra.  Because you can promote just the products you really like, you don't have to sell out and can be confident that you stand by what you promote.
Sign up for SponsoredTweets under my account and get started with earning from your Twitter profile today.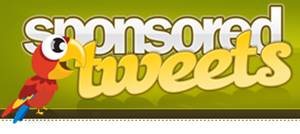 -Dragon Blogger